Formerly known as Elliott Group, Algeco is a market leader in modular buildings throughout the UK and Europe, part of the Modulaire Group – Europe and Asia Pacific's leading modular services and infrastructure group – offering first-class modular and temporary accommodation and turnkey modular solutions.

Algeco wanted to employ greener practices throughout the company as part of its Environmental, Social & Governance (ESG) Strategy & commitment which meant that they need to replace their entire ICE forklift fleet for electric trucks across all sites in the UK.

Take a closer look at how TCM dealer, BJB Lift Trucks helped them through that incredible transition.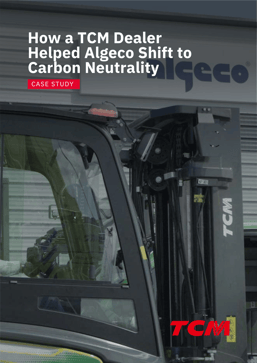 This case study will help you:
To understand how the process of Electrification can look for a large company


Discover the brilliance of TCM's dealer problem-solving


Understand the outcomes of incorporating electric trucks in the warehouse on a large scale

To download simply fill in the form on the side of the page

.