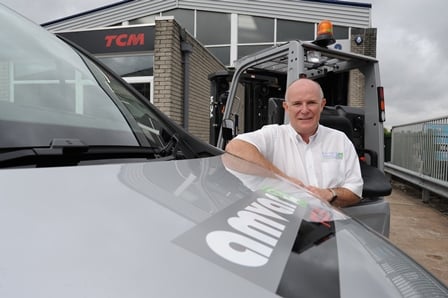 TCM's dealer network is specially trained to assess your business requirements, help identify your needs, and recommend the ideal solution. We caught up with Malcolm Mitchell, Sales & Commercial Director at Amvar Handling Solutions, to find out how this works in practice.
Amvar Handling Solutions is located in the West Midlands (UK) and provides comprehensive storage, racking, and workplace solutions to the manufacturing, distribution, and logistics industries.
Established by Malcolm Mitchell in 1998, Amvar predominantly serves small to medium-sized enterprises. However, the TCM dealer also provides material handling solutions to much larger organisations — including the NHS, National Trust, and BT.
With that said, we wanted to find out more about Amvar's customer-centric, consultative approach — as well as how Amvar is helping businesses prepare for electrification.
Identifying your material handling solution

From the moment you get in touch with the Amvar office, they'll make an appointment for you to meet with your local sales manager. When you meet for the first time, your sales manager will listen and seek to understand the problems you're facing.
"The service we have received from Amvar has been outstanding. We had quite a specific requirement and Julie Butler went out of her way to find us the right product at the right price.''

— Kevin Napier, Production Manager, Alzeim Ltd
Problems businesses typically face in their material handling operations include a shortage of space — particularly as companies start to grow — as well as increasing demand. In this instance, your sales manager will advise you on how to maximise storage capacity or scale your equipment as your premises expand.
Having identified the ideal material handling solution for your business, Amvar will help you decide which financing option best suits your business' needs and budget.
Related Read: Forklift Contract Hire vs. Purchase: How to Make the Right Choice for Your Business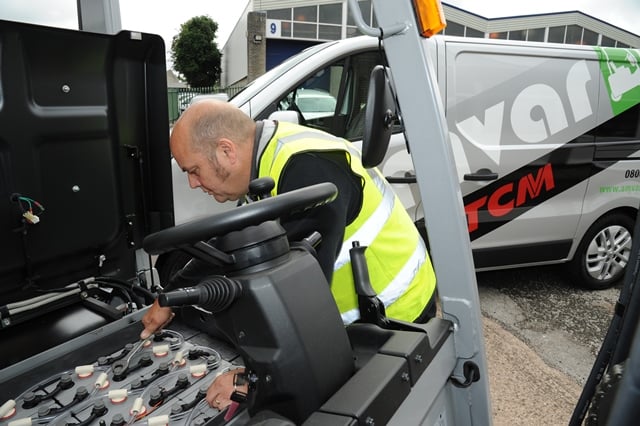 How Amvar builds strong customer relationships
Amvar prides itself on building strong business and personal relationships with its customers.
Instead of recommending a set solution to every customer and sending you on your way, Amvar consults each and every one of their clients on their unique needs and challenges, before recommending a tailored solution. These meaningful conversations take place over several months, enabling Amvar to get to know your business inside and out.
"I have dealt with Malcolm and his team now for a number of years and have established a strong friendship built on trust and reliability. I am delighted with Amvar's continual commitment to support our business throughout the years"

— John Newburn, Kettler GB Ltd
Another key factor to Amvar's success is its local presence for West Midlands customers. Unlike many of the larger material handling manufacturers, Amvar's team interacts with its customers on a first-name basis, enabling them to provide a more personalised service. Having a local trusted advisor gives you the peace of mind that whenever you need support, help is just a phone call away.
Related Read: Why TCM's Dealer Network is Built on Customer Partnerships
Why Amvar Handling Solutions x TCM?
At TCM, we partner with like-minded dealers across Europe that stand by TCM products for their unrivalled reliability and world-leading innovation.
As a TCM dealer, Amvar offers a full range of TCM counterbalance and warehousing equipment. So whatever your company's needs, Amvar can help you identify the right solution to drive your business forward. And because Amvar is FLTA-accredited, you can rest assured that you're working with a reputable company with high standards.
Amvar's vision statement perfectly encapsulates its customer-centric approach:
Ambassadors: We are experts in our field and ambassadors for our industry. This means we will always offer first class advice with many years of experience and knowledge behind us, so we are a business in which you can always place your trust.
Motivated: We are motivated to ensure we will always offer our clients the best possible outcomes at the best possible value.
Versatile: We know all businesses are different and change with time, so we will always demonstrate flexibility, adapting our products and services to meet the needs of an ever changing world.
Approachable: We are always approachable. Our friendly team will always be available and happy to listen to your needs and we will then focus all our efforts in delivering the most suitable outcomes.
Relationships: We pride ourselves in our personal approach to business, ensuring we always treat our clients as our friends, because your business and your needs are paramount in all that we do.
How Amvar is helping customers future-proof their fleets
TCM dealers, including Amvar, are taking steps to help businesses prepare for the upcoming industry challenges.
More specifically, Amvar is helping to drive the change towards electrification — beginning with fuel efficiency. Malcolm Mitchell, Sales & Commercial Director at Amvar, noted that 'electric trucks are on the rise', and he would encourage diesel/LPG truck users to 'explore their other options'.
Discover TCM's electric truck range today and start your journey towards a more efficient, cost-effective, environmentally-friendly future.
Key considerations that businesses must make in the run up to 2030 include:
- Upgrading your current fleet before the petrol and diesel ban is enforced
- Forklift charging station power requirements
- Changes to shift patterns (to accommodate battery charging)
- And much more…
Looking to upgrade your current material handling equipment ahead of 2030? Click the button below to get in touch with your local dealer and start your electrification journey today.