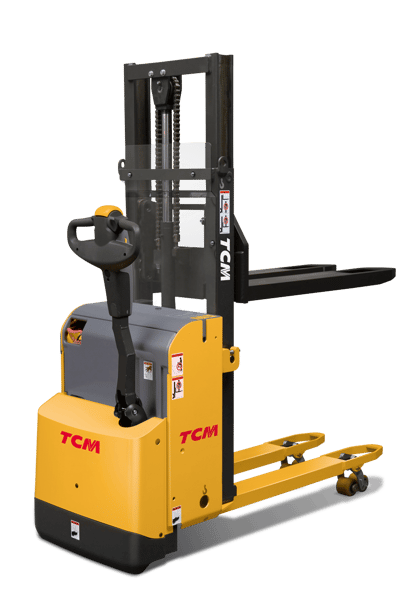 Pallet stackers are incredibly versatile machines, making them ideal for warehouse use. Read on to discover how TCM pallet stackers could transform your operations.
As the name suggests, stacker trucks are primarily used for stacking pallets at a range of heights. Designed for optimum operator efficiency and with a range of ergonomic features including excellent visibility, TCM pallet stacker trucks are ideal for moving pallets around a warehouse.
Read on to discover TCM stacker trucks' features, how they're designed to balance safety and efficiency, and the benefits of purchasing a stacker truck through TCM.
What is a stacker truck?
Stacker trucks are similar to powered pallet trucks in that they can be used to move pallets around. However, a stacker truck also features a mast, which means it can also be used to lift items off the ground and distribute them as needed. For this reason, stackers are particularly versatile in material handling environments.
Stackers are predominantly used in the distribution and logistics industries — typically alongside pallet trucks and order pickers. Having said this, stackers can be well-suited to a variety of applications due to their flexibility, such as operations needing to lift items onto a particular platform, warehouses that feature racking that isn't high enough to warrant a reach truck, or in spaces too confined to accommodate a counterbalance truck.
Balancing safety and efficiency
TCM pallet stackers are ergonomically designed to ensure operator comfort and productivity. Engineered to be as compact and manoeuvrable as possible, TCM stackers can move in and out of warehouse aisles with ease.
To ensure the safety of the operator walking with the machine, a pedestrian stacker operates at a reduced speed, whereas a ride-on version operates at a faster speed. Finally, sit-on stackers are more sophisticated machines designed to accommodate heavier use, accommodating their extended use by operators — often the duration of their shifts.
Related Read: The True Cost of Forklift Accidents Revealed
Key features of TCM stacker trucks
Based on a similar model to our counterbalance and pallet trucks, TCM stackers boast the same world-class features and benefits, are designed to be as ergonomic as possible to decrease material handling costs, and are available in both sit-on and ride-on versions.
Our pallet stacker range features a wide variety of functionality options, from double-pallet functionality to telescopic forks — enabling you to find a solution that suits your business's unique needs.
The narrow chassis on TCM pallet trucks allows the operator to pick up and position pallets in confined spaces, which is especially important in warehousing and production.
Our attention to detail doesn't stop there, as the trucks also feature rounded edges to minimise the risk of damaged goods, while the low bumper on the short chassis helps to prevent foot injuries.
TCM pallet stackers are all configured for efficiency, helping to reduce the total cost of ownership. Analysing your application and operation with the help of your local dealer will ultimately enable you to choose the right solution for your business.
Maximum visibility guaranteed
At TCM, we understand how important visibility is to ensure a safe and efficient material handling operation. With this in mind, we've designed our pallet stacker trucks to feature an ergonomic tiller head and easily accessible controls for ambidextrous use.
The optional Tiller Up drive specification makes it possible to work in even tighter areas, using the tiller arm in the upright position. Meanwhile, the masts are designed to maximise visibility and in turn, safety.
The ride-on and sit-on versions also feature overhead guards above a mini-cabin area due to the lift height, protecting the operator in the event of an incident.
Why choose TCM for your material handling needs?
Built to last, TCM stackers are robust and designed to thrive in their applications. At TCM, we don't just offer one solution, but a wide range of options with plenty of flexibility to customise the solution to suit the unique needs of your business.
For example, double stackers allow the operator to handle two loads at the same time (one on the straddle legs and one on the forks).
The commonality of parts across all our machines makes servicing and maintenance a breeze, with replacement parts readily available and easy to obtain through our dealer network, ensuring maximum uptime.
With so many truck options available, we help you to identify the most cost-effective solution for your business and application, instead of adopting a one-size-fits-all approach, delivering maximum efficiency across your operations.
To discover how TCM stacker trucks can benefit your operation, click the button below to speak to your local dealer today.