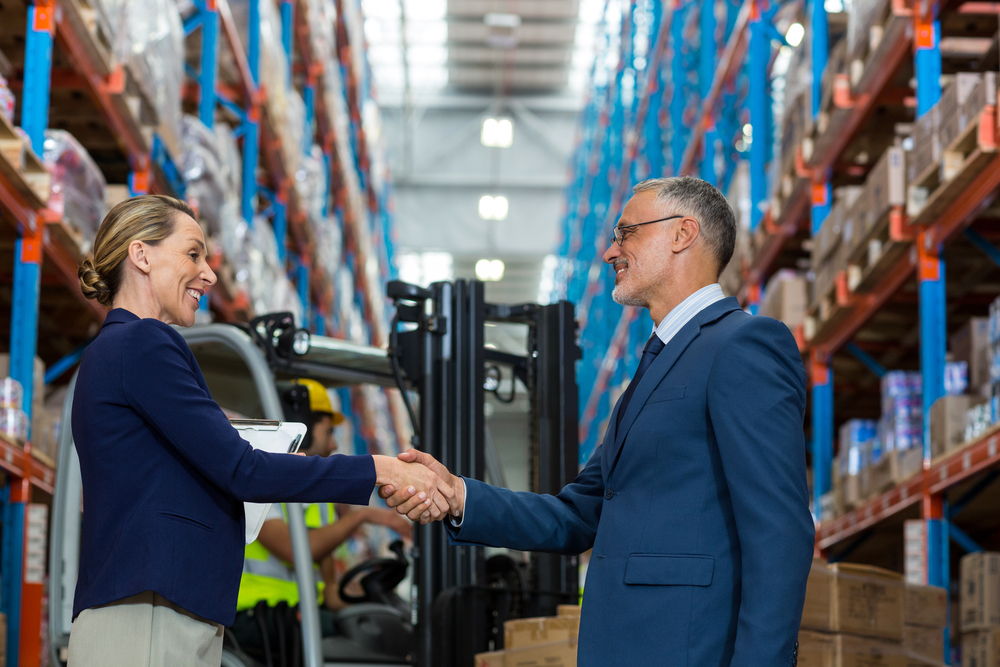 At TCM, building valuable, long-term partnerships with our customers is at the core of what we do. Read on to discover how we help businesses transform their operations, what this looks like in practice, and how we could support your organisation.
With significant regulatory changes and in turn challenges ahead of us, hundreds of businesses are relying on us to support their electrification journey and help them prepare for the future.
With that said, here's why customer partnerships matter at TCM:
Why TCM values strong customer partnerships
Our customers depend on us to supply innovative material handling equipment that will drive their businesses forward, but that's not all. In addition to our extensive range of world-class forklifts, we provide customers with a variety of services to keep their operations running 24/7, including parts, tyres, fleet management, driver training, and much more.
The opposite of this is also true; we rely on our customers to spread the word about TCM's innovative products, solutions, and services and inspire other businesses to partner with TCM.

Educating customers on TCO to transform their business
Once we've educated our customers on the total cost of ownership (TCO) and equipped them with the right tools to calculate this alongside their local dealer, unveiling the reality of their operational profile can be truly transformative.
From here, we work closely with our customers using our knowledge, experience, and expertise to help them reduce costs and increase efficiencies.
For many of our customers, this means switching to more energy-efficient alternative fuel sources, for example, by swapping their engine/LPG trucks out for their electric counterparts.
Related Read: Material Handling's Future is About Holistic Business Models, TCM's Dealer Development Director Reveals
Shaping the future of electric forklifts

By helping businesses understand the challenges ahead
Electrification is at the forefront of operations managers' minds — but where does TCM fit into all of this?
At TCM, we're proud to be driving the change towards more energy-efficient electric forklifts and battery solutions. Three key ways that we're supporting our customers on their journey towards electrification include:
1. By helping businesses understand the challenges ahead
Downtime will be one of the biggest challenges for businesses in the future. While an engine truck can work 24/7, only occasionally needing to refuel, an electric truck requires frequent recharging breaks. This represents a fundamental shift in the way operations managers run their warehouses. However, with TCM's guidance and support, we can help you to plan now ahead of 2030.
2. By assessing our customers' operations and current equipment
By assessing our customers' operations and current equipment
Another way we can support businesses is by taking stock of their current goods in, goods out, production and manufacturing or storage process to understand how goods are handled and how time-sensitive the activity is.
From there, we can determine how much downtime is available to recharge batteries or swap them out for spares.
3. By creating bespoke solutions for our customers' businesses
By creating bespoke solutions for our customers' businesses
Part of working in partnership with our customers is recognising that one size doesn't fit all. Instead, based on our findings, we will propose a tailored solution that addresses your business's specific wants, needs, and challenges. That way, we can implement an efficient solution that's truly aligned with your unique business goals.
Our industry is evolving rapidly, but with new challenges come new opportunities.
By partnering with TCM, we'll help you not only prepare for the challenges, but determine how you can best take advantage of the new opportunities presented. This includes more energy-efficient forklift solutions, reduced costs, and a cleaner, more environmentally-friendly operating environment.
Keen to discover how you can implement more energy-efficient electric trucks in your operation? Click below to speak with your local dealer today.