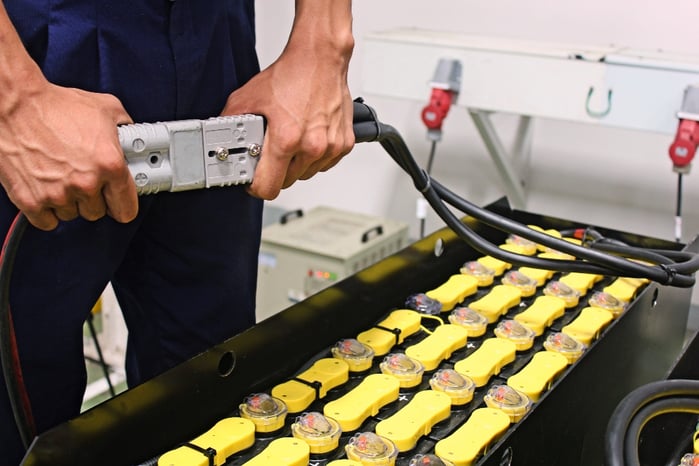 Maintaining your electric forklift fleet is essential to ensure the longevity of your equipment, maximise uptime and keep costs down. Read on to discover the top five electric forklift maintenance tips you need to know.
While electric forklifts have a higher acquisition cost than their gas and diesel counterparts, they can help your business significantly reduce its TCO (total cost of ownership) in the long run.
However, to secure these cost savings, it's vital to ensure your electric forklifts are kept in optimal working condition — keeping maintenance costs as low as possible.
Read on to reveal the top five electric forklift maintenance tips to maximise your equipment both now and in the future.
Related Read: COVID-19 & Your Business: Adapting Your Operation for Downtime
1. Identify your forklift maintenance goals



Knowing your safety/maintenance duties and priorities, then setting a clear plan and schedule, will help you keep on track with essential upkeep. Many larger fleet operators will have maintenance schedules in place, but for smaller operators especially, this is an area to watch out for.
It's recommended that forklifts are usually serviced at least every 6 months. You'll also find that your truck and its battery have warranties that require service by an authorised engineer. It's a good idea to be aware of – and to schedule – the services required by your warranty, since failing to carry them out can invalidate it.
For TCM forklifts, a maintenance contract is usually provided as part of the truck finance package. (Your dealer will also handle warranty claims.)
Day-to-day, there are regular maintenance processes that need to be followed to protect equipment and maximise uptime. Find out more below.
2. Take care of batteries to reduce the risk of damage
Forklift operators should carry out daily checks to ensure their forklifts are safe to drive. Checking, cleaning and charging the battery should be part of that routine, along with checking the electrolytes.
Cleaning batteries regularly is essential. This will remove any build-up of dust or dirt, which can damage the battery and reduce its lifespan.
When charging, batteries shouldn't be unplugged before this is complete. Like many aspects of electric forklift and battery maintenance, you may not see the effects immediately, but unplugging too early actually chips away at the life of the battery.
Once fully charged, you will need to ensure that the batteries are topped up with deionised or distilled water to the correct level.
Checking the electrolyte levels should be done frequently, as well as topping them up when needed. This avoids sulphation of the plates, which can reduce the battery's capacity and cause damage over time.
Related Read: Lead-Acid or Lithium-Ion: What's Powering Your Warehouse?
3. Prepare for periods of downtime correctly
If you're likely to have a period of closure (or a quieter period with fewer trucks in use), there are a couple of measures to take to protect your equipment.
When preparing for downtime, be sure to switch off or disconnect batteries/trucks from the mains supply to prevent the battery discharging. Batteries should never be allowed to discharge to less than 20% since they risk irreparable damage.
If possible, avoid leaving the forklift inactive for long periods. You'll usually refresh-charge batteries regularly, but you'll definitely need to charge batteries periodically to maintain optimal condition. Your TCM dealer will be able to advise you on this.
Related Read: Forklift Charging Station Power Requirements Explained
4. Invest in staff know-how
A top tip for protecting your investment is to ensure that your staff know how to look after forklift batteries. Good training and education are key.
The right training can keep your workforce safe, but it's also a great motivator: understanding the equipment can make operators feel more responsible for it and take better care of it.
In essence, forklifts are a piece of electrical equipment, but often, they're not looked after with this in mind. Getting staff into the right mindset can go a long way to helping your fleet last longer.
Day-to-day, an important rule of thumb to remember is, "if it doesn't look right, report it". Make sure staff know who to turn to if they notice a problem.
5. Utilise the expertise of your local TCM dealer
You'll find your TCM dealer knowledgeable about both batteries and maintenance, so feel free to ask for their advice. They may also offer different maintenance services to meet your business needs.
Contact your dealer to schedule regular forklift servicing and maintenance, helping your business to prevent breakdowns, maximise uptime and keep costs low.
Whether you've recently switched to an all-electric fleet or are just beginning your electrification journey, our Electrification Readiness Checklist can help you reach your forklift maintenance goals.