Whether you're running one electric forklift truck or an entire forklift fleet, your warehouse needs a designated forklift charging station. Discover how to make your charging room practical, compliant, and safe.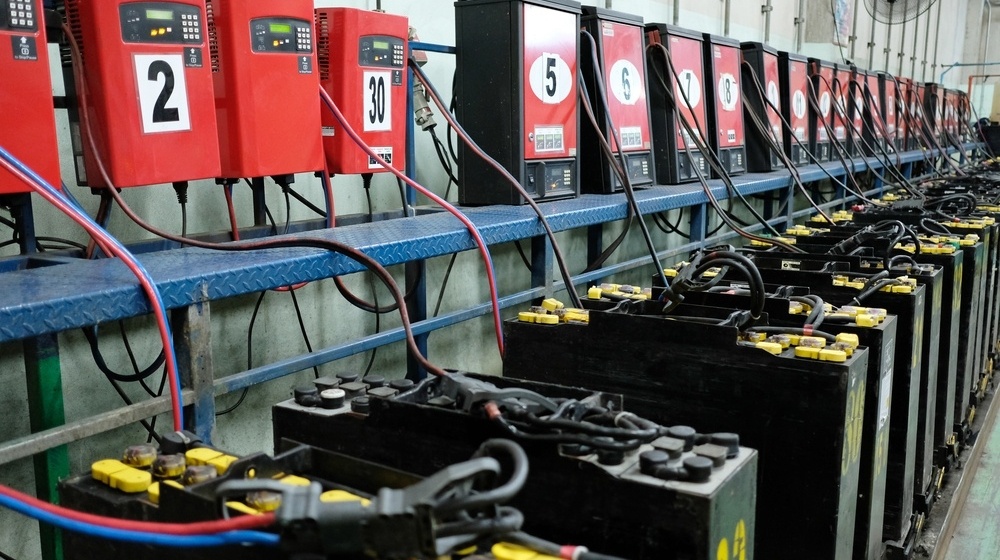 Electric forklift trucks are becoming increasingly popular in material handling operations. It's easy to see why: they have impressive economic and environmental benefits for businesses, including increased energy efficiency, lower fuel costs, and reduced CO2 emissions.
However, companies keen to implement this technology in their warehouses, must ensure they have a dedicated battery charging area fitted with the necessary safety features to meet forklift charging station power requirements.
Unsure about what should be included? Read on to discover the safety features your battery charging station needs
If you are already thinking of switching to an electric fleet, find out if you're ready – download our electrification checklist here.
1. Ensure charging points are fitted correctly
Your first port of call should be ensuring chargers are mounted correctly for complete accessibility.
First, locate an accessible area with a wall against which the chargers can be mounted. For safety and compliance reasons, all chargers should also be fitted with emergency stop breakers to ensure the flow of electricity can be stopped instantly if needed.
Another key issue to look out for is hanging wires. These present a significant tripping hazard for operators. To avoid this, ensure chargers are mounted at the appropriate height and wires are no longer than a metre in length.
The final point to consider when charging multiple units is to leave at least a one-metre gap between each forklift truck. This ensures that the vehicle is always accessible to operators.
2. Fit acid resistant flooring to prevent warehouse damage
Rare manufacturing defects or damage to the cell can cause batteries to leak, resulting in damage to the immediate area. For this reason, it's important to install acid-resistant flooring.
In addition to protecting your warehouse, specialist flooring ensures that leaks are more easily cleaned up, saving you time and money in the long run.
Discover how TCM electric counterbalance trucks are transforming warehouse operations.
3. Ensure safety equipment is easily accessible at all times
Forklift accidents can be fatal. Basic safety equipment should be readily available in your charging station area, alongside more specialist equipment to protect your workforce in the event of an incident such as an accidental acid spill.
Your power station should be fitted with a fire extinguisher suitable for use on electrical fires. Considering the safety and financial implications of a warehouse fire, installing a fire extinguisher is a small price to pay to protect the long-term wellbeing of your workforce and operations.
Additional (but equally necessary) safety equipment should include an emergency shower and eyewash in case an operator comes into contact with battery acid.
4. Ensure adequate ventilation
Ventilating your charging area is essential in ensuring operator safety, since charging forklift batteries produces hydrogen gas, which is difficult to detect and extremely dangerous.
To mitigate this, air quality should be frequently monitored to ensure hydrogen levels stay below 2% at all times.
Despite being easy to achieve through building openings and exhaust fans, ventilation is arguably one of the most vital safety features your charging station needs to keep your workforce safe.
Here are three more warehouse optimisation techniques you need to know.
Future-proof your charging station today to ensure operator safety tomorrow
Electric forklift trucks come with a range of operational, environmental, and cost-saving benefits, including considerably lower CO2 emissions than their diesel counterparts. However, for businesses introducing an increasing number of electric trucks, it's vital to ensure you a) have the required forklift charging stations in place to meet demand and b) that your charging facilities comply with safety and operational standards.
Implementing the above practical tips will ensure your warehouse charging station is a safer and more efficient environment for the operators using it every day.
Do you have questions or need some advice about forklift battery charging? Contact your local TCM dealer, who will be happy to help!