Innovation
The Ultimate Guide to Electrification
Is your organisation ready for 2030? Read our electrification guide to discover everything you need to know to prepare.
With the 2030 ban on petrol and diesel engines approaching, the next few years are set to see a dramatic shift in the way businesses equip and run their material handling operations.
From upgrading your current equipment and switching your fuel source, to revising operator shift patterns and adapting your warehouse, there's plenty to consider.
At TCM, we're on hand to help guide your electrification journey, from choosing the right forklifts for your application, to identifying the most cost-effective battery solution for your business.
Read on to discover:
While the ban on ICE trucks might seem a long way off, being ready for the change won't happen overnight. Our Electrification Readiness Checklist is designed to help you plan and prepare for the future. Click below to download your free copy today.

What is electrification?

Electrification definition:
Put simply, electrification is the process of changing from a traditional power source (think diesel and LPG forklifts) to a source powered by electricity (such as a battery-powered forklift).
Electrification can be divided up into specific sectors to describe broader national and international efforts, such as factory electrification, household electrification, rural electrification, and railway electrification.
In this instance, we'll be discussing the key factors and considerations surrounding electrification in the material handling industry, as well as the impact on businesses.
The future of electrification
It goes without saying that the future is electric, with the uptake of electric vehicles (EVs) on the rise and new technologies constantly emerging. The material handling industry is no exception.
By 2030, petrol and diesel engines will no longer be available to purchase. As such, businesses must consider their options now and identify alternatives by the time the regulation comes in.
In a few years time (if not before), warehouses will look very different from how they are today — equipped with the latest battery-powered equipment and fully adapted to accommodate battery charging stations and in turn, alternative shift patterns.
Before we share tips on how to start making the switch to electric forklifts, and explain why it's never too early to prepare, here's a brief history of electrification explaining how we arrived at this point.
Related Read: TCM Leads Material Handling Industry Towards an Electrified Future
The benefits of electrification
In the material handling industry, switching to electric forklifts boasts numerous benefits for businesses, including:

Reduced fuel costs have a cumulative effect on TCO
Despite the higher acquisition cost, your initial investment will allow you to enjoy the long-term benefits of reduced fuel costs, and in turn a lower total cost of ownership (TCO).
The money that you save on fuel can then be reinvested elsewhere in your business as needed.

Fewer breakable parts
Aside from the savings you'll make on fuel costs, electric forklifts are easier to maintain than their diesel counterparts. This makes servicing quick and straightforward, maximising uptime. Electric forklifts also have fewer breakable parts than diesel trucks, and the associated issues tend to be minor and easily fixed.
By simplifying maintenance procedures to reduce downtime, your business could see even further savings that reduce the cost of your forklift fleet.


Reduced noise levels

Electric trucks are considerably quieter to operate compared to ICE trucks and therefore minimise disturbance. Making the switch could even allow you to facilitate extended operating hours, maximising your warehouse's output potential.
Less noise will also have a positive impact on operator safety and efficiency, improving visibility and reducing the likelihood of forklift accidents.


Cleaner work environment
Switching from diesel and LPG trucks to electric forklifts will also help to promote a cleaner, healthier work environment for employees.
Healthier, happier employees can reduce absences and even staff turnover, which will have a positive knock-on effect on warehouse productivity.

Reduced CO2 emissions
Last but certainly not least, incorporating electric forklifts in your operation will reduce harmful CO2 emissions and lower your business' carbon footprint.
If you're ready to lower your fuel costs, create a healthier work environment for employees, and reduce your carbon footprint, now is the time to start preparing for the electrification of your fleet.

To find out how to kick-start your electrification journey, click here to download your free copy of our Electrification Readiness Checklist today.


Related Read: 5 Reasons to Switch from ICE to Electric Forklift Trucks
What is an electric forklift?
The term 'electric forklift' can be used to describe any battery-powered electric forklift truck, including hybrid models.
There are a wide range of different types of electric forklifts available on the market, from counterbalance trucks and order pickers, to pallet trucks, reach trucks, and stackers.
Determining which type(s) of electric forklift to choose will depend on your business' needs, operation, and application.


Here's an overview to help you get started:
Electric Counterbalance Forklifts
Designed for most industrial markets, handling a wide variety of loads, pallet movement, unloading lorries and transport, cross-docking, general stillage, and material movements.



Discover how TCM electric counterbalance trucks are transforming warehouse operations.
Ideal for most applications such as manufacturing, warehouses, and logistics.


Discover everything you need to know about electric pallet trucks.
Ideal for use in all warehouse and manufacturing environments.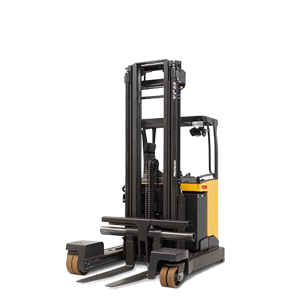 Ideal for moving pallets around a warehouse, even in confined spaces.
Great for stacking pallets at a range of heights, but versatile enough to perform a range of duties — from heavy industrial to light handling tasks.
Ready to future-proof your business ahead of 2030, but need help getting started? We're offering a free health check to help you make an informed decision. Click here to speak with your local dealer and request yours today.


Related Read: Classifications of Material Handling Equipment (And How to Choose It)
How do electric forklifts work?
Electric forklifts are powered by forklift batteries, of which there are various different types (read the next section on electrification technology to find out more).
With so many different options available, our application survey is designed to take an in-depth look at your business and operational parameters. This allows us to specify the right equipment, enabling you to achieve maximum return on investment.
When switching to an electric fleet, there are various factors you'll need to consider. Since electric forklifts are battery-powered, they require charging at regular intervals (depending on the battery). As such, if you're introducing electric forklift trucks in your operation, you will need to have a dedicated forklift charging station with sufficient safety features, such as acid-resistant flooring.
You will also need to factor in sufficient charging time into operator shift patterns to keep your operation running smoothly and prevent any unnecessary extended periods of downtime.


Related Read: Investing in Electric Forklifts: The Ultimate Guide
Electrification technology
Currently, there are three different types of battery technology on the market:


1. Lead-acid
2. Nickel Cadmium (NiCd)
3. Lithium-ion (Li)

But which is best suited to your operation and business objectives? Read on to find out.



Lead-acid batteries are by far the most economic and recyclable power source. It is believed that these will continue to be the batteries of choice for counterbalance and reach trucks for years to come.

One area with stark comparisons is battery life over time. If a lead-acid battery has been maintained and charged correctly, you can expect an average lifespan of 1,500 cycles. A NiCd (Nickel Cadmium) battery under the same circumstances will last for approximately 8,000 cycles. A lithium-ion battery greatly surpasses this, delivering over 10,000 cycles during its lifespan. Despite being the most economical, lead-acid batteries' comparatively low battery life is certainly worth bearing in mind if considering the switch.

There are also comparisons to make when it comes to battery degradation. Lithium-ion batteries don't degrade at all, whereas NiCd batteries offer between 0-2% degradation, and lead-acid batteries can degrade by as much as 32% during the course of their lifetime.
Nickel Cadmium (NiCd) batteries: The reliable option

Comparatively, NiCd batteries can offer roughly 90% of the advantages of lithium-ion batteries—at a fraction of the cost. For fuelling heavy lifting machinery such as forklift trucks, NiCd batteries are often considered a reliable middle of the road option.

Industrial NiCd batteries are considerably larger than other battery types. Each cell consists of free-flowing liquid electrolyte, which is especially useful for applications demanding high discharge rates. NiCd batteries are able to perform under these conditions without becoming damaged or losing capacity, making them a durable, reliable solution.

Despite the benefits of NiCd batteries, they are significantly more costly than lead-acid, and have a considerably lower energy capacity than lithium-ion batteries. It's also worth noting that NiCd batteries are reasonably toxic heavy and demand greater care—both in their use and recycling.
There is still much work to be done before lithium-ion batteries become a viable option for the material handling industry based on their steep price point. Despite the cost, they offer several clear benefits:


1. They're completely maintenance-free
2. They require no filling
3. They're gas-free
4. They don't pollute the atmosphere

Although lithium-ion batteries have a considerably lower capacity than lead-acid, they can be 'opportunity charged'—making them the perfect solution for businesses operating 24/7 who can't afford extended downtime.
Related Read: Lead-Acid or Lithium-Ion: What's Powering Your Warehouse?
Forklift battery safety
In the material handling industry, forklift safety is paramount to prevent avoidable accidents and injuries. The same thing applies to your forklift batteries — and having the right forklift charging station set-up is key.


Here's a battery safety checklist to help get your forklift charging station up and running:
1. Charging Point Installation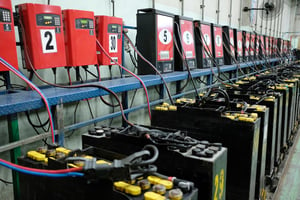 Ensure your charging points are fully accessible to users by mounting isolators on a wall with plenty of surrounding floor space. Mains protective circuit breakers should be of the correct amps and rating to suit the charging equipment. Chargers should be lifted from floor level and all charging cables should be suspended or positioned to avoid damage or trip risk.
2. Station Requirements and Considerations

For safety and compliance, all charger isolators should be fitted with power disconnection switches. Charging areas should be well ventilated, dry and free from atmospheric dust. Although acid-resistant floor protection is not essential, it will help reduce the presence of concrete dust and, in the event of an acid spillage due to battery damage, help to protect the environment. Acid spill kits should be provided in all charging stations.
3. Operator Preparedness

Before your operators can access your charging station areas, they should receive the relevant and regular operational, maintenance and safety training in line with H&S requirements. This should include operational procedures, emergency responses, inspection and maintenance requirements, and an understanding of your company's business processes.
4. Safety Equipment
When equipping your charging station, provision of certified electrical and chemical fire extinguishers will be required. No smoking, no sparks or no naked flame signs should be displayed, and eyewash stations must be provided and fixed at a suitable height with clear walking access. Safety showers are not required but may be considered for larger installations. If installed, these showers must be isolated from the normal drainage systems.
5. Frequent Inspections


A member of your team should be appointed to conduct regular checks ensuring all equipment is safe and functional, floor areas are clean and free of trip hazards, and that operators are following the correct procedures in line with their training. A record of these inspections should be kept for inspection if required by H&S officials.


For more battery safety tips and charging station power requirements, we've created a handy infographic for you to refer to. Click here to view the infographic.

Related Read: Checklist: 4 Ways to Extend Your Forklift Battery Life
Forklift battery maintenance checklist
If your business is operating an electric forklift fleet, maintaining your forklift batteries and factoring in sufficient charging time into your shift patterns should be a key priority. That's why we've created a forklift battery maintenance checklist containing the best practices you should follow.
1. Ensure batteries are water-topped and fully charged
Ensuring your batteries are fully charged is the first step in maintaining their optimum condition (the chargers should display green lights, signifying that the charge is complete). Once fully charged, top the batteries with deionised or distilled water to the correct level. If a battery is being left on a forklift truck and not connected to a charger, disconnect the Fork Lift DC plug from the truck.
Where spare batteries are in use, you should also ensure these are fully charged and displaying green lights. As above, once fully charged, top the batteries with deionised or distilled water to the correct level.
Whichever battery is connected to the charger can then be left on charge without needing to switch off the chargers when the charge is complete.
Remember to charge your forklift batteries at the end of each day — not just when they're low on charge — and to charge them completely before use. This will help to ensure a productive and uninterrupted shift the next day.
2. Preparing for a period of closure
If your business is preparing for a period of closure, it's important to make sure the mains electric supply to the chargers is maintained. If a period of downtime is imminent, any truck with a fully charged battery must then not be used.
To prevent the battery from discharging, any auxiliary equipment connected to the battery or truck must be switched off or disconnected by removing the plug. This step is crucial to avoid sulphation of the battery — saving you time and money in the long run.
3. Refresh-charge batteries on a regular basis
Any battery left not connected to a charger should be reconnected and given a refreshing charge every three months to maintain its optimum condition. This will help you to avoid unnecessary breakdowns and in turn, downtime while your business is operating or when your business begins operating again after a period of closure.
It's also worth scheduling in time to clean your batteries regularly to prevent the build-up of dust and dirt, which can damage the batteries over time and reduce their lifespan.
4. Check electrolyte levels frequently
After three months, the electrolyte level of all batteries should be rechecked — as should batteries that have undergone a refresh charge.
It's crucial to follow these steps as discharged or semi-discharged batteries run the risk of suffering sulphation of the plates, which can reduce the battery's capacity and create considerable time and cost to recover.
At TCM, we're dedicated to supporting our customers on their electrification journey — from identifying the right electric forklifts for your operation and application, to providing the right battery solutions for your business' needs and budget.


To discover how we can support your electrification journey and request a free health check, click the button below to speak with your local dealer today.