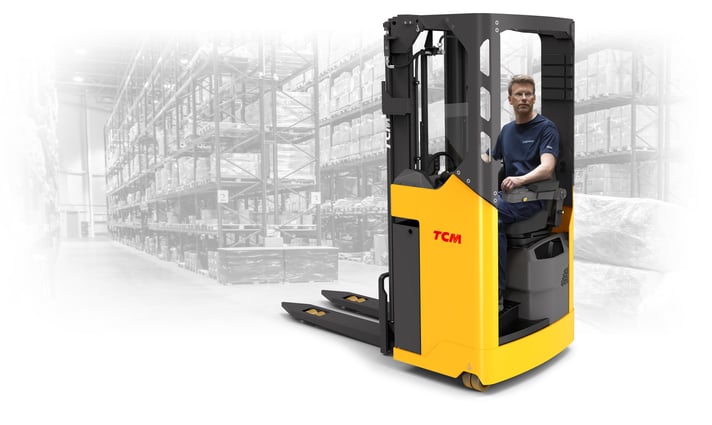 Unique to TCM, the SSO sit-on stacker truck is designed and optimised for very narrow aisle stacking.
The SSO sit-on stacker truck is changing the way businesses are operating – with refined agility, modern lithium-ion (Li-ION) battery technology, enhanced ergonomics for maximum stability, precision control and performance, and much more, the SSO is the perfect addition to any warehouse fleet.
The SSO has an AST of 2.5 m (AST of 2.3 metres represents space saving on average warehouse), offers load capacities of 1600 kg and 2000 kg and a lift height of up to 7 metres.
From pedestrian and ride-on to stand-in stackers, learn about the range of stacker trucks we offer here.
Discover the key features and benefits of TCM's latest sit-on stacker: the SSO
Redefining agility, performance and efficiency
The compact chassis of the SSO means it has a small turning circle that's ideal for tight spaces. The energy-efficient AC drive motor provides more torque and does not use carbon brushes, making it highly responsive to operator commands and easy to control, reducing operator errors and damages, and minimising the need for servicing. The combi-controller lift system makes for smooth and effortlessly controlled lifting and lowering – up to 7 metres – for even greater operational efficiency.
The SSO boasts simultaneous hydraulic functions, forks and stabilisers which increases safety and productivity and, as an electric-powered vehicle, it runs quietly with a speed-regulated DC lift motor pump.
To identify your business and operational needs, understand exactly what you're paying for, and take into account your total cost of ownership (TCO), download our free guide here.
Designed for easy maintenance
The SSO has excellent floor clearance. That means the machine housing does not come into contact with uneven floors or ramps, reducing damage and speeding operations, which can cause accidents, injury or breakages.
Regular checkups are nothing to be shied away from as both the battery compartment and machine house cover (which is hinged and removable) provide excellent access even in narrow spaces.
Authorised service technicians are able to stand in the truck with a fully open cover for troubleshooting and maintenance work. The sealed connectors and sensors of the SSO allow for long service intervals which reduces maintenance and improves uptime.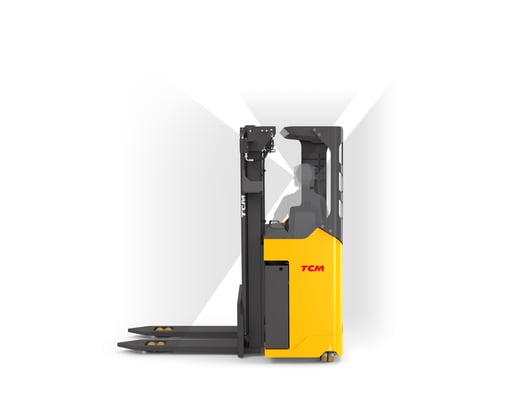 Maintenance-free fully integrated Li-ION battery technology
As a world that's getting to grips with the importance of sustainability, Li-ION battery technology is the way forward when it comes to material handling. The SSO's Li-ION battery option delivers a highly efficient and heavy-duty performance, with a staggering 25% extra battery time, ideal for intense 24/7 operations.

Are you ready for 2030? By 2030, it will be illegal to sell new gas, diesel, and even hybrid-powered vehicles in the UK. We've created this free electrification-readiness checklist to help you assess the long and short-term costs, guide you through the best forklift battery options available, and more.
If Li-ION isn't for you, the SSO has a lead-acid battery option which allows for easy charging – including a Plug'n'Go opportunity charge – to suit all applications.
As well as these highly sustainable battery options, the SSO utilises a simple, fail-safe battery lock wherein the battery lock can only be unlocked when the battery plug is disconnected, and the battery plug can only be reconnected if the battery is locked.
This enables operators to change batteries confidently and in good time for maximised productivity.
Are you keen to reduce your TCO but unsure where to start? This free guide will help you to understand and calculate your TCO, enabling you to make changes where possible to reduce your downtime and maximise productivity.
Integral comfort from start to finish
Comfort is key when establishing a productive workforce. If your operators are happy, in terms of both safety and comfort, they will complete tasks and activities more efficiently. From low-step entry points to adjustable armrests and easy-to-reach controls, improving comfort reduces operator stress and fatigue for improved productivity.
The adjustable steering controls of the SSO sit-on stacker truck refine height and rotation to achieve the most relaxed position for each operator, reducing stress and fatigue. The easily adjustable ergonomic armrest can fit any user and has quick-release handles to suit every body shape and application. The well-positioned controls and buttons are ergonomically designed, making them easy to reach as well as control, giving your operator confidence when carrying out tasks.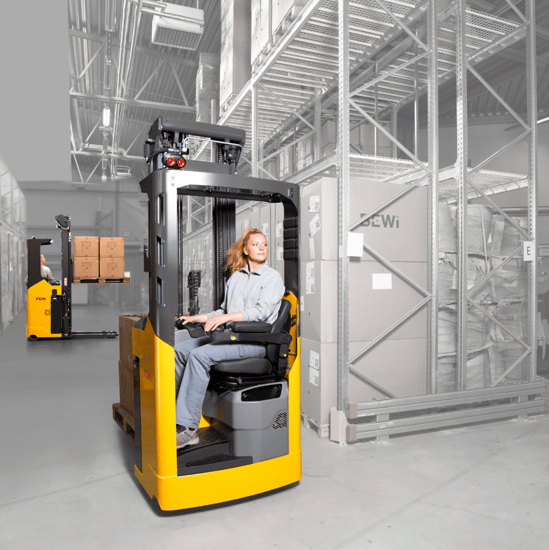 Comfort is one thing, but ensuring your operators have full control of their speed is also highly important in a warehouse environment. The SSO provides ergonomic speed control for intuitive, precision handling – a thumbwheel throttle for effortless speed control even with the thumb and index finger. This clever design allows for simultaneous functions and an efficient workflow.
Read about our compact pedestrian pallet stackers, the SPL12-N2 & SPD12-N2, here.
Unrivalled safety and operator confidence
TCM's sit-on stacker success is rooted in operating safely and efficiently within the narrow aisles and tight spaces of a warehouse. Designed to keep the driver within the safety of the machine perimeters, we have developed specific features for variable working positions, to improve performance and ultimately keep the operator secure in the driver compartment.
Related read: Grow Operator Efficiency By Creating Comfortable Working Environments
Safety with vision
The overhead protection from guard pillars has the option of two different heights – 150mm or 160mm lower than standard – as well as holes in the pillar to avoid blind spots, which offers improved visibility in both the immediate vicinity and over the forks so that the operator can see where they're going at all times. This reduces the risk of colliding with a pedestrian, another vehicle, or warehouse goods. The pillar also provides comfortable and cushioned support behind the driver.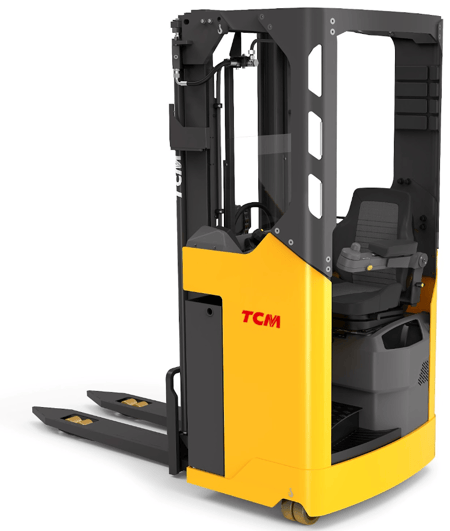 Stability and precision control
The SSO's electric, highly responsive power steering adjusts to the operator's desired travel speed. The sensitivity is high at low travel speeds and less at high speeds, allowing for precise control when manoeuvring at low speeds while providing excellent stability at high-speed straight travel.
This sit-on stacker truck calculates and adjusts speeds according to the steering angle, providing advanced cornering control for safe and quick handling, minimising the risk of accidents. Additionally, the optional side stabilisers, side castor wheels and straddle lifts contribute to even greater load security.
Related read: The Next Generation is Here: The New SRO Stand-in Stacker
Clear and informative display
The SSO comes with a standard display, delivering insight into the likes of the truck's battery status and operating hours.
If you require more displays the SSO can be fitted with an optional multi-function display which includes up to 100 operator IDs with PIN code access for added security and three driver settings to suit applications and experience levels:
- PRO: for advanced drivers in intensive operation.
- ECO: optimised settings for lowest energy consumption combined with high productivity.
- EASY: perfect for sensitive goods handling or beginner mode (with a maximum drive speed of 8 km/h, softer braking and slower acceleration).
PRO: for advanced drivers in intensive operation.
PRO: for advanced drivers in intensive operation.
PRO: for advanced drivers in intensive operation.
ECO: optimised settings for lowest energy consumption combined with high productivity.
EASY: perfect for sensitive goods handling or beginner mode (with a maximum drive speed of 8 km/h, softer braking and slower acceleration).
The SSO is a robust, powerful and versatile machine that will enable you to streamline your material handling activities and maximise productivity. In addition to the key features and benefits of the sit-on stacker truck that we have discussed, it comes with a whole host of optional extras: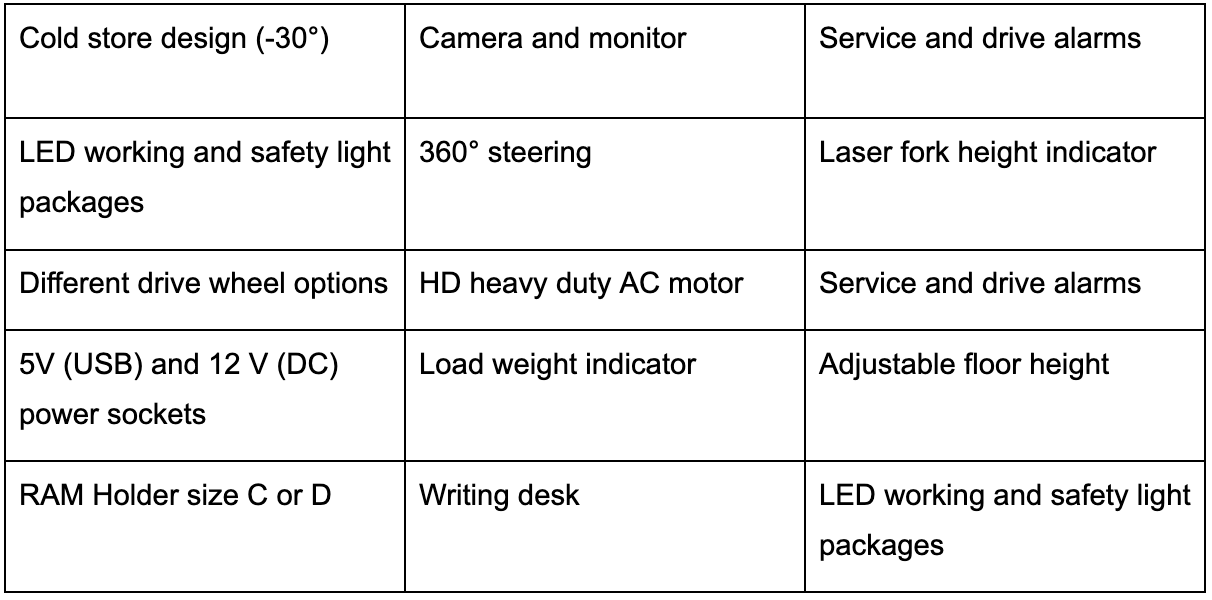 And more. Get in touch with us here to learn about our full range of optional extras.
There is a range of highly applicable and advanced stacker trucks on the market. This is because the higher you need to lift pallets, the larger your truck will need to be for added stability. If you require a lift height of up to seven metres, for example, the SSO will be the perfect application for your fleet. What might be a higher initial cost will save you financially in the long run as your operators are able to function more productively and your TCO becomes reduced.
Investing in an electric-powered stacker will help you to future-proof your material handling operations. At TCM, our trucks are designed so that every operator can work productively without running the risk of discomfort or injury. We're committed to providing our customers with innovative products that advance productivity and improve TCO, no matter which industry you work in.
Download your free brochure to learn more about the advantages of employing pallet stackers in your warehouse operations.