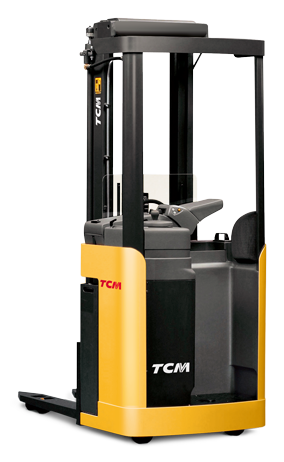 Stand-in stacker trucks are precision-engineered for improved operator functionality and high-level performance. Being both compact and designed for high-intensity operations, this new-generation model is amongst the most robust, reliable and cost-effective machines available.
The stand-in stacker was first developed in 1961 by Logisnext as a solution to issues such as warehouse space, driver safety, and limited residual capacities. With precise control, excellent stability and a compact body, TCM stand-in stackers are extremely space-efficient and able to work seamlessly in narrow stacking aisles as the operator is housed within the truck.
This new generation model SRO stand-in stacker truck works smoothly with the operator to improve their safety, efficiency and comfort in light to heavy-duty operations in warehousing or manufacturing.
Key features and benefits of the
SRO stand-in stacker truck
Safety
The stand-in truck offers an excellent view of the forks through the mast and carriage, enabling greater visibility and quicker handling speed. It has electric-powered steering that is highly responsive, allowing for precise control when manoeuvring at low speed and excellent stability for tasks that call for increased speed levels. The cornering control enables safe and quick handling by automatically reducing the maximum travel speed when navigating corners to provide higher residual capacity on high-lift tasks. To remain balanced in all situations, the SRO has side stabilisers with dual load ratings as well as simultaneous hydraulic functions.
The driver benefits from overhead guard (OHG) pillars of two optional heights: 150 mm or 160 mm lower than standard. This model also offers a panoramic high-visibility roof and a 360-degree ball camera in the inner mast to enhance visibility at greater lift heights.
From communication and adaptability to practice and safety measures, discover these 10 tips to become a better forklift operator
The SRO has a fitted computer with two different machine interface displays that help the operator access key information. The standard display offers basic information such as battery status and hour meter of the truck, whilst the multi-function display provides up to 100 different operator IDs and has three different driver settings: Pro, ECO and Easy. The three driving modes differ depending on the application:
'Pro' is useful for advanced drivers in an intensive operation
'ECO' is optimised for low energy consumption combined with high productivity
'Easy' is perfectly designed for sensitive goods handling or beginner mode.
'Pro' is useful for advanced drivers in an intensive operation
'ECO' is optimised for low energy consumption combined with high productivity
'Easy' is perfectly designed for sensitive goods handling or beginner mode.
Lighting is a huge factor in providing safe working environments. The truck can be equipped with red or blue floor spotlights which are mounted on the OHG and working LED lights. The LEDs have a light intensity of 1100 Lumen per lamp, are IP 69 rated and can be mounted in the overhead guard. Spotlights and working LEDs function to improve the operator's visibility and alert pedestrians or other operators of the truck's presence.
Related read: How Our Electric Counterbalance Range Ensures Operator Safety
Efficiency
Downtime is a huge factor to consider in material handling operations. This heavy-duty stacker is designed with a built-in lithium-ion (Li-ion) battery which eliminates the need to change batteries for charging; minimising downtime and increasing productivity. The Li-Ion battery provides a higher residual capacity than the Junior model, however, you also have the choice to be equipped with a traditional lead-acid battery.
The built-in fully integrated Li-Ion Battery and very narrow truck offer the highest possible uptime, making the SRO a strong and productive companion in multiple shift operations.
Related read: Forklift Battery Charging Station Power Requirements Explained
The SRO stand-in stacker is speed-optimised to provide the highest level of safety. How does this work? The vehicle's speed is constantly monitored and is changed according to the load being handled and the direction of travel.
In terms of accurate, safe and efficient lifting and lowering speeds, the AC lift motor provides quiet and smooth motions. The level selector and level assistance system enable the operator to choose between the preset heights and the laser fork height indicator gives operators greater control and precision when handling materials. It's almost hard to believe that a machine with load capacities ranging from 1,250 kg and 1,600 kg to 2,000 kg could offer such accuracy and smooth manoeuvring.
Comfort
Without comfort, you will undoubtedly have a team of unhappy operators. To create and maintain a positive working culture and environment, employee comfort is essential.
The SRO stand-in stacker more than accommodates this. It has an optical presence sensor that provides a variable working position and reduces the stress and fatigue on the driver's left foot. A floating steering wheel is fitted which enables adjustable height and rotation angle allowing for better posture in the driver and a more natural position of the upper body. As well as the steering wheel, the SRO's armrest is adjustable, too. With quick-release handles, the ergonomic solution covers a wide range of different physical variations for the user which makes controlling the vehicle an effortless task.
Related read: How TCM Reach Truck Forklifts Enhance Operator Comfort and Safety
Designed to maximise comfort and ability, the handle of the stand-in stacker is provided with a thumbwheel throttle for better ergonomic speed control. The controllers can be handled with the thumb and index finger (precision grip), enabling simultaneous functions and a more intuitive workflow.
Being a stand-in stacker, a key feature of the truck's design centres around keeping the driver inside machine perimeters regardless of driving position; of course, this improves the operator's safety and manoeuvrability, but the compartment contains additional comfort features:
- Low step-in height
- Floor vibration-damping
- Foot protection feature
These three elements work to reduce stress and fatigue and ensure the vehicle will not move unless the driver intends it to.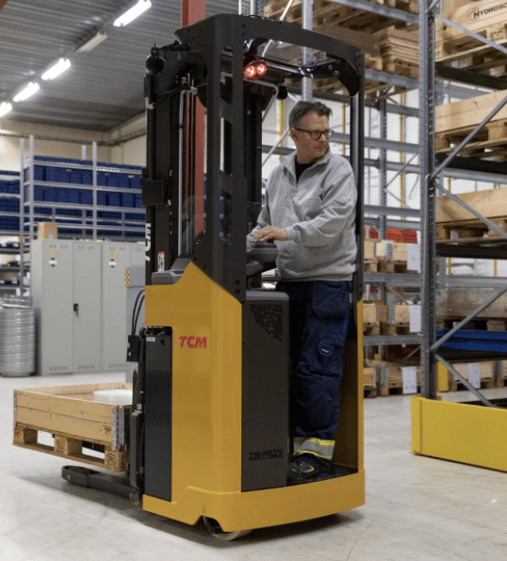 Although the SRO is compact, it contains a large storage compartment under the armrest as well as smaller compartments for holding the likes of additional tools, mobile phones, or cups, for example, and boasts a sizeable writing desk.
Is your organisation ready for 2030? Read our electrification guide to discover everything you need to know to prepare
The attention to detail on this powerful machine works to improve safety, efficiency and comfort making the new SRO stand-in stacker truck an essential tool for any modern warehouse.
The SRO stand-in stacker truck is designed with a shared component strategy to keep service costs and TCO (total cost of ownership) down. This ensures maximum uptime and security.
We view truck transactions as long-term strategic partnerships, taking a consultative approach to understand your operations, processes and workforce, and bringing in factors like servicing and maintenance when looking at the TCO. Some key features mentioned throughout this article may be optional. Please consult with your local TCM dealer for further details.
We're dedicated to helping you achieve your business goals. Get in touch today to discover how you can improve your operation's sustainability.