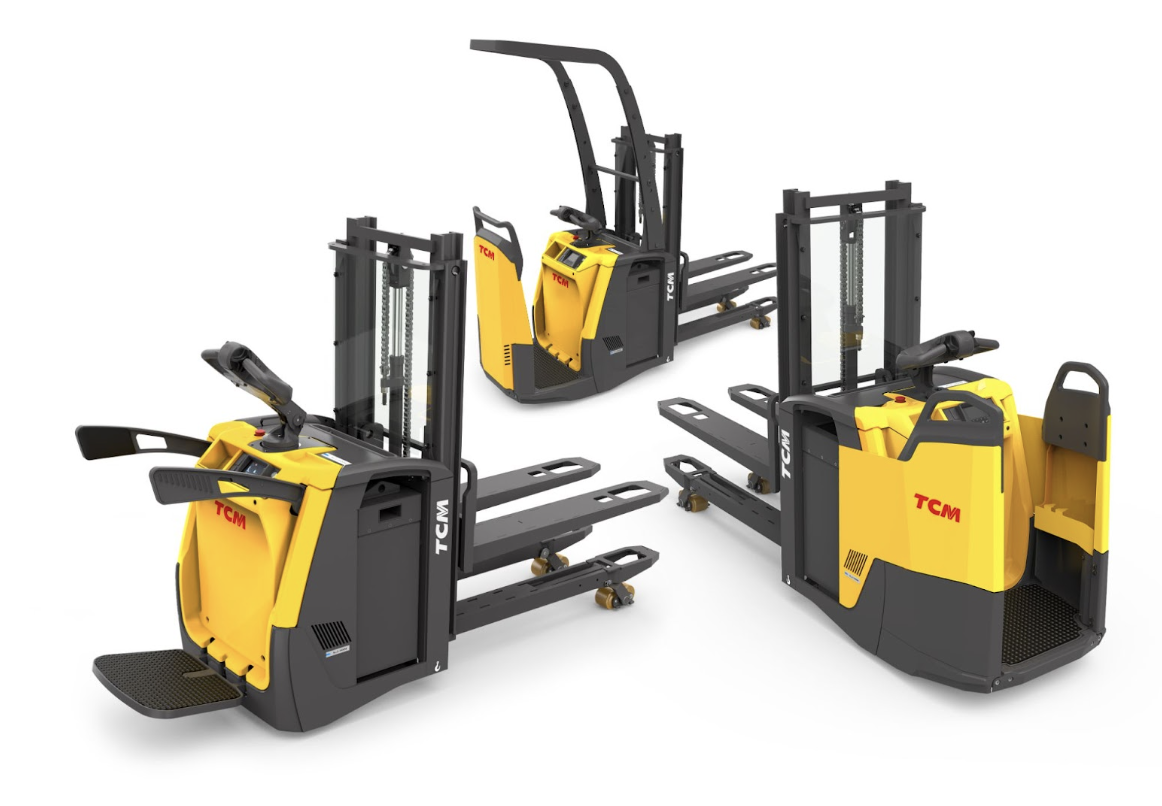 Our SRD ride-on double pallet stacker trucks are versatile and compact. Primarily used for stacking pallets at a wide range of heights, the SRD range is powered by sustainable Lithium-ION (Li-ION) battery technology and is ergonomically designed with usability at the forefront, ensuring your operators are as safe, comfortable, and efficient as possible.
The SRD ride-on double pallet stackers are equipped with a foldable or driver-protected platform, all models – the SRD20-N3, SRD20R-N3, and SRD20S-N3 – come with a double lift capacity of 2x 1,000 KG, a load centre of 600 mm and a truck width of 740 mm. Their design makes them ideal for highly efficient loading and unloading operations, internal transport or cross-docking applications.
Keen to learn more about our full range of pallet trucks? Take a look here for an overview of our efficient, robust, ergonomically-designed pallet trucks.
Read on to discover the key features and benefits of the SRD ride-on double pallet stacker range.
The SRD Range: Ride-On Double Pallet Stacker Trucks: Key Features and Benefits
Unparalleled efficiency
Speed is an important aspect of material handling operations – you want your operators to be able to travel at the right speeds in order to maintain maximum productivity without compromising on safety. The SRD range comes with a rocker switch on the ergonomic tiller head which controls speed, a regulated lift motor and a proportional valve. These features all work together to ensure smooth, safe and precise lifting, lowering and handling.
As well as a rocker switch and ergonomic tiller head, the SRD ride-on double pallet stacker range has three steering options including Mechanical, Power and Power+ with pivot action for effortless control.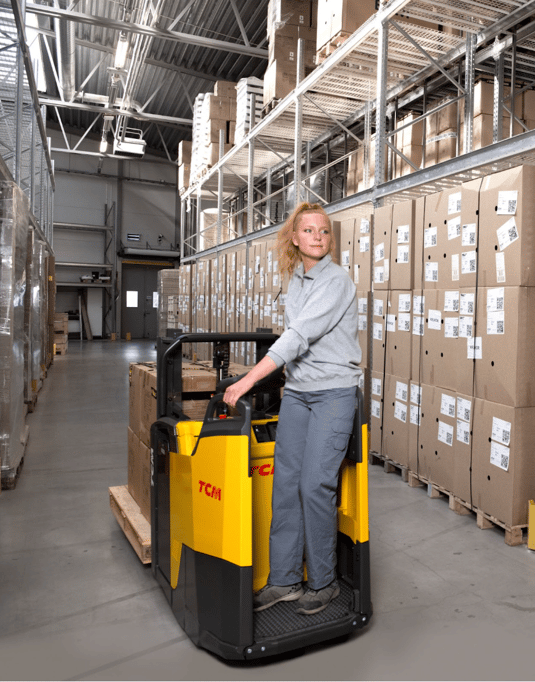 Related read: Improve Your Operators' Efficiency with TCM's Pallet Stacker Trucks
The SRD20R comes with power steering as standard, allowing the operator to travel at faster speeds and longer distances. You also have the option to choose the driver-protected back entry with foot protection for added support. The SRD20S is enhanced with power+ steering with pivot action as standard which also provides the operator with the ability to travel at faster speeds and over longer distances. For low-level order picking, you can choose a driver-protected side entry with a low-step platform, as well as foot protection.
At TCM, we're passionate about enhancing efficiency where possible. The SRD range has a top speed of 10 km/h and a choice of two lift heights: 1,700 mm and 2,000 mm, so from floor to forks your operators are provided with optimised lifting and lowering abilities for greater productivity.
Related read: Are you considering investing in a forklift truck? Download our free guide to discover all the factors you should examine to ensure you make the right choice.
With this range of ride-on stacker trucks, the onboard computer provides the driver with essential information such as the battery levels and hour metre and is designed with an efficient and clear display so that the key information is visible and easy to read, even at a glance.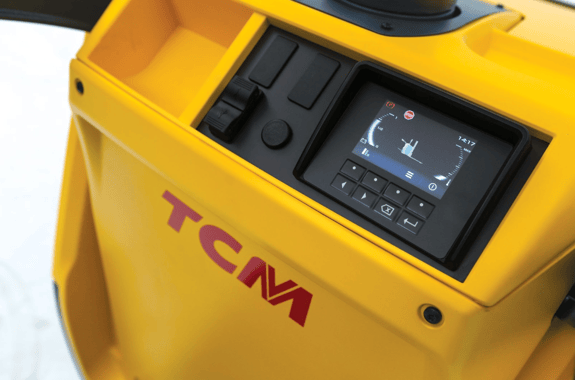 The narrow chassis of the SRD range enables the operator to pick up and position pallets in confined spaces – especially important in production and throughout the narrow aisles of a warehouse. The rounded edges also minimise the risk of damaged goods, and the double pallet configuration has been developed for maximised productivity. The SRD ride-on double pallet stacker trucks provide operators with excellent ground clearance for negotiating ramps and dock levellers.
If you want to learn about our other stacker trucks currently on the market, these articles may be of interest to you:
- TCM Compact Pedestrian Pallet Stacker Trucks: SPL12-N2 & SPD12-N2
- Brand New to TCM: The SPW and SPR Pedestrian Pallet Stacker
- TCM's Latest Sit-On Stacker Truck: Features and Benefits of the SSO
Optimised comfort
When operators feel comfortable, they will be happier in their role and work more efficiently. That's why we always put ergonomic design at the forefront of our vehicles. The ergonomically shaped robust tiller head has been for ambidextrous use and ensures all operators can easily access the controls that they need, simplifying handling and providing enhanced control and comfort. The patented lift/lower rocker buttons and easy-reach controls reduce the risk of fatigue and RSI (repetitive strain injury) and are housed within impact-resistant, weather-protected casing.
Both the foldable and fixed platforms have a rubber floor mat and are mechanically damped to ensure operators aren't affected by the vibrations of the truck. These enhanced comfort features enable the ride-on double pallet stacker truck operators to travel long distances and carry out extended work cycles with ease. The folding operator platform has excellent dampening, while the operator is protected by foldable protection bars (this is an optional feature).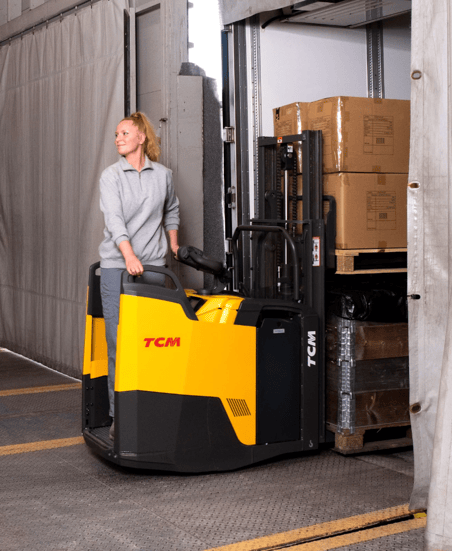 The low chassis prevents foot injuries, and the compact design, together with optional power steering, facilitates manoeuvring in tight spaces so that the operator doesn't have to strain or struggle to access pallets and navigate the narrow aisles of a warehouse. You have a choice of fixed platforms - side entry or rear entry. The ultimate benefit of a fixed platform is that the operator is always within the confines of the truck, enhancing safety. The choice between side or rear entry is down to application and which one lends itself to better efficiency of the operation which will, ultimately, impact your TCO (total cost of ownership).
Related read: Grow Operator Efficiency By Creating Comfortable Working Environments
Enhanced safety features
The patented Truck Docking System (TDS) constantly provides the operator with maximum drive wheel traction regardless of load weight and driving conditions, ensuring they can be as productive as possible without the risk of danger. The rear stability caster wheels are equipped with integrated shock absorption and variable damping that will automatically adjust depending on driving conditions, maximising truck stability at all times.
The SRD's Optional active spin reduction (ASR) will further enhance drive wheel traction and truck stability in slippery and wet floor conditions, ensuring your operators are fully in control of manoeuvring the vehicle at all times. This ride-on double pallet stacker range also boasts a rear entry platform sensor that ensures the truck slows down if the operator's feet are not fully onboard.
Related read: 5 Common Forklift Driving Mistakes You Shouldn't Ignore
Lithium-Ion battery technology
Aside from the benefits of being environmentally friendly (Li-ION batteries are highly sustainable), Li-ION batteries can offer real advantages over lead-acid batteries, particularly in high energy, multi-shift, and 24/7 applications.
The benefits of Li-ION battery technology:
- Longer life
- Higher efficiency
- Longer runtime
- Consistent performance
- Faster charging
- No maintenance
- Inbuilt protection
When it comes to TCO, TCM can advise you on the most cost-effective energy solution you will need to meet all your operational requirements.
Related read: Free Electrification Road Map Checklist
Optional extras for the SRD ride-on double pallet stacker range
- Increased 12,5 km/h drive speed, with sidebars
- Multi-function display with Pin code access, PRO, ECO and EASY driver settings
- Cold store protection (-30°C)
- Steel battery rollers
- Power steering (SRD20)
- Power+ steering with pivot action (SRD20R)
- Electrically-adjusted damping of fixed platform models to suit all operators
- Overhead guard
- RAM system (size C or D) equipment holder
- Pallet entry and exit sliding bars • Power socket 5V USB & 12V DC • LED working lights
- Load backrest
- Different drive wheel options
-Tiller-up drive (SRD20)
- Writing desk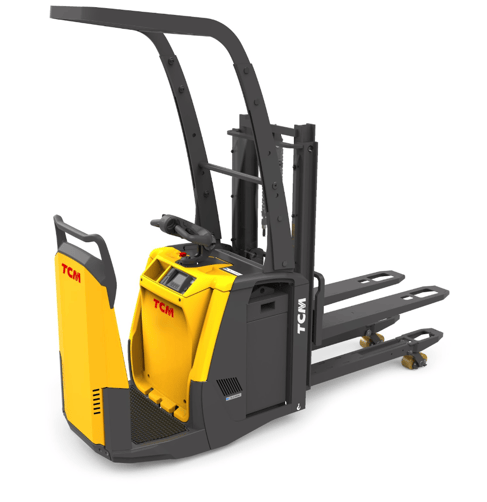 Is your organisation ready for 2030? Read our electrification readiness checklist to discover everything you need to know to prepare.
Why choose TCM's SRD pallet stacker range as part of your material handling fleet?
Our SRD ride-on double pallet stacker range offers vehicles that are ergonomically designed, with innovative optional add-ons, to ensure that your operations run as seamlessly as possible. The features of this pallet truck range provide operators with enhanced comfort, stability and safety, ensuring your warehouse operations are carried out at maximum productivity without compromise.
At TCM, we're passionate about material handling solutions. That's why we provide cost-effective, highly efficient vehicles that cater to all of your operational needs. To enquire about the SRD ride-on double pallet truck range, click here. To learn about the key features, benefits and specifications of our pallet trucks, download your free brochure here.