Innovation
Electric Forklift Trucks
Modern electric forklift trucks are designed to provide the highest standards of comfort, efficiency and safety, delivering a powerful, emission-free solution to material handling operations.
With the 2030 ban on petrol and diesel engines fast approaching, making the switch from internal combustion engines (ICE) to electric forklift trucks is growing by 8% per annum.
The next few years are set to see a dramatic shift in the way businesses equip and run their material handling operations. It's important to consider all the options available, from upgrading your current equipment and switching your fuel source to revising your operator shift patterns and adapting your warehouse to electrification.
At TCM, we're on hand to help guide your electrification journey, whether that's choosing the right forklifts for your application or identifying the most cost-effective battery solution for your business.
Read on to discover:
What is electrification?

What is an electric forklift?

What types of electric forklifts are available?

How much does a forklift cost?

How do electric forklifts work?

Batteries types for electric-powered forklifts

Forklift battery safety

Your forklift battery maintenance checklist

The benefits of electric forklift trucks

The future of electrification

What is electrification?
Simply put, electrification involves switching from a traditional power source (such as diesel or LPG (liquefied petroleum gas) forklifts) to one powered by electricity (such as a battery-powered forklift).
Electrification can be divided up into specific sectors to describe broader national and international efforts, such as factory electrification, household electrification, rural electrification, and railway electrification.
In this guide, we'll be discussing the key factors, considerations, and benefits surrounding electrification in the material handling industry, as well as the impact on businesses.
Related read: 6 Key Advantages of Electric-Powered Forklift Trucks
What is an electric forklift?
The term 'electric forklift' can describe any battery-powered forklift truck, including hybrid models.
There is a wide range of different types of electric forklifts available on the market, from counterbalance trucks and order pickers to pallet trucks, reach trucks and stackers. As a result, each electric truck has its own features and benefits, as well as specific, suitable applications.
Electric forklifts use their forks to pick up, stack, transport, and load and unload goods. Operators can manually operate the trucks, or sit, ride, or stand on them, depending on the type. Electric counterbalance trucks and warehouse equipment are engineered for maximum stability, ensuring they don't tip forward or sideways when they pick up or manoeuvre heavy items. This assures the safety of the operator, the truck, and any pedestrians or products in the immediate vicinity.
Determining which type(s) of electric forklift to choose will depend on your business needs, your facility, and the operations you run.


What types of electric forklifts are available?
There are many different types of electric forklift trucks available on the market and each has a specific function.
Read on to explore the different types of electric forklifts currently available.


Electric counterbalance forklifts
For most industrial markets, electric counterbalance forklift trucks are versatile machines used for anything from handling pallet movement, unloading trucks, and cross-docking, to general stillage and material movement.
Our electric counterbalance forklifts are designed with specific characteristics that centre around and optimise efficiency, comfort and safety, and are available in a range of load capacities. These electric trucks are ideal for all industry sectors, including manufacturing, food and drink, automotive, metals, wood, and chemical applications.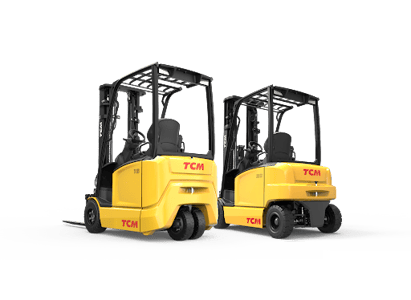 To learn more about the key features and specifications of our electric counterbalance forklifts, download the brochure here.
Electric order pickers
In the material handling world, order picking is the most labour-intensive and expensive task. By paying careful attention to your processes, it's possible to keep these costs under control and make your warehouse more efficient and profitable. Order pickers offer an exceptional combination of manoeuvrability, user-friendly design and flexibility.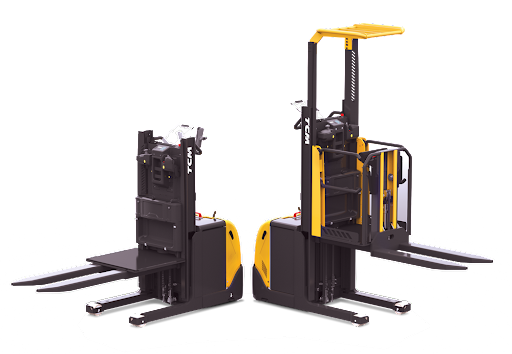 With rapid acceleration, high top speeds, and gentle braking, the low-level order picker moves quickly - and safely - between picking stations. Our medium and high-level order pickers have been designed with usability and ergonomics at the forefront. The impressive reach of this series enables you to maximise the use of space in your warehouse whilst keeping safety standards high.
With high throughputs, free-roaming, and wire or rail guidance, TCM order pickers are ideal for all warehouse applications.


To learn more about the key features and specifications of our electric order pickers, download the brochure here.
Electric pallet trucks
The compact design of our range of electric pallet trucks offers safe manoeuvrability in tight spaces, such as the narrow aisles of a warehouse, and the compartment provides protection to the driver as well as all-round visibility. This vehicle range also includes the patented TDS system, which offers maximum drive wheel traction, regardless of load weight, for added operator safety.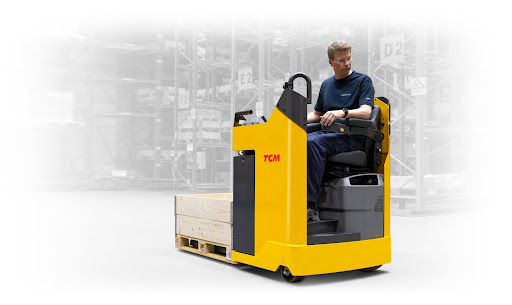 The TCM electric pallet truck range is suitable for most applications such as manufacturing, warehouses, and logistics.
To learn more about the key features and specifications of our electric pallet trucks, download the brochure here.
Electric reach trucks
Our robust reach trucks bring your warehouse efficiency to the highest level. Entirely designed around the operator, these electric trucks provide world-class ergonomics and comfort and will adapt to your operational needs.
Able to perform almost any heavy-duty 24/7 material handling task, our reach trucks have slim profiles and rotating forks that allow operators to fully manoeuvre in very tight environments. They are universal reach trucks for those requiring a smaller footprint.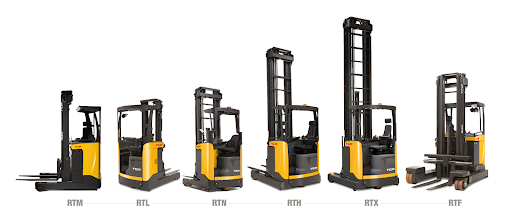 You can use TCM reach trucks in almost any environment, including warehouses and manufacturing facilities.

Download the reach trucks brochure here to learn about the key differences, features and specifications of these vehicles.
Electric stackers
With industry-leading performance, our electric stacker trucks boost productivity in any application, ensuring that you can carry out your material handling operations with confidence. Their compact body enables them to operate seamlessly – picking up, positioning and stacking pallets – around the narrow aisles of a warehouse.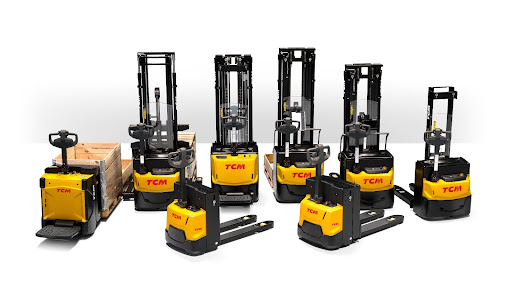 Electric stacker trucks are ideal for stacking pallets at a range of heights, but versatile enough to perform a range of duties — from heavy industrial to light handling tasks.

To learn more about the key features and specifications of our electric pallet stackers, download the brochure here.
How much does an electric forklift cost?
The cost of an electric forklift truck will depend on which type of vehicle you want to invest in, the financial decision you make, and your business requirements. Whether it's a counterbalance forklift, a stand-in stacker or a powered pallet truck, there are numerous ways to finance the electric forklifts you need.
Here are four primary ways companies decide to finance:
Download this free guide to discover all of the factors you should examine to ensure you make the right choice when it comes to investing in a forklift truck.


How do electric forklifts work?
Electric forklifts are powered by batteries. Depending on the battery type you choose, they require charging at regular intervals. As such, if you're introducing electric forklift trucks in your operation, you will need to have a dedicated forklift charging station with sufficient safety measures.
You will also need to factor in sufficient charging time into operator shift patterns to keep your operation running smoothly and prevent any unnecessarily extended periods of downtime.


Related read: How Much Will the Electrification of Your Forklift Fleet Cost?
Batteries for electric-powered forklifts
When it comes to considering which is the best forklift battery, it all depends on your facility – some warehouses aren't designed in a way that accommodates the chargers needed for lithium-ion (Li-ion) batteries, and your operations – some warehouses don't have the space required for a separate battery-changing area or room that's required for lead-acid batteries.


Read on to determine which battery is most suitable for your electric forklift truck and your operations.


There are main types of battery technology on the market for electric forklifts: Lithium-ion (Li-ion) and lead-acid.


1. Lithium-ion batteries:
the pollution-

free option

Li-ion batteries have a high energy density (meaning that they can store a lot of energy), no memory effect (they don't need to be fully discharged before charging), and a low self-discharge.
As they come at a higher initial purchase price and need fitted charging points, Li-ion batteries aren't a viable option for every warehouse. However, if you decide that Li-ion technology can be integrated into your operations, this battery type comes with a whole host of benefits:
They're completely maintenance-free

They don't need to be topped up with water

They're gas-free

They produce zero harmful emissions

They don't contain any toxic or hazardous materials

Their battery life is 3-4 times longer than other battery alternatives
They use 30% less energy – contributing to a lower total cost of ownership (TCO)
Although Li-ion batteries have a lower capacity than lead-acid, they can be 'opportunity charged' (charging your electric forklift when your operators are on a lunch or coffee break, for example, ensuring the forklifts are always available) within one hour, making them the perfect solution for businesses operating 24/7 who can't afford extended downtime.

Despite their higher acquisition cost, the great efficiency of Li-ion batteries means you can see considerable savings in the long run, making them a cost-effective solution for warehouses that can accommodate their charging needs.


2. Lead-acid batteries: the economical option
Lead-acid batteries are often considered a tried-and-tested solution, as they have been in circulation for longer than Li-ion. They're also thought of as the most cost-effective solution as they're cheaper than Li-ion batteries to purchase outright. In addition to this, lead-acid batteries are easily recyclable.


Related read: Switching from ICE to Electric Forklifts: Top Benefits

One area with stark comparisons is battery life over time. If a lead-acid battery has been maintained and charged correctly, you can expect an average lifespan of 1,500 cycles. A lithium-ion battery greatly surpasses this, delivering over 10,000 cycles during its lifespan. Despite being the most economical in terms of price, lead-acid batteries' comparatively low battery life is worth bearing in mind.
There are also comparisons to make when it comes to battery degradation. Lithium-ion batteries don't degrade at all, whereas lead-acid batteries can degrade by as much as 32% during the course of their lifetime.


Ready to future-proof your business ahead of 2030, but need help getting started? We're offering a free health check to help you make an informed decision. Click here to speak with your local dealer and request yours today.


Forklift battery safety
In the material handling industry, forklift safety is paramount to prevent avoidable accidents and injuries. The same thing applies to the batteries in your electric forklifts. Having the right forklift charging station set up is key.
Here's a battery safety checklist to help get your electric forklift charging station up and running:
1. Charging point installation
Ensure your charging points are fully accessible to users by mounting isolators on a wall with plenty of surrounding floor space. Mains protective circuit breakers should be of the correct amps and rating to suit the charging equipment. It is recommended that all chargers and cables be suspended or positioned so that damage or tripping can be avoided.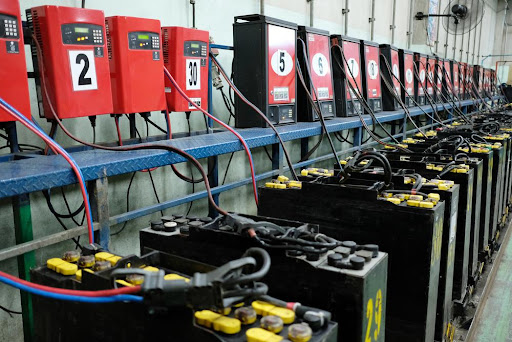 2. Station requirements and considerations
For safety and compliance, all charger isolators should be fitted with power disconnection switches. Charging areas should be well-ventilated, dry and free from atmospheric dust. Although acid-resistant floor protection is not essential, it will help reduce the presence of concrete dust and, in the event of an acid spillage due to battery damage, help to protect the environment. Acid spill kits should be provided in all charging stations.


Related read: 5 Electric Forklift Maintenance Tips to Protect Your Equipment
3. Operator preparedness
Before your operators can access your charging station areas, it's vital that they receive the relevant and regular operational, maintenance and safety training in line with health and safety requirements. This typically includes operational procedures, emergency responses, inspection and maintenance requirements, and an understanding of your company's business processes.


Related read: 10 Tips To Become a Better Forklift Operator


4. Safety equipment
When equipping your charging station, the provision of certified electrical and chemical fire extinguishers will be required. Signs stating: no smoking, no sparks or no naked flame should be displayed, and eyewash stations must be provided and fixed at a suitable height with clear walking access. Safety showers are not required but may be considered for larger installations. If installed, these showers must be isolated from the normal drainage systems.


5. Frequent inspections
It's advisable to appoint a member of your team as someone who regularly carries out checks to ensure all equipment is safe and functional, floor areas are clean and free of trip hazards, and operators follow the correct procedures in line with their training. A record of these inspections should be kept if required by health and safety officials.


For more battery safety tips and charging station power requirements, we've created a handy infographic for you to refer to. Click here to view the infographic.


The benefits of electric forklift trucks
The world of material handling is changing. While some companies prefer to use gas-powered vehicles in their operations, electric-powered forklift trucks provide the financial, time-saving, and productivity-based benefits that many companies today are looking for.


Electric forklift trucks enhance efficiency
TCM's electric forklift trucks are ergonomically designed to ensure operator comfort, safety, and efficiency. Key features such as:
These features, and more, work to ensure ergonomically perfect hand positioning, anatomical support and free movement. Moreover, electric forklift trucks are equipped with ergonomic features such as dual joysticks, all-wheel steering systems, and perfectly positioned pedals and in-steps that reduce fatigue and facilitate advanced manoeuvrability while also providing precision and anatomical support.
These features work together to enhance the efficiency of your operators and your warehouse operations.


Read more about our ergonomically designed forklifts with these free brochures:
Electric forklift trucks have fewer breakable parts
Electric forklifts are easier to maintain than their engine-powered counterparts. This makes servicing quick and straightforward, maximising uptime. Electric forklifts also have fewer breakable parts than diesel trucks, and the associated issues tend to be minor and easily fixed.
If you do need to replace parts of your forklift, opting for OEM (original equipment manufacturer) parts is the safest route to take. OEM parts undergo rigorous testing to assess their safety and longevity. Non-genuine replacement parts aren't guaranteed to be of high quality, and can potentially damage your truck in addition to reducing your forklift truck's efficiency and performance.
The easiest way to ensure your electric forklift parts are genuine and fit for purpose is to purchase them directly through your local TCM dealer. While our competitors average 8,500 parts in their machines, TCM has less than 2,000 components tested exhaustively for superior reliability to minimise breakdowns.
By simplifying maintenance procedures to maximise uptime, your business could see even further savings that reduce the cost of your forklift fleet.


Related read: TCM Leads Material Handling Industry Towards an Electrified Future


Electric forklift trucks are a healthier, more sustainable option
Switching from diesel and LPG trucks to electric forklifts will enable you to operate a cleaner, healthier work environment for employees. Healthier, happier employees can reduce absences and even staff turnover, which will have a positive knock-on effect on warehouse productivity and TCO.
Electric forklift trucks rescue noise pollution. Being considerably quieter to operate compared to ICE trucks, they minimise disturbance and ensure your operators aren't fatigued by constant noise when carrying out warehouse tasks. With minimised disturbance, electric forklift trucks could even allow you to facilitate extended operating hours, maximising your output potential.
Less noise will also have a positive impact on operator safety and efficiency, improving visibility and comfortable working environments, which reduces the likelihood of forklift accidents.
A healthier working environment greatly benefits your employees, but it also has a positive impact on the wider environment. Incorporating electric forklifts in your material handling operations will reduce harmful CO2 emissions, lowering your business's carbon footprint.


By 2030, selling new gas, diesel, and even hybrid-powered vehicles in the UK will be illegal. Put simply, if it has an engine that runs on fossil fuels, it's out. To find out how to kick-start your electrification journey, download your free Electrification Readiness Checklist here.
Electric forklift trucks reduce TCO
Despite the higher acquisition cost of electric forklift trucks, your initial investment will allow you to enjoy the long-term benefits of reduced fuel costs, enhanced efficiency, and reduced maintenance which, in turn, contribute to maximised productivity and a lower TCO.
The money that you save on reduced maintenance, downtime, and fuel can then be reinvested elsewhere in your business as needed.


Understanding how to reduce your TCO is essential to remain competitive, profitable, and efficient. Download your free guide here to learn how to minimise your overall costs across your business and improve the profitability of your forklift fleet.


If you're ready to lower your fuel costs, create a healthier work environment for employees, and reduce your carbon footprint, now is the time to consider investing in the power of electricity.


The future of Electrification
It goes without saying that the future is electric. With the uptake of electric vehicles on the rise and new technologies constantly emerging, it's clear to see why businesses are looking to invest in a more sustainable future. The material handling industry is no exception.


Not sure whether to rent, hire, or purchase an electric forklift? Take a look at this article to learn about the benefits of each option.


By 2030, petrol and diesel engines will no longer be available to purchase. As such, businesses must consider their options now and identify alternatives by the time the regulation comes in.
The new regulations will not only improve the sustainability of your material handling, create a healthier working space for your employees, and reduce damage to the environment, but you can also reduce your maintenance costs, enhance efficiency, and reduce your total cost of ownership with electric forklift trucks.
At TCM, we're dedicated to supporting our customers on their electrification journey — from identifying the right electric forklifts for your operation and application to providing the right battery solutions for your business needs and budget.


While the ban on ICE trucks might seem a long way off, being ready for the change won't happen overnight. Our Electrification Readiness Checklist is designed to help you plan and prepare for the future. Click below to download your free copy today.