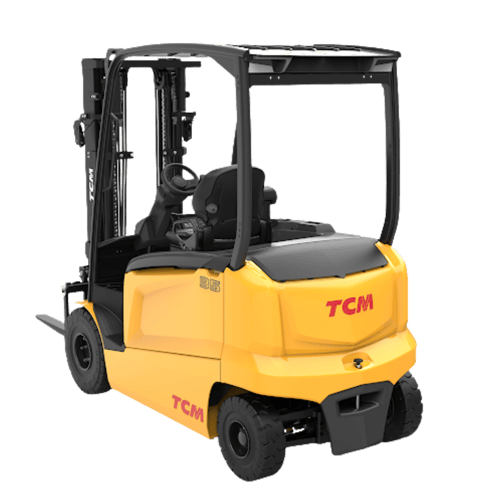 The latest addition to our range of electric counterbalance forklifts is here. Our TCM FHB25-35(L)-F2 is a 4-wheel 80V lift truck that has been specifically designed to deliver driving pleasure and increase productivity. Efficiency, comfort and safety are the key elements of this forklift, to ensure your drivers have the best possible vehicle at their fingertips.
With multiple applications, a range of additional options, and a low total cost of ownership (TCO), our newest truck is incredibly versatile and cost-effective.
Keep reading to find out more about the specific features and how your operations can benefit from adding an FHB25-35(L)-F2 to your fleet.
Agile, Intelligent and Automatically Aided
The FHB25-35(L)-F2 is our most agile and intelligent counterbalance truck yet. Built-in systems will automatically match the truck's high-powered driving and load-handling performance to its changing needs – maintaining fast, but smooth and safe, motion.
As the speed is optimised for each situation, the travel, lifting and lowering actions are neither dangerously fast nor unnecessarily slow, and can even provide an extra burst of torque to avoid loss of speed – which comes in particularly useful when going up ramps and inclines.
Related read: TCM FB/FTB14-20(L)-E3: 48V Electric Counterbalance Forklift Truck
A stability support system is built directly into the FHB25-35(L)-F2, with a simulated differential lock maximising the truck's grip on slippery surfaces by locking the front wheels to increase traction. This keeps the mast, fork and travel movements smooth – minimising any delays or instability due to swaying. This can be activated automatically at small steering angles or manually via an optional pedal function.
These features can make life far easier for your drivers, raising their productivity and maximising the rate at which operations can be safely carried out.
Totally Under Control
As the FHB25-35(L)-F2 was built with the operator in mind, the controls were designed to be as responsive and ergonomic as possible.
Having full control of the vehicle is vital for operators, as it saves time, reduces fatigue and improves their performance and productivity. The FHB25-35(L)-F2 does this by enabling precise, quick and confident operation for its drivers, even in tight spaces.
The truck is fitted with an ergonomic steering wheel that has a tilt-adjustable column for a comfortable driving position with no need to lean forward, and spring-force-optimised fingertip hydraulic controls on an adjustable, comfortable armrest. This ensures ergonomically perfect hand positioning, anatomical support and free movement.
There is also a dual joystick option, which separates functions, such as clamp opening, to avoid accidental moves. This is especially useful if fingertip levers are too small for operation with gloves. Similarly, the position and angles of the pedals are designed to reduce fatigue for drivers of any height or foot size.
Operator visibility is incredibly important, which is why the truck provides clear all-round vision and an advanced all-wheel steering system for agile manoeuvring, of both the truck and its loads, with minimal effort or strain.
An easy-to-read colour display keeps drivers fully informed, and visibility is further optimised so that drivers can easily see their loads, as well as any racking or obstacles in the area, allowing for accurate positioning of the forks and the truck itself.
Comfortable and Safe
Drivers need to be able to maintain high levels of job satisfaction and performance, so the FHB25-35(L)-F2 includes state-of-the-art comfort and safety features for them to feel secure in their role.
A comfortable, quiet and conveniently equipped operator compartment, combined with the truck's high safety specifications, provides a confident, stress-free and enjoyable operation for whoever is behind the wheel.
The spacious operator compartment features a comfortable and adjustable seat, a large, flat, uncluttered floor, and plenty of foot and headroom.
The cabin itself can be weatherproofed, with a transparent roof, steel or PVC doors, windscreen, two sliding windows on each side, a rear window, front/rear wipers/washers, a heater, and a deluxe cabin.
Additional safety features include a long grab handle and non-slip step for easy, smooth entry and exit, and standard working lights, such as front and rear LEDs and an automatic reversing light, all of which are protected within the overhead guard structure.
Optional safety lights can also be added to the truck, including red lines, highlighting exclusion boundaries around the truck, blue or red points (front and rear) warning pedestrians of the truck's approach, and amber strobes.
Related read: How Our Electric Counterbalance Range Ensures Operator Safety
Cost-Saving, Efficient and Productive
The highly efficient and durable build quality of the FHB25-35(L)-F2, along with its simple servicing requirements will minimise downtime, maintain productivity and lower the overall total cost of operation – even when undertaking intensive duties in tough conditions.
Despite the truck's robust construction, maintenance is very simple and it is incredibly energy efficient, reducing the cost of repairs and worn part replacements. A sideways exchange option also speeds up the battery changes.
The use of the truck's ECO mode can extend the runtime per battery charge, and a Li-ion (Lithium-ion) option with a quick-connect access point increases this even further.
There are many further benefits to powering a truck with Li-ion batteries, particularly for high-energy applications and in round-the-clock or multi-shift working environments. They have a longer lifespan and longer runtime, as well as faster charging capabilities than other battery types.
The low maintenance requirements and the highly efficient and consistent performance of Li-ion batteries will minimise interruptions to productivity and preserve the truck's residual value – bringing down the FHB25-35(L)-F2's TCO and making this a very cost-effective solution.
Related read: Forklift Battery Types: Which Is the Most Economical
Choosing the Right Model For Your Operations
The FHB25-35(L)-F2 is available in several different models, with lifting capacities between 2500kg and 3500kg. So whether you are looking for your first electric forklift, you want to add to your current fleet, or you want to upgrade from an existing truck, we have options that can suit your needs.
Our 2.5-tonne versions are available with either a standard or long wheelbase chassis, as are our 3.0-tonne trucks. Finally, our 3.5-tonne option is available in long-wheelbase chassis form, making it ideal for even the most demanding work environments.
To find out more about how the TCM FHB25-35(L)-F2 can benefit your operations, just click here to contact a member of our team. Get in touch with your local TCM dealer today to add our TCM FHB25-35(L)-F2 electric counterbalance truck to your fleet.