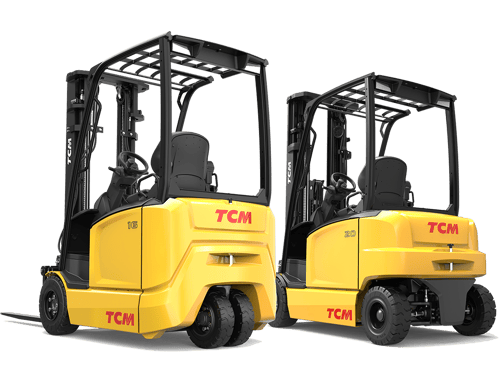 Don't they say all good things come in small packages? Our new three and four-wheel 48V electric counterbalance forklift, the FB/FTB14-20(L)-E3, is small but mighty.
Designed with specific characteristics that centre around and optimise efficiency, comfort and safety, our new 48V electric counterbalance is both versatile and cost-effective. The new forklift is available in a range of load capacities; 1400, 1600, 1800 and 2000kgs, including standard and long wheelbase, guaranteeing your drivers have the best piece of equipment for the job.
It should be noted that, as machines, the three and four-wheel trucks are identical; the only difference is the three-wheel forklift has a close-coupled steer wheel and the four-wheel vehicle has a traditional rear axle.
With an advanced range of features, options and applications, the FB/FTB is a great option for those looking for a vehicle that is agile, intelligent, durable, and contributes to a low total cost of ownership (TCO).
Read on to learn more about the key features and benefits of our new FB/FTB14-20(L)-E3 forklift truck.
Control and Comfort
The more comfortable and in control the operator is, the easier, more efficient and more satisfying their job will be. That's why our new FB/FTB has a range of ergonomic controls and comfort features designed specifically to cater to the forklift operator.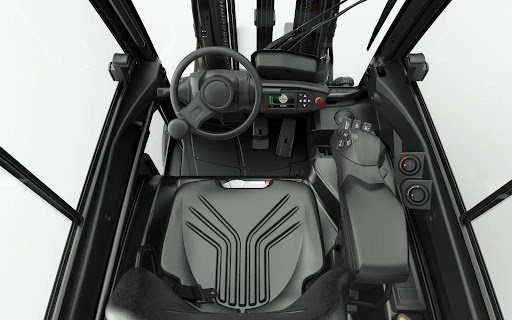 With a spacious operator compartment, a long-handled grab bar and a smooth curved side panel, the driver can access and exit the cabin confidently. The extended seat and steering column adjustability work to facilitate a healthy driving position and bespoke comfort.
Through an inclined and narrow dashboard, the high-vision design maximises an operator's ability to see in front, down and beside them at all times. The driver can steer effortlessly as the truck is enhanced with a one-spoke steering wheel and a steering knob that returns to the ideal '8 o'clock' position to enable effortless steering, control and precision.
Ergonomic placement is a huge contributing factor to the comfort of this vehicle; the spring-force-optimised fingertip hydraulic controls are placed on the adjustable armrest to ensure perfect anatomical support and free movement for the driver. The pedals on the FB/FTB are designed, positioned and angled to reduce fatigue, regardless of a driver's height or foot size.​
From adaptability and planning to communication and safety measures, discover these 10 tips to become a better forklift operator.
For forklift operators, comfort doesn't just refer to a cushioned seat; a person's surroundings are a contributing factor. The noise in a warehouse is not only distracting, but it can also put forklift operators at risk of hearing loss or permanent damage if they operate in a particularly loud environment. The FB/FTB14-20(L)-E3 has a low-noise gearbox, improving the auditory conditions for both drivers and those around them.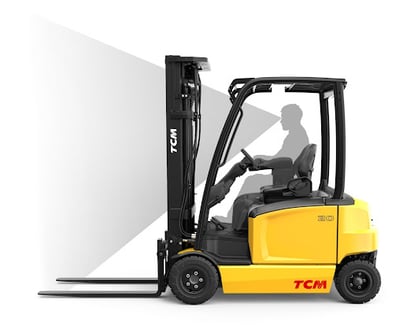 Alongside the built-in benefits that facilitate greater control and comfort, the new FB/FTB has a wide range of customisable control options to suit all operators' preferences. If you prefer traditional mechanical levers instead of fingertip controls - that can be customised. There's an option for tilt-levelling, a double pedal system with independent pedals for efficient forward and reverse acceleration and an operator presence pedal that must be pressed to operate the truck. This ensures all limbs are safely within the truck when driving.
The ideal positioning, effortless control and improved visibility of the FB/FTB contributes to a stress and strain-free working day.
Efficiency and Durability
We're all about reducing your TCO, and the specific features of our new three and four-wheel 48V counterbalance forklift can help you to achieve this. The FB/FTB has fully electronic magnetic brakes and so requires less servicing. Its motors have a high RPM range for precise acceleration control, creating more torque at low speeds and reducing energy consumption.​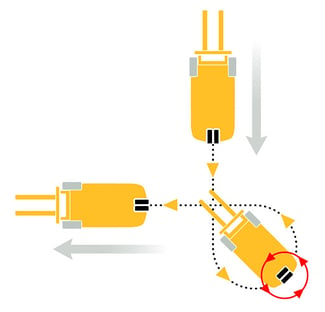 Additionally, there are two pre-programmed driving modes on this new vehicle: ECO (ideal for less experienced staff) and PRO (for more experienced operators). Customer-specific settings are available via Trucktool Diagnostics which, with a service engineer, enables you to change a truck's settings and run a full diagnostic.
In a busy warehouse environment, agility is key. The FB/FTB's adaptive speed control with rapid response to foot movement facilitates smooth transitions of power without jolting. The latest steering technology maximises dexterity in tight spaces. For the four-wheel truck, dual drive steering, combined with a +100° rear turning axle provides smooth and agile manoeuvring, including instant side turns with no need to push back.
The three-wheel truck offers a 360° steering option. This allows the truck to efficiently turn and face the opposite direction in one smooth manoeuvre without stopping and improves cycle times dramatically.
This is not only time-efficient but with lower G-forces acting on the load while turning, higher speeds can also be achieved. The responsiveness and agility of the FB/FTB mean that you could see substantial savings over a year.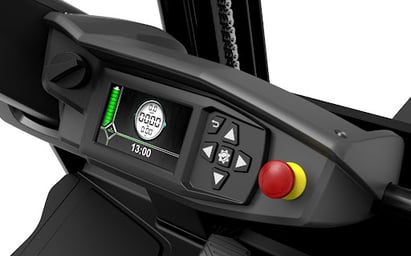 Whilst the physical features are too good to ignore, it's also important to acknowledge the digital: the new 48V counterbalance forklift has an easy-to-read multi-function colour display, visible from any angle of the truck, with a comprehensive menu of messages (available in 38 native languages).
This feature means that the correct knowledge of vehicle usage and maintenance is always available to the operator.
The FB/FTB14-20(L)-E3 has a customisable battery exchange option on the trucks. Changing batteries can be awkward; this truck has a crane battery exchange hatch for existing crane systems as well as an optional sideways battery exchange. The FB/FTB can be used alongside both traditional lead-acid batteries and lithium-ion.
Related read: Forklift Battery Charging Station Power Requirements Explained
Safety and Stability
Safety, here, includes everything that certifies the operator, machine, warehouse, and warehouse staff are free from harm or damage.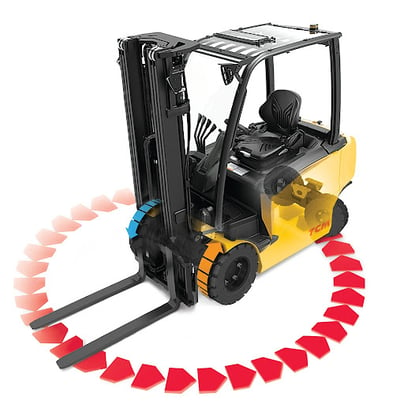 The intelligent control systems of the FB/FTB automatically adapt truck behaviour to the driver's wishes and needs: the operator presence system includes an automatic parking brake, hill hold and – if the operator is not seated – prevention of travel and hydraulic movement. This ensures that no unwanted or unintentional moves are made within the warehouse. The exceptional stability support system of the vehicle offers curve control which calculates and adjusts speeds according to the steering angle.
The built-in intelligent hydraulics system has automatic aids that keep load handling safe, steady and precisely controlled, whatever the lift height or load. If you're worried about high temperatures or weathering, don't be: the durable hose and hydraulic cylinders allow the machine to withstand high temperatures, weathering and physical wear.​
The FB/FTB has a mast sway control feature that works to keep the automatic parking brake open during lifts, that way the mast sway energy can be absorbed by the chassis. The truck's acceleration and hydraulic performance are automatically limited at lifts from 3.5 metres as standard, or as an option from about 2 metres, for steady, controlled handling.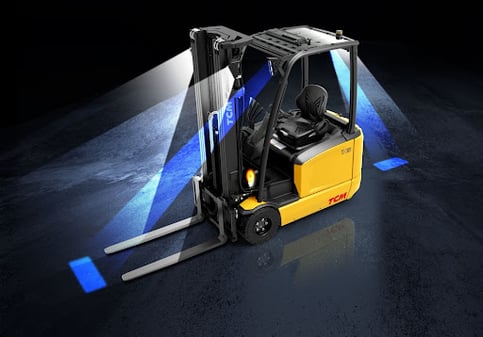 Additional safety features include standard lighting fitted on the mast, overhead guard (OHG) and the rear, reversing lights to illuminate the load and surroundings, as well as amber strobe and blue safety lamps with direction-dependent activation. These lights define the boundaries of the truck giving operators a clear line of sight and full awareness when positioning and loading, even in challenging tight spaces.
Related read: How Our Electric Counterbalance Range Ensures Operator Safety
Key differentiators of TCM's

FB/FTB14-20(L)-E3

48V electric counterbalance forklift truck
Customisable control options to suit all operators and preferences
360° steering option
4-wheel steering with +100° rear turning axle
Intelligent Hydraulics
Adaptive speed control
What's the most efficient and cost-effective for your company or operator/s? Choosing the right solution for your material handling operations can be the make or break of any business. That means investing in the well-being of your staff as well as your physical warehouse.

Part of a comprehensive range of counterbalance and warehouse products, the new three and four-wheel 48V electric counterbalance forklift trucks are all designed and built according to the same principles. The FB/FTB14-20(L)-E3 is ideal for efficient handling in containers, lorries, drive-in racking and other cramped, fast-paced environments and is built to cope with harsh, wet, dirty and dusty workplaces.
To find out more about how the FB/FTB14-20(L)-E3 can improve your operations and reduce your TCO, get in touch with a member of our team right here.