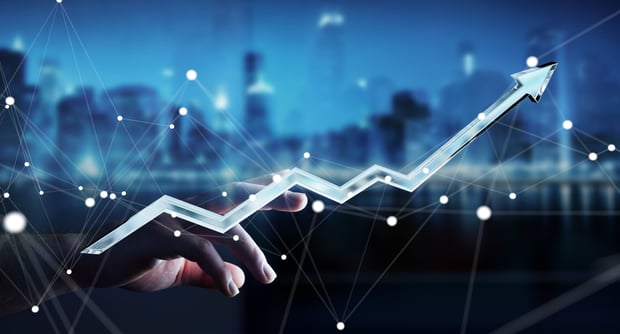 Thanks to advances in technology and information, the world is changing faster than ever. The material handling industry is no different, with new processes and developments altering the way we work on a regular basis.
Staying on top of these changes is crucial. Companies that refuse to acknowledge them, or are late to implement the vital next steps, will be swiftly left behind.
To help you prepare for the future, here are six key material handling trends that you should be aware of.
1. Artificial Intelligence and Autonomous Vehicles
Advancements in artificial intelligence (AI) have given rise to a new wave of robotics and autonomous vehicles for streamlining the way factories operate – something that is likely to continue at pace.
It's becoming more and more common for machines and equipment to have self-learning or independent working aspects to them. What was once optional or fanciful will soon become commonplace. We've already seen this with safety elements like floor projection lights becoming standard factory features.
It's likely that demand for more automated components that make order processing faster or easier will eventually lead to properties such as communication systems being integrated directly into the machines in the same way.
2. The Internet of Things
Automation is also becoming normalised across and between various devices.
The Internet of Things (IoT) is creeping into materials handling, just as it is in our homes and offices. By building systems directly into objects and appliances, machines are able to communicate between themselves, with little human intervention required. This will lead to improvements in coordination, tracking, automated data analysis and much more.
The advent of 5G will also play a role in this area, as data will be able to be moved around much easier and much faster.
3. Workforce Changes
With the implementation of more self-functioning machines, human staff members may find their roles changing along with the times.
Material handling technologies will become smarter and more complex to make the whole system simpler, so employees' day-to-day tasks will likely change as a result.
As the working environment around your team adapts to increased automation, so should they. Workforces will have to become more tech-savvy through necessity.
4. Sustainable Energy Sources
Sustainability measures are still very much a hot topic. Climate change is an ever-present global issue, so businesses are being nudged towards using renewable energy sources to power their company and to implement processes that have a positive environmental impact.
We've already witnessed an increased demand for electric trucks and for the most sustainable kinds of batteries. Lithium-ion batteries are particularly well-suited for this task due to their longevity and lower operational and maintenance costs.
The EU's Stage V emissions regulations will also see a ban on the manufacture of new diesel and engine trucks in the UK and France from 2030, with a view to lowering chemical emissions and improving air quality in those regions. So we are likely to see even more calls for electric forklifts and for battery charging stations to be installed at work sites.
To find out more about electrifying your forklift lift before 2030, take a look at our Ultimate Guide to Electrification.
5. Increase in eCommerce and Online Shopping
E-Commerce is on the rise, having grown massively over the past year or two as companies took their stores online to have a stronger digital presence during lockdown.
Not only will supply chains and material handlers have to keep up with the increased physical demand, but they'll also have to factor in the changes to the ordering and delivery processes.
Global brands like Amazon pave the way and set the standards for online industries. Options like Next Day Delivery and sustainable packaging are becoming the norm for online consumers, who will eventually require smaller businesses to follow suit and present the same offers across the board.
Material handling equipment and processing will have to evolve to stay in line with these improvements to delivery tracking and rapid distribution that is expected from consumers.
6.

Di

gitisation and Digitalisation
Gathering information and using it in the best way relies on two key concepts: digitisation and digitalisation. The terms could easily be confused, but there are key differences between them.
Digitisation is all about moving your data from analogue formats to digital ones. Scanning documents, creating digital checklists, and converting written reports to PDFs – these are all examples of digitising your data. This is all great for accessibility and automation, but it doesn't necessarily lead to optimal business results.
Digitalisation, on the other hand, can and should have a positive impact on your revenue and output. This is all about actively using the data through improved analysis and more effective reporting processes.
Using big data in this way can improve fleet management and streamline in-house maintenance. For example, predictive analytics can be used to identify weaknesses in your performance and operations. By anticipating these issues they can be resolved quickly to improve workplace productivity.
Don't Get Left Behind
Almost all of the points above come down to data. Technology is ultimately making it easier and faster for data to be gathered – about trucks, workplace efficiency and about consumers. The key thing is to actually utilise this information to make your operation more efficient.
With all of these changes and improvements, businesses will either keep up or get left behind. More autonomy and improved data-sharing capabilities will only speed up the process further, so it is crucial to start taking steps now to get ahead of the curve.
Contact your local TCM dealer to find out more about how we can help your material handling business prepare to grow alongside these future trends.