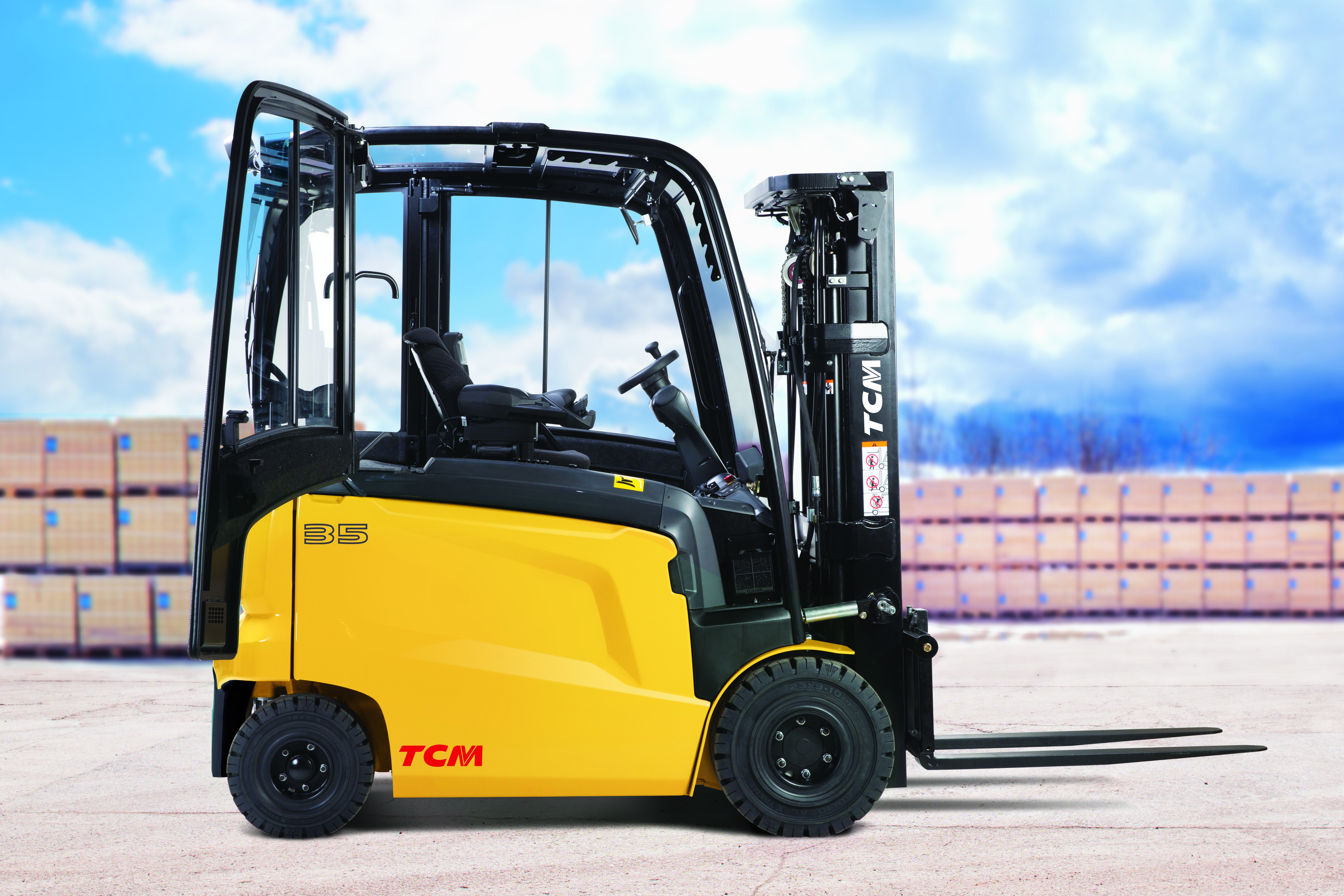 Running a safe and efficient operation is crucial to your business' success, helping you to maintain consistent output and keep costs low. TCM's FHB 4-Wheel Electric Counterbalance truck is the ideal energy-efficient solution to help you achieve this.
Electrification is set to transform the way businesses run their material handling operations ahead of the 2030 ban on petrol and diesel engines. Meanwhile, the drive to modernise today's warehouse equipment is gaining momentum.
A recent addition to TCM's growing product portfolio, the FHB 4-Wheel Electric Counterbalance truck model has been designed with electrification at the forefront of its innovative design.
Ensuring optimum safety and confidence when in control, the 80v FHB truck has a maximum capacity of 3.5t, features an innovative one-spoke steering wheel, and boasts both intelligence and efficiency. Read on to find out more.
Download the FHB brochure here to learn more.
TCM's FHB: an alternative energy solution?
At TCM, we encourage our customers to start making the switch towards more energy-efficient and environmentally-friendly equipment now so that they're ready before the regulatory changes come in. The FHB 4-Wheel Electric Counterbalance has been designed to be as energy-efficient as possible, and there are currently plenty of engine truck applications whereby it would make a great swap.
The FHB truck's innovative design provides low energy consumption to ensure efficient performance both indoors and outdoors, even offering an 'Eco' mode for extended shifts and 'Pro' for more intensive operations. Its feather-touch steering on-demand enables up to 20% energy savings, extending shift capability and enhancing productivity.
If you're currently operating an LPG truck, for example, the FHB is likely to be well-suited to the same application and industry. It's more energy-efficient and in turn cost-effective — helping to keep your total cost of ownership (TCO) low.
Related Read: Lead-Acid or Lithium-Ion: What's Powering Your Warehouse?
What industries/applications is the FHB best suited to?
The FHB 4-Wheel Electric Counterbalance truck is a powerful and versatile machine, designed to operate in a variety of industries, including manufacturing, food and drink, automotive, metals, wood, and chemicals.
Within these industries, typical use cases include moving pallets, unloading lorries and transport, cross-docking, general stillage, and material movements.
The FHB 4-Wheel truck is an extremely manoeuvrable machine, making it ideal for indoor electric applications as you'd expect, for example, wholesale/distribution. However, it's also able to withstand the outside elements and hold its own in heavy-duty applications where engine/LPG trucks traditionally operate; this includes heavy equipment manufacturing, machinery, paper manufacturing, and food and beverage manufacturing.
Related Read: Investing in Electric Forklifts: The Ultimate Guide
How does the FHB ensure operator safety and efficiency?
The FHB truck has been designed for ultimate ease of use for the operator, as well as being as efficient as possible. The truck's features also make it safer to drive, such as its Integrated Presence System, which compensates for common driving mistakes.
"One of the truck's standout features is its steer axle, which has been engineered to enable the truck to handle and manoeuvre in a similar way to a 3-wheel machine. This makes the driver's job much easier in comparison to driving an LPG truck."



— Marcus Turner, Marketing Communications Manager at TCM

The truck is also more adjustable than its LPG counterpart, with a stability control system to adjust tilt speeds, lift speed, etc. Its operational profile is also more customisable than other truck models.
With its unique steer axle, sealed wet disc brakes, Integrated Presence System, and cleverly angled counterweight, each of the truck's features have been designed with the operator in mind.
The 80-volt truck has high residual capacities of up to 7m, offers industry-leading height stability, and features a compact and cost-effective chassis to go alongside its steering intelligence and dual drive motors.
To discover how the FHB 4-Wheel Electric Counterbalance truck could make your operation safer and more energy-efficient, click the button below to speak to your local dealer today.