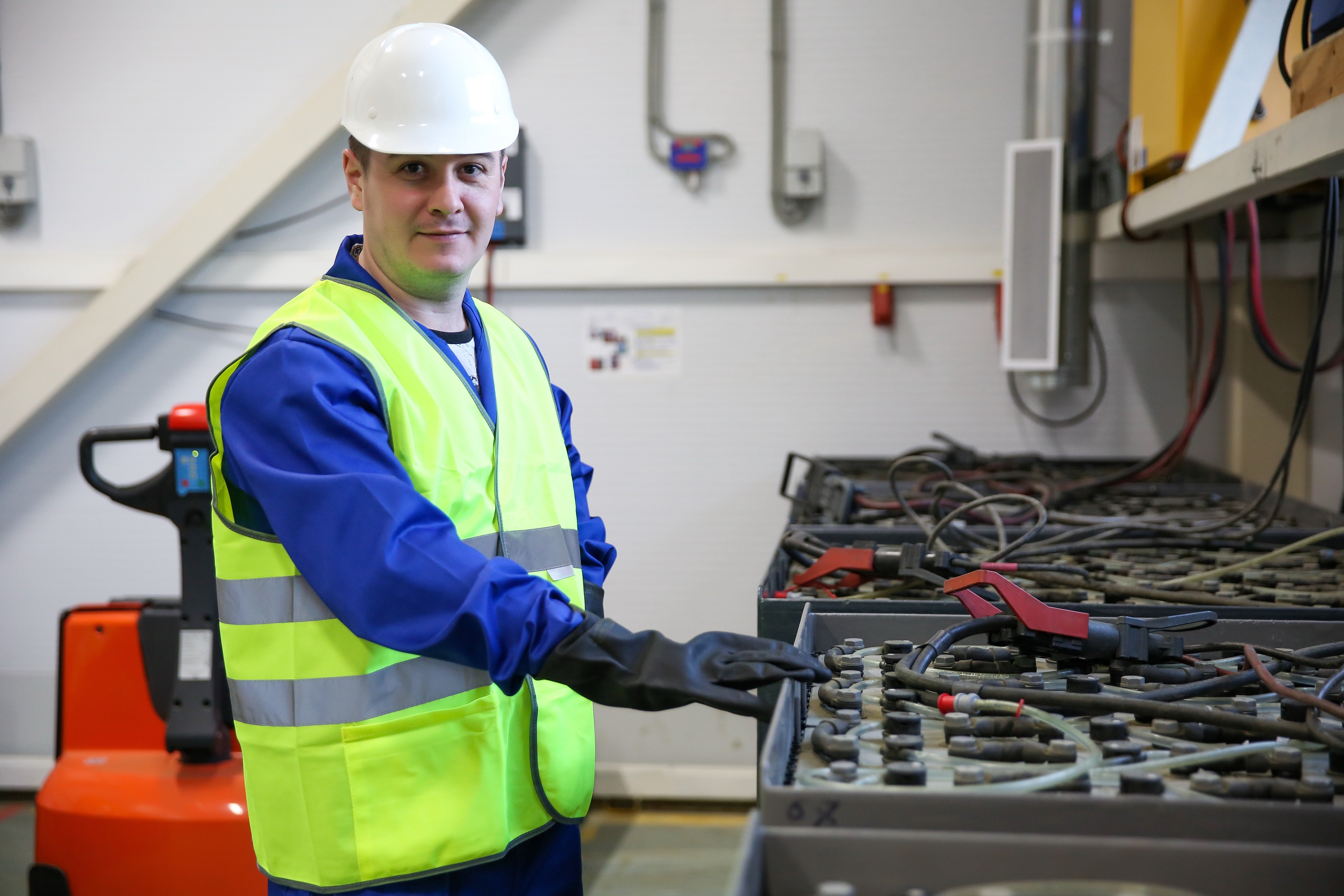 If your business is operating an electric forklift fleet, maintaining your forklift batteries and factoring sufficient charging time into your shift patterns should be a key priority. Read on to discover how to help protect your material handling investments.
Whether your company is continuing business as usual, working at a reduced capacity, or experiencing a period of downtime, keeping your forklift batteries in optimum condition is vital to ensure an efficient and cost-effective operation — both now and in the future.
Neglecting your forklift batteries and leaving them on a truck while not in use can cause sulphation of the plates, resulting in future damage and costs, which could be avoided.
Fortunately, if you're preparing for a partial or complete warehouse closure, there are proactive steps you can take now to extend your forklift battery life and in turn, protect the long-term health of your fleet and operation.
1. Ensure batteries are water-topped and fully charged
Ensuring your batteries are fully charged is the first step in maintaining their optimum condition (the chargers should display green lights, signifying that the charge is complete). Once fully charged, top the batteries with deionised or distilled water to the correct level. If a battery is being left on a forklift truck and not connected to a charger, disconnect the Fork Lift DC plug from the truck.
Where spare batteries are in use, you should also ensure these are fully charged and displaying green lights. As above, once fully charged, top the batteries with deionised or distilled water to the correct level.
Whichever battery is connected to the charger can then be left on charge without needing to switch off the chargers when the charge is complete.
Remember to charge your forklift batteries at the end of each day — not just when they're low on charge — and to charge them completely before use. This will help to ensure a productive and uninterrupted shift the next day.
Related Read: Why Wet-Cell Battery Technology Could Surpass Lithium-Ion
2. Preparing for a period of closure
If your business is preparing for a period of closure, it's important to make sure the mains electric supply to the chargers is maintained. If a period of downtime is imminent, any truck with a fully charged battery must then not be used.
To prevent the battery from discharging, any auxiliary equipment connected to the battery or truck must be switched off or disconnected by removing the plug. This step is crucial to avoid sulphation of the battery — saving you time and money in the long run.
Related Read: COVID-19 & Your Business: Adapting Your Operation for Downtime
3. Refresh-charge batteries on a regular basis
Any battery left not connected to a charger should be reconnected and given a refreshing charge every three months to maintain its optimum condition. This will help you to avoid unnecessary breakdowns and in turn, downtime while your business is operating or when your business begins operating again after a period of closure.
It's also worth scheduling in time to clean your batteries regularly to prevent the build-up of dust and dirt, which can damage the batteries over time and reduce their lifespan.
Related Read: Lead-Acid or Lithium-Ion: What's Powering Your Warehouse?
4. Check electrolyte levels frequently
After three months, the electrolyte level of all batteries should be rechecked — as should batteries that have undergone a refresh charge.
It's crucial to follow these steps as discharged or semi-discharged batteries run the risk of suffering sulphation of the plates, which can reduce the battery's capacity and create considerable time and cost to recover.
While your business might be unable to prevent a period of closure, ensuring your operation is able to get up and running again quickly when the time comes helps to put you in control, enabling you to bounce back quicker and resume business as usual.
Related Read: Forklift Charging Station Power Requirements Explained
How we can help
Regardless of your business's current position, safeguarding operators and maintaining the health of your material handling equipment (including batteries) now will improve your ability to continue with business as usual when the time comes.
At TCM, our dealer network is still operating at a reduced rate to help keep your business up and running. So if you need advice or support on how best to extend your battery life and protect your operation during this challenging time, please don't hesitate to get in touch.
To find out how we can help you, click below to get in touch with your local TCM dealer today.