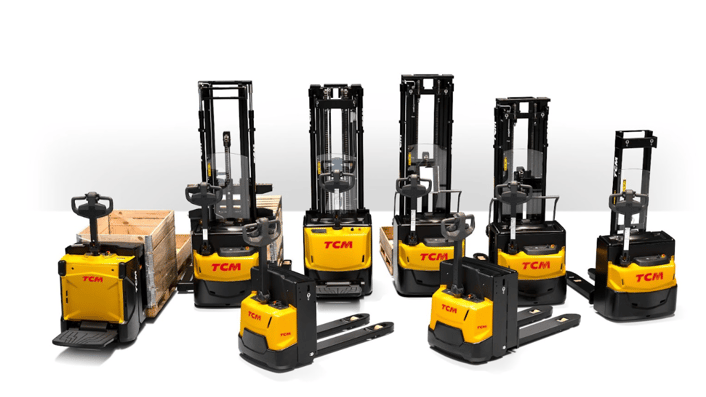 Operator safety is one of the most important considerations when it comes to investing in a new forklift for your business. However, businesses often become preoccupied with preventing major injuries to pedestrians and operators in the workplace, but overlook day-to-day injuries to operators that can have a long-lasting impact on their workforce.
'There are an average of 1,500 injury accidents involving forklift trucks every year', and a lack of training or poor truck maintenance likely causes the majority of these. Although serious and fatal injuries are relatively uncommon, the injuries more likely to have a bigger impact on your business are the injuries sustained through daily operational use.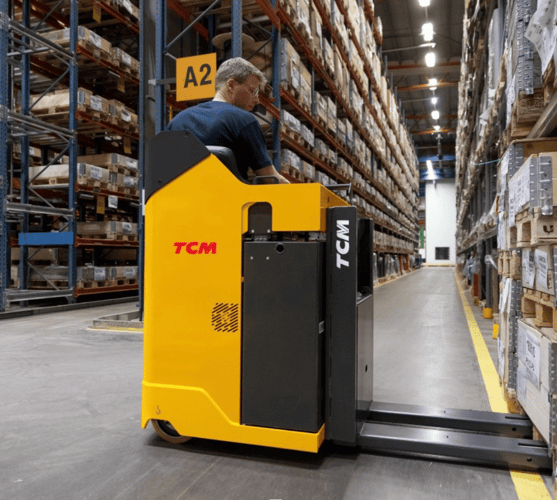 Head and neck injuries, back pain, and repetitive strain injury are the most common complaints in the material handling industry, resulting in an increase in time off and overall staff turnover. So, how can businesses ensure that the risk of sustaining these injuries is reduced?
Operator comfort is one of the most important factors in ensuring overall efficiency. Not just for your workforce but for your forklift fleet, too. At TCM, when it comes to the efficiency of the truck we invest in the operator, making them more comfortable and therefore more efficient.
But it's not just about improving efficiency. Businesses should be looking to protect the long-term health of their employees, ensuring that they don't sustain injuries that are likely to impact their lives outside of work. Unfortunately, lower back pain is a relatively common injury that is likely to affect the majority of forklift operators throughout their careers—sometimes even after retirement or leaving the company.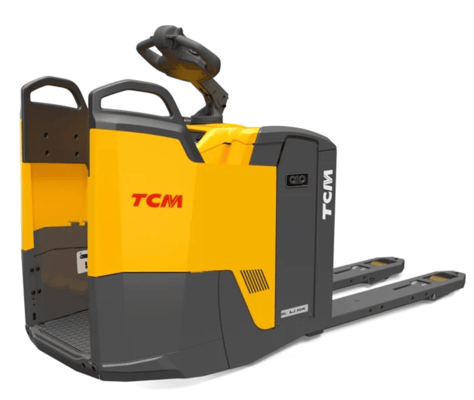 According to the Office for National Statistics (ONS), musculoskeletal problems accounted for approximately 30.8 million working days lost in 2016, which suggests that there is some work to be done to improve overall safety and comfort in the workplace. By ensuring that the workplace environment is fully optimised for human use, we can greatly reduce the number of injuries sustained and therefore reduce the number of working days lost to injury.
So, how does this apply to the material handling industry, and more specifically to forklift operators?
Related read: The True Cost of Forklift Accidents Revealed
The effects of whole-body vibration on forklift operators
The driving of forklift trucks is an occupation that frequently exposes the operator to whole-body vibration – a key factor believed to increase the likelihood of injury to the lower back, so it's paramount that the cab itself is designed to reduce the impact caused by operational vibration and general knocks and bumps.
For most forklift operators, the truck is where they spend the majority of their time during their working hours, so this is the first thing that should be optimised for safety and comfort.
FTo conclude, forklift operators are most efficient when they have the correct equipment and procedures to do their jobs safely. This not only reduces the risk of injury but ensures that they are working productively, without compromising their health or putting others at risk.
One way that forklift manufacturers can do this is by evaluating the ergonomics of their cabs. The seat should be designed to offer protection from shocks and jolts, but also to absorb the majority of the impact. Manufacturers should also ensure that the steering column and other key operational components are easily adjusted to best suit the operator.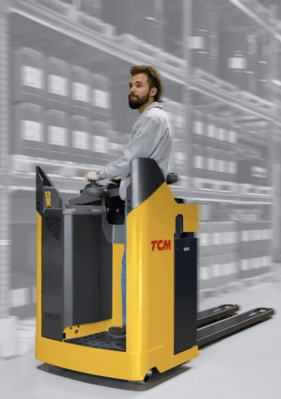 Forklift trucks that aren't designed with their handlers in mind may cease to be fit for purpose and will likely result in a much greater impact on the productivity of your workforce as the risk of injury is greater.
With this in mind, it may be useful to perform a risk assessment of your current fleet, as well as checking if your operators are aware of the cab adjustments they'll need to make to ensure that they're as comfortable as possible whilst operating their trucks.
Whether it's maximising productivity, improving operators' comfort and safety, creating a future-proof forklift fleet, or all of the above, warehouse managers often face demanding and competing priorities. Download this free guide to:
• Understand the different types of forklift equipment available
• Identify your company's key objectives and desired approach
• Determine the best-fit financing solution for your needs
• Discover how to improve health and safety in the workplace
• Weigh up the pros and cons of forklift dealers vs. manufactures
Another factor that can contribute to lower back pain is the way that forklift operators turn to check behind them when reversing. This constant turning movement along with the truck vibrations can put a huge amount of strain on the muscles in the lower back, as well as higher up the vertebrae, resulting in a greater likelihood of injury.
Excellent visibility is required here so that the operator does not have to strain to be able to see clearly, but the truck must also include features that support the handler when undertaking this movement. Handles and grips situated on the cage itself can provide extra stability, helping the operator to balance correctly and reducing the need to twist unnecessarily.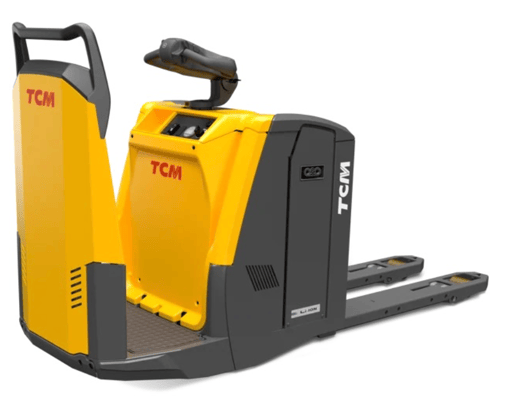 However, lower back pain is not the only injury sustained through frequent forklift operations. Repetitive strain injury (RSI) can also be a huge contributing factor to missed days at work. The operation of forklift trucks is a repetitive process so it is important to educate your handlers in the correct way to drive their trucks to reduce the risk of sustaining a repetitive injury.
Armrests are supplied in the majority of forklift trucks to prevent fatigue and should be used often. Another way you can reduce the chances of your workforce developing RSI is to educate them on correct posture
What forklift operators can do to reduce the risk of injuries at work
It's recommended that forklift operators follow these five steps before the start of every shift to keep the risk of injury to a minimum:
• Remove wallets from back pockets – this can contribute to discomfort in the lower back
• Slide the seat forward or backwards until you've found a position that allows your feet to rest comfortably while keeping the steering wheel and pedals within easy reach
• Lean forward and shift your hips to the back of the seat, allowing your lower back to touch the backrest. This ensures that the spine is positioned in the correct three-curve alignment
• Tilt the backrest slightly backward to allow ease of movement when turning to look behind you
• Ensure that a seat belt is worn at all times
Forklift handlers should take the time to stretch regularly to alleviate the symptoms of muscular discomfort. Stretching not only reduces the chance of injury, but also helps to improve posture and reduce muscle fatigue.
With adjustable controls, padded handles, and easy manoeuvrability, these pallet trucks prioritise operator comfort by reducing fatigue, ensuring that operators can work for extended periods without strain or discomfort.
Forklift operators are also at risk of developing whiplash as trucks tend to be very responsive to changes in direction or speed. Many forklift handlers will likely drive around quickly to get the job done, but this could be causing more harm than good.
Sharp increases in speed and sudden braking can both result in whiplash injuries, but the increase in speed can also impact the intensity of operation vibrations and amplify the shock caused by sudden bumps and jolts, as well as greatly increasing the likelihood of an accident or collision.
Forklift operators should ensure that they stick to the speeds enforced in their working environments, and always slow down when performing complex manoeuvres.
Related read: 5 Common Forklift Driving Mistakes You Shouldn't Ignore
Businesses in the material handling industry should not only look to assess their forklift fleets to ensure their machines are fully optimised for operator comfort and safety, but also regularly educate and train their employees with the best practices associated with key factors such as correct posture and preventing damage to hearing.
Reducing risks to hearing
Forklift operators aren't just at risk of sustaining musculoskeletal injuries; they are also at risk of hearing loss or permanent damage if they operate in a particularly noisy environment. The Control of Noise at Work Regulations 2005 states:
'The level at which employers must provide hearing protection and hearing protection zones is now 85 decibels (daily or weekly average exposure) and the level at which employers must assess the risk to workers' health and provide them with information and training is now 80 decibels.'
The majority of forklifts operate below 70 dBA, however, the biggest issue appears to be when the vehicle warning system sounds while reversing. These alerts tend to be around 90 dBA, suggesting that noise safety procedures must be put in place.
But hearing protection may also become a hazard in itself, as operators who have noise levels reduced through over or in-ear protection may be unable to hear other people or warning signals. This could increase the chances of an accident occurring.
In this case, logistics companies should aim to provide all forklift operators with Class 2 hearing protection. It's also important to make sure employees understand how to use earplugs correctly to ensure they receive the maximum hearing protection.
TCM pallet trucks also incorporate noise reduction technology, minimising disruptive sounds in the workplace. This not only creates more comfortable working environments but reduces the risk of noise-related injuries and damage we touched on earlier, like hearing impairment or loss.
How TCM pallet trucks help to create comfortable working environments
Our ergonomically-designed pallet trucks are known for their durability, reliability, and user-friendly features that cater to diverse operational requirements.
As well as offering manual hand-pallet trucks, our electric pallet trucks provide powered lifting and effortless movement, making them ideal for demanding applications that involve frequent and long-distance transport of goods.
Click on the links below to take a deeper look at our electric pallet trucks, including key specifications:
• LLR low-lifter stand-in pallet truck
• PTP/S pallet truck with side entry fixed platform
• PTP/R pallet truck with rear entry fixed platform
• PTF pedestrian pallet truck with rider platform
One standout feature of our pallet trucks is their advanced safety features. They are designed with built-in mechanisms such as anti-roll-back systems, which prevent accidents and provide stability on inclines.
Additionally, the smooth and precise handling of our pallet trucks enables operators to navigate tight spaces effortlessly, facilitating a safe and stress-free working atmosphere. By prioritising operator comfort and efficiency, our ergonomically-designed pallet trucks contribute significantly to creating pleasant and conducive working environments for operators.
To learn more about TCM pallet trucks, including features, benefits, and specifications, download your free brochure here.
Growing operator efficiency is key to remaining competitive and profitable. By creating comfortable working environments, you can reduce turnover, increase uptime, and reduce your total cost of ownership (TCO).
If you're keen to reduce your TCO but aren't sure where to start, download your free guide here where we discuss:
• How to calculate TCO
• How to reduce TCO
• Choosing the right equipment and technology
• Fleet management software
• and more.