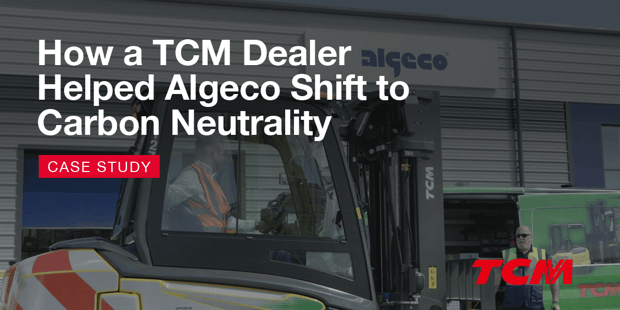 No matter which business you reside in, or the products or services you sell, it's undeniable that sustainability is a key factor in today's business world. The same is true for Algeco, formerly known as Elliott Group, a market leader in modular buildings throughout the UK, Europe, and Asia Pacific.

Watch a video showcasing this case study:

Algeco is part of the Modulaire Group – Europe and Asia Pacific's leading modular services and infrastructure group – offering first-class modular and temporary accommodation and turnkey modular solutions. The company has provided organisations with quick, easy, and cost-effective solutions for their temporary space challenges for the past 60 years.
As a global business, Algeco wanted to ensure it was working in the most environmentally friendly way, ensuring the company was working in line with its Environmental, Social & Governance (ESG) Strategy & commitment. However, owning its own fleet of over 100 ICE (internal combustion engine) forklift trucks across 30 sites, Algeco knew that it was on the wrong track to a greener future. Aside from the environmental impacts, Algeco's fleets weren't standardised, it had very high running costs and significant downtime issues.
Related read: 5 Reasons To Switch From ICE To Electric Forklift Trucks
In an effort to transform its business and employ greener practices, Algeco sought external help from BJB Lift Trucks Ltd., a privately owned TCM and material handling distributor operating across the UK.
This task was on a large scale, which led BJB to carry out rigorous research to source the best solution possible. BJB went into the market and sought out companies that would be an ideal fit for this project, looking into the right equipment at the right price. For 12 months, BJB had to take into consideration the supply chain and market conditions, attaining competitive prices and keeping them fixed.
Related read: Are you considering investing in a forklift truck? Download our free guide to discover all the factors you should examine to ensure you make the right choice.
ICE trucks to electric-powered forklifts: a hefty transition
BJB provided a full range of electric-powered forklifts – utilising lead-acid battery power – and moved from an owned model to a leased model, which enables Algeco to now work with a fixed cost per week, including repairs, maintenance, and servicing.
It is a significant change to move to electric forklifts from ICE trucks, particularly with a fleet of over 100 vehicles. Truck technology has changed greatly, so there was a lot for BJB to consider. TCM was chosen as the ideal solution for helping Algeco go green, as TCM's electric forklift trucks are highly sustainable, efficient and can boost productivity, reducing downtime and improving total cost of ownership (TCO).
Free guide: Reducing the TCO of Your Forklift Fleet. This comprehensive guide explores key areas you must evaluate to reduce the TCO and improve the profitability of your forklift fleet.
Researching Algeco's operations.
Rather than making an estimate based on a standard 8-hour shift, BJB's solution was based on the real hours that Algeco's trucks were in operation. Whilst some ran for two hours weekly whilst others worked significantly more. To ensure their solution was performance-based and supported by independent third-party professional experts, the calculations were then cross-referenced with Carbon Neutral Britain and BJB's preferred battery manufacturer, Hoppecke – an expert in industrial batteries and energy storage solutions.
Partnering with Hoppecke was integral to Alego's goal of achieving carbon neutrality. As a well-renowned supplier, Hoppecke provided a solution that was both cost-effective and innovative, making use of the latest technology.
The lead-acid batteries Hoppecke supplied utilise Trak-Air technology. Paired with smart chargers, single batteries can be opportunity charged, which is highly efficient and works in line with periodic fluctuations (seasonality). Not only that, lead-acid batteries are arguably the most efficient power source currently available as they are easily recycled, which matched with Algeco's green credentials.
Is your organisation ready for 2030? Read our electrification readiness checklist to discover everything you need to know to prepare.
Leading electric forklift trucks transformed operations.
Whether utilising lead-acid or lithium-ion battery technology, all of TCM's electric forklift trucks are highly sustainable and ergonomically designed to enhance operator comfort, safety, and efficiency. Forklift trucks that are highly efficient and ergonomically designed reduce the risk of accidents to operators as they typically feature perfectly designed tiller arms, mechanically damped floor mats, low-step platforms, low chassis, power steering, and more.
Features such as these help the operator to manoeuvre tight spaces with accuracy whilst preventing damage to the operator, such as RSI (repetitive strain injury) and foot injuries, maximising productivity and reducing sick leave and staff turnover.
With business spanning multiple sites across the UK, BJB decided that standardisation was a key part of Algeco's solution. Each UK site will be provided with the same electric forklift trucks across the range of 2t to 16t capacities including TCM's latest FHB30 & FHB50 electric counterbalance forklifts and 2.5-ton pallet trucks, to 2.5 - 4-ton 4-way or side-loading trucks, and 2.5-ton pedestrian pallet stackers, depending on the size and business of the site. Ensuring uniformity across Algeco's sites simplifies things when it comes to maintenance, servicing and part replacement.
If you're interested in discovering more about the key features, benefits, and specifications of our electric forklift trucks, download one of our free brochures below:
Algeco wanted a solution which allowed operators' time to be maximised, which meant eliminating any tasks beyond the operator plugging in the truck or driving it – ensuring its operations could run as smoothly as possible, reducing downtime and improving TCO.
The initial five-year plan was fleet standardisation across the group, replacing all of the owned equipment with new electric-powered material handling equipment. This now incorporates planned and unplanned maintenance agreements and fixed pricing.
When it comes to your business' material handling needs, there are a number of factors you'll need to consider to make an informed decision. Download your free copy of The Warehouse Managers Handbook to identify your material handling needs.
Large-scale changes leading to a greener future.
Electrifying Algeco's fleet has resulted in a range of benefits for the international company, from reduced downtime and higher reliability to fleet standardisation with new, high-spec equipment and increased operator training.
Related read: What Are You Doing to Reduce Your Warehouse's Environmental Impact: Sustainable Material Handling
With TCM's proven technology, and through BJB's professionalism and expertise, Algeco is scheduled to have a fully electric material handling fleet 24 months ahead of schedule, a great success and contribution to their Carbon Neutral target. Through this project, Algeco has been able to achieve significant financial savings on running costs, amounting to thousands of pounds per vehicle.
"Sustainability is an issue that affects us all. At Algeco we recognise our duty to help meet your current needs, without compromising the ability of future generations to meet theirs".
– Algeco
Aside from TCO-related results, Algeco will receive fleet management and monthly reporting based on live data and environmental reductions, working to future-proof its operations.
To find out how we can help your business implement energy-efficient solutions in your operations, click below to speak with your local dealer today.