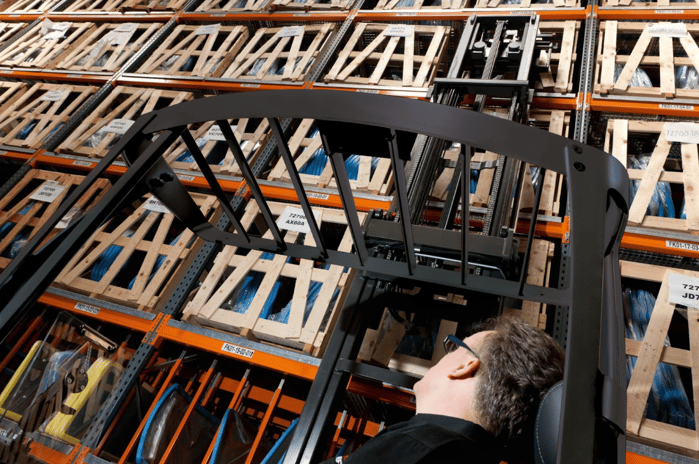 Reach trucks offer enhanced ergonomics
Ergonomics is an applied science concerned with designing and arranging materials people use so that they can operate safely and efficiently. Within material handling, ergonomics refers to equipment – reach trucks, for example – being developed with features that keep an operator safe and comfortable, minimising the risk of stress, strain, and injury.
The real risks of not utilising ergonomically-designed equipment
Forklift truck operators are constantly moving their arms and tilting their heads when navigating a warehouse and handling pallets. Without the correct support, they run the risk of damage such as RSI (repetitive strain injury) which can be permanent. This risk is exacerbated for those who operate reach trucks as doing so requires the operator to move or turn the head more than 45° for more than 50% of their time spent driving
Tilting seats, adjustable armrests and more
The seats of our electric-powered reach trucks are fitted with semi-automatic tilting seats. The tilting seat enables your operators to sit and work at an ergonomic angle which makes it easier for them to look up, removing any risk of neck strain. Reach trucks utilise an adjustable armrest, adjustable floor plate and a mini steering wheel – features that are designed to be suitable for all operators. Taking into account different motions that an operator would experience, reach trucks are designed with advanced ergonomic features that reduce stress and make movements more seamless.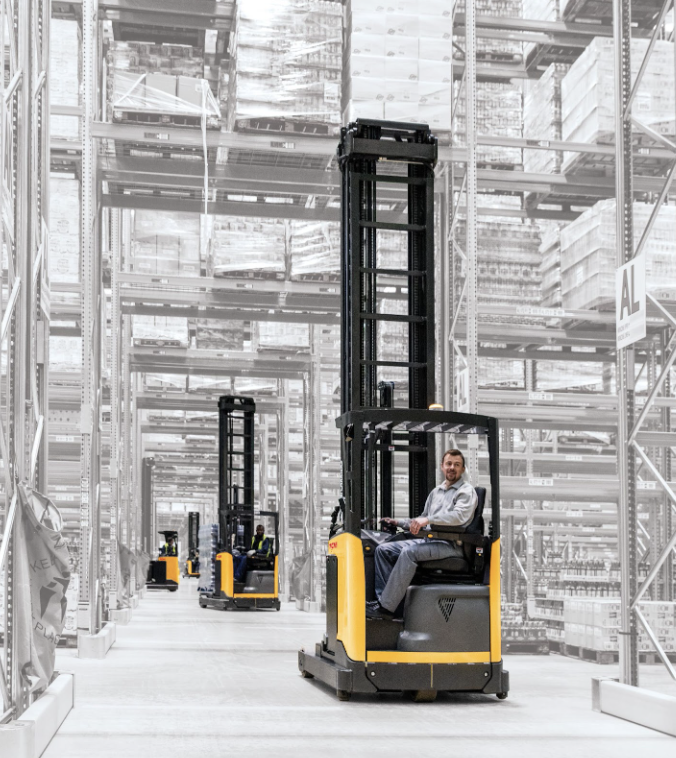 Reach trucks provide greater productivity
Designed to fit narrow aisles of a warehouse and lift to great heights, reach trucks allow you to lift and manage pallets in a way that is safe, smooth, and productive. They can transport heavy loads with ease and reach higher than the likes of counterbalance or pallet trucks.
A compact yet stable solution
Reach trucks offer great space-saving possibilities. So if you want to optimise storage indoors, reach trucks provide similar benefits to counterbalance trucks, and also use counterbalance technology, but in a more compact and versatile way.
Reach trucks allow you to pull the load inwards, making the truck shorter. By doing this you're taking up less space and making the truck more stable which enables the truck to lift to greater heights. If you're using it in an indoor storage environment it lends itself well to agile manoeuvring and optimisation of space.
The safety advantages of a mast tilt
Our reach trucks offer both mast and fork tilts. Masts can be tilted Forward by 1°, horizontally, and backwards by 3°. The forks can be tilted down by 1° down/forward​ and 4° degrees up/backwards. With the entire mast structure tilting, the load moves up ​and away from other pallets, avoiding the risk of goods damage.
This facilitates quicker handling times and, with greater height, this becomes even more significant. Tilting offers enhanced visibility through the mast and fork carriage and requires less maintenance – minimising the costs associated with maintenance – due to fewer hoses in the mast.
With their responsive performance, reach trucks allow you to travel slowly for precise handling, and can move quickly to efficiently travel long distances throughout a warehouse. They are a flexible solution that can increase your output and positively impact your supply chain process, working towards a healthier TCO (total cost of ownership).
Learn how to calculate, reduce, and manage your TCO with this free guide.
Reach trucks are a sustainable option
With the ban on petrol and diesel engines set to come into play in 2030, businesses can expect to experience a shift in their material handling operations. This change is paving the way for electrification, which is the process of moving from the likes of LPG (liquid petroleum gas) and diesel-powered vehicles to electric.
Investing in a more sustainable future
Reach trucks operate indoors. Electric-powered vehicles don't produce harmful gases in the way that gas trucks do. Using lithium-ion (Li-ION) battery technology is an advantage of reach trucks that benefits your operations, your operators, and the wider environment. As it will be illegal to sell new non-electric-powered vehicles in the UK by 2030, switching to electricity sooner rather than later can future-proof your operations by reducing your fuel costs, lowering CO2 emissions and cutting down on maintenance costs.
Lithium-ion vs. lead-acid batteries
Li-ION batteries are one of the most efficient and cost-effective battery choices on the market. They use 30% less energy, contributing towards a lower TCO, they charge quickly and can be opportunity-charged and they have a longer battery life than the likes of lead-acid. Li-ION batteries don't require maintenance and they don't produce harmful emissions, meaning that your operators won't breathe in harmful fumes.
Whilst lithium-ion batteries may be more sustainable over time and reduce your TCO, lead-acid batteries are a tried-and-tested solution, they're cheaper at the initial point of purchase and they're easily recycled.
Electric-powered reach trucks typically have a higher acquisition cost than their diesel or LPG counterparts, however, warehouses utilising electric-powered reach trucks can enjoy the benefits of long-term savings and a reduction in TCO.
Are you ready for 2030? Download your free electrification readiness checklist here.
How TCM's reach trucks can optimise your material handling
Reach trucks have been around for a while, making them a well-established asset to your material handling operations. TCM's reach trucks are tried and tested pieces of equipment that are consistently being modernised with enhanced ergonomic features and new regulations.
Our reach truck range
TCM reach trucks are designed to perform almost any heavy-duty 24/7 material handling task. Our RTL and RTN narrow chassis reach trucks are perfect for those requiring a smaller footprint. The intuitive controls, a tilting seat and superior visibility put the operator in control to maximise efficiency and safety.
Reach trucks such as the TCM RTM, RTH, and RTX, are designed to perform almost any heavy-duty 24/7 material handling task. The versatile RTM is perfect for internal transport and stacking up to 2,000 kg. The RTH is the best choice for rougher tasks, as this robust reach truck has a lift height of up to 11.5 metres and can accommodate loads of up to 2,500 kg. As a highly stable piece of equipment, the RTX is a flawless partner to have if your operations involve hi-rack warehousing up to 12.1 metres.
Finally, the four-way directional RTF reach truck effortlessly handles both long loads and standard pallets with a lifting height of up to 9.7m and can be driven in all directions with precision, providing maximum efficiency with excellent all-round visibility.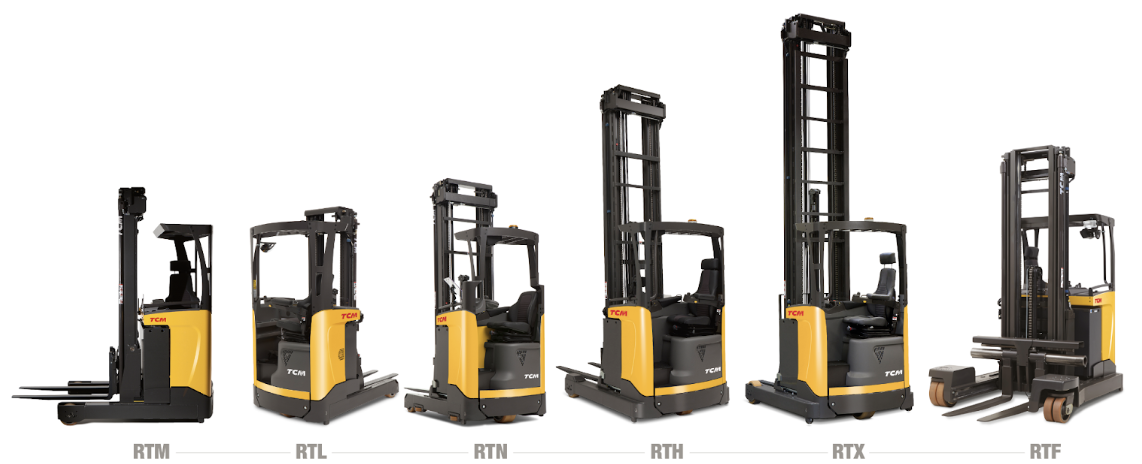 All of our reach trucks are engineered and designed in accordance with EN1175 regulations. EN1175 is a standard which specifies safety requirements for the design and construction of all electrical industrial trucks.
Whichever reach trucks you decide to add to your fleet or operations, it's vital that you consider factors such as ergonomics, productivity, and sustainability. Doing this will help you to calculate which appliance will be best suited to your operations, and will facilitate maximum efficiency, reducing your TCO.
To learn more about the range of reach trucks we offer here at TCM, download a free copy of your brochure here.