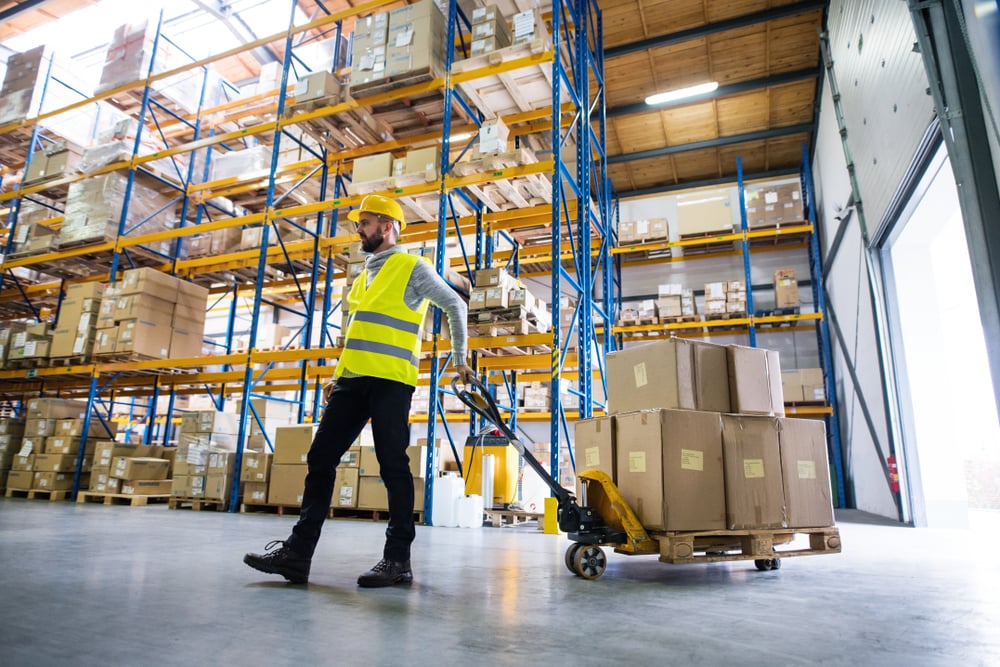 Are you looking for a new pallet truck for your forklift fleet? To help you make the right choice, we'll talk you through which applications pallet trucks suit best, the benefits of going electric, and the different electric powered pallet truck models available at TCM? Read on to find out more.
Whether you are purchasing a single pallet truck or multiple forklifts, material handling equipment represents a significant investment for any business. Before making your decision it's crucial to:
- Identify your business and operational needs
- Understand exactly what you're paying for
- Consider the total cost of ownership (TCO)
Identify your business and operational needs
Understand exactly what you're paying fo
Consider the

total cost of ownership

(TCO)
Below, we'll take you through how to assess your application requirements, balance your acquisition and fuel costs, and the different types of electric pallet trucks available at TCM.
What are Pallet Trucks used for?
Pallet trucks are designed to carry and move pallets around a warehouse. At TCM, we offer both pedestrian and ride-on versions.

Pedestrian pallet trucks are ideal for use in small spaces and for tasks like stock floor replenishment, whereas ride-on trucks are more suited to moving pallets across a longer distance or for loading pallets into the back of a lorry, provided there's a loading bay with a dock leveller nearby.
What Are the Benefits of an Electric Powered Pallet Truck?
Balancing the cost of buying a forklift with its subsequent fuel costs is crucial to keeping the total cost of ownership down. In fact, running costs and the cost of your operation can be much more significant than the cost of the actual machine.
For example, electric trucks are typically more expensive to purchase upfront than their ICE counterparts due to including a battery and charger. However, electric trucks also offer numerous long-term benefits:
- Compared to ICE forklifts, electric trucks offer lower energy consumption, reducing fuel costs
- Electric forklifts produce lower CO2 emissions, making them perfect for businesses looking to reduce their carbon footprint
- Electric trucks are quieter than diesel-powered forklifts, facilitating a safer and more productive operating environment
- Electric trucks are easier to operate than engine trucks, and with fewer moving parts, they're less likely to break down
All of these factors result in a lower total cost of ownership in the long run.
To really maximise productivity with electric trucks, we recommend altering your operators' shift patterns accordingly. This can be a significant adjustment for operations used to working 24/7 but, with today's technology, you can use either a spare battery or opportunity charge to reduce overall costs even further.
TCM Electric Powered Pallet Trucks
Our PTF, PTP and LL series electric pallet trucks are designed with the operator in mind, to navigate a variety of warehouse sizes with ease. Here are three of the pallet truck models we currently offer at TCM:
PTF Pedestrian/Rider truck with foldable platform (24v, 2.5t MAX CAP)
The PTF pallet truck can switch between ride-on and walking behind modes. This versatility adds to the tasks it can be used for, decreasing the TCO (total cost of ownership) of the truck. It is an excellent choice for high-intensity, multiple shift operations, efficient loading/unloading, order picking, and short, medium and long internal transports.
The truck's innovative design results in flexible control as well as comfort, safety and efficiency. It also offers market-leading compactness and lift height.
Key features
- The rider platform and sidebars can be raised or lowered quickly and easily to meet safety and task requirements

- The patented TDS traction system provides maximum drive wheel traction and stability, regardless of load weight. Variable damping automatically adjusts to driving conditions

- A dampened rider platform increases operator comfort so they remain productive

- A built-in, fully integrated lithium-ion (Li-ion) battery version is available, lowering the maintenance requirements and to allow for quick charging

- Mechanical steering with a long tiller arm offers low-effort manoeuvring

- Built-in economy and lower running costs thanks to the durable design and compatibility of parts
PTP/R (rear-entry) & PTP/S (side-entry) fixed platform pallet truck (24v, 2.5t MAX CAP)
Our PTP series features fixed driver platforms for stand-on/riding tasks and added driver protection. PTP/R has a rear-entry platform, while PTP/S is side-entry. These models are well suited to warehouse operations and transport requiring faster speeds and longer distances or low-level order picking. As with the rest of the TCM range, safety, efficiency and comfort are kept top-priority as integral parts of the design.
Key features
- Low-step, fixed platform for extra driver protection and comfort
- Patented TDS traction system, provides maximum drive wheel traction and stability, regardless of load weight. Variable damping automatically adjusts to driving conditions
- Compact truck dimensions and excellent lift height
- A choice of steering technologies that avoid transmission of shocks and vibration to the operator's hands
- A built-in, fully integrated Li-ion battery version is available, needing only low maintenance and quick charging
- Built-in economy and lower running costs thanks to the durable design and compatibility of parts
LLR & LLS Sit-On, Sit-In Pallet Mover (24v, 3.0t MAX CAP)
The TCM LLR/LLS is a low-lifter forklift truck designed for internal transport in heavy-duty industrial operations. The truck is ideal for long cycles and heavy goods flows. This stand-in low-lifter forklift has a wide variety of customisable options that allow you to handle a variety of loads with ease.
The LLR/LLS versions give excellent all-round visibility, ease of operation, and comfort, making this truck the perfect partner for more intensive operations.
Key features:
- Forklift driver compartment enables easy access to controls and power steering during long shifts
- Ergonomic, natural standing position provides operator protection and all-round visibility in either direction
- Stand-on version facilitates an ergonomic operator position
- Compact design makes the LLR/LLS ideal for confined spaces
- Able to manage almost any conceivable load in heavy-duty applications with ease
- Cost-effective, optimised performance thanks to the powerful AC motor
- Easy battery changes — perfect for multi-shift operations
- Driver-tailored settings to ensure a safe and efficient operation
To discover our full electric powered pallet truck range today, click here.
Choosing the Best TCM Electric Powered Pallet Truck for Your Operations
Now you've seen the multiple types of pallet trucks on offer, the next step is choosing the right material handling solutions provider.
At TCM, we view truck sales as a long-term strategic partnership. As a result, we take a consultative approach to understand your operations, processes and workforce, and bring in factors including servicing and maintenance when assessing the total cost of ownership.
Click below to enquire about our pallet truck range today and start your journey towards a more cost-effective, efficient, and environmentally friendly future.