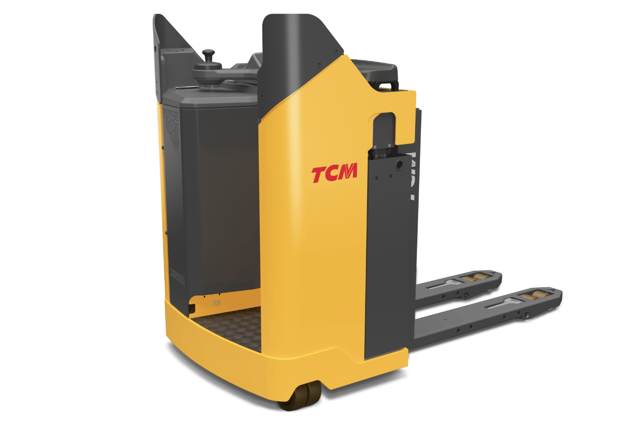 Designed for internal transport, and with a capacity of 2,000-3,000KG (or 2-3 tonnes) the new TCM LLR is a low-lifter electric-powered pallet truck and is the tool you need for heavy-duty industrial operations. This stand-in pallet truck has a wide variety of ergonomic features and customisable options that allow you to handle loads in different size configurations with ease. The LLR gives excellent all-round visibility, is easy to operate and is designed with safety, efficiency and comfort in mind – the perfect partner for intensive warehouse operations.
The forklift driver compartment has well-positioned comfort-centred controls and power steering to minimise operator fatigue during long shifts. The ergonomic, natural standing position, with the operator fully protected within the chassis, allows all-around visibility when driving in either direction. This versatile transporter has a compact design that makes it ideal for confined spaces.
Related read: 10 Tips to Become a Better Forklift Operator.
With a broad range of fork solutions, the LLR manages almost any conceivable load in heavy-duty applications with ease.
Read on to discover the key features of this powerful machine and the benefits of each.
Key features and benefits of the new LLR stand-in pallet truck:
User interface and ergonomics
On-board computer with two different displays: standard and multi-function
Benefit: standard display offers basic information such as battery status and hour metre of the truck, whilst the multi-function display provides up to 100 different operator IDs and has three different driver settings: Pro, ECO and Easy. The three driving modes differ depending on the application: 'Pro' is useful for advanced drivers in an intensive operation, 'ECO' is optimised for low energy consumption combined with high productivity, and 'Easy' is perfectly designed for sensitive goods handling.
Optical presence sensor, low step-in height and floor vibration damping
Benefit: the presence sensor means that the driver can lift the foot slightly without automatically causing the vehicle to brake. This feature provides a variable working position and reduces fatigue on the driver's left foot.
Adjustable steering wheel
Benefit: the wheel is adjustable in height and rotation angle. This makes it possible to get closer to the body and ensures the driver's upper body is in a relaxed position which reduces stress and fatigue and prevents strain injuries.
Ergonomic positioning of controls and buttons
Benefit: the truck's handle enables the user to have a relaxed wrist position whilst controlling the truck. The handle is also provided with a thumbwheel throttle for better ergonomic speed control. The controllers are possible to handle with the user's thumb and index finger (precision grip). The LLR's armrest is also adjustable. These features make intuitive operation effortless and prevent strain injuries for the driver.
Related read: How Our Electric Counterbalance Range Ensures Operator Safety.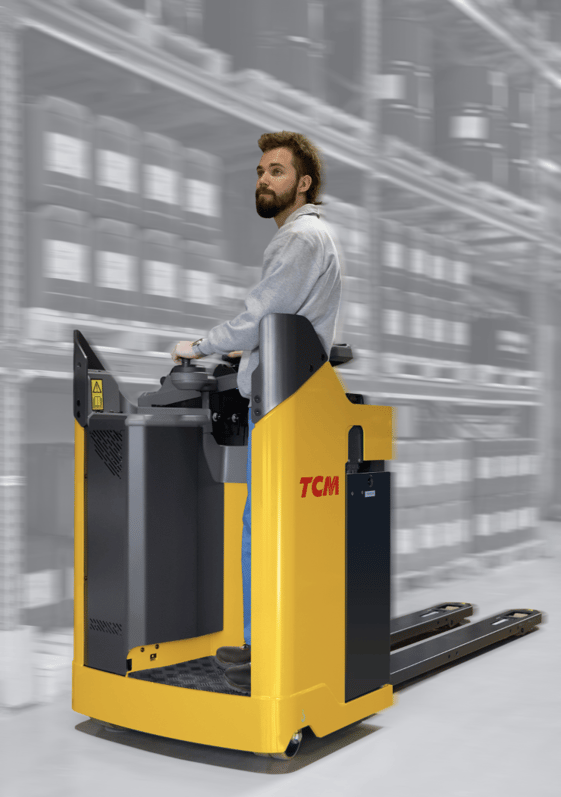 Productivity and seamless operations
Alternating-current (AC) technology - AC drive motor
Benefit: AC technology offers more torque, better and easier control, improving efficiency, and minimising the risk of damage.
Angled fork tip
Benefit: the angled fork tip simplifies entering a pallet, makes handling quicker and reduces the risk of pallet damage.
Excellent view over forks
Benefit: the clear view makes it easy for operators to see the fork tips and the load which enables quicker handling speed and less damage on the pallets.
Comfortable lifting/lowering of forks
Benefit: smooth and quiet motion of the forks, both with and without a load, makes lifting and lowering a seamless operation.
Battery lock
Benefit: the battery lock can only be unlocked when the battery plug is disconnected and, in turn, the battery plug can only be reconnected if the battery is locked. This allows for quick and easy application and saves time in multi-shift operations.
Heavy-duty chassis design
Benefit: the LLR is strong and robust with an integrated bumper which enhances its reliability and lifespan.
Storage compartment
Benefit: the truck has a large storage compartment under the armrest to ensure the driver has access to the necessary tools - this is possible to access from outside the truck. There are additional compartments for holding the likes of smaller tools, mobile phones, or cups, for example. The LLR also has a writing desk with a paper clip for document handling.
Enhanced safety and control
Electric power steering
Benefit: speed-dependent and angle-sensitive, electric-powered steering improves manoeuvrability and minimises the risk of accidents.
Cornering control
Benefit: the truck slows down automatically when turning corners making for safe and easy handling.
Increased drive speed
Benefit: speed is optimised depending on the load weight in order to maintain a safe and stable truck.
Easy maintenance
Built-in lithium-ion (Li-ion) battery
Benefit: this fully integrated li-ion battery means no regular maintenance is required and can be charged when necessary – 25% additional battery capacity can be achieved after just 15 minutes to enable continuous driving which minimises downtime.
Sealed electrical connectors
Benefit: there is no risk of water or dust affecting the electrical connectors. This improves reliability and uptime.
Removable machine house cover
Benefit: this makes accessing the machine easier. There is a large hatch that opens up into the driver space which is possible to open in narrow spaces and allows for easy access when carrying out maintenance. The removable cover improves operator safety, efficiency and productivity.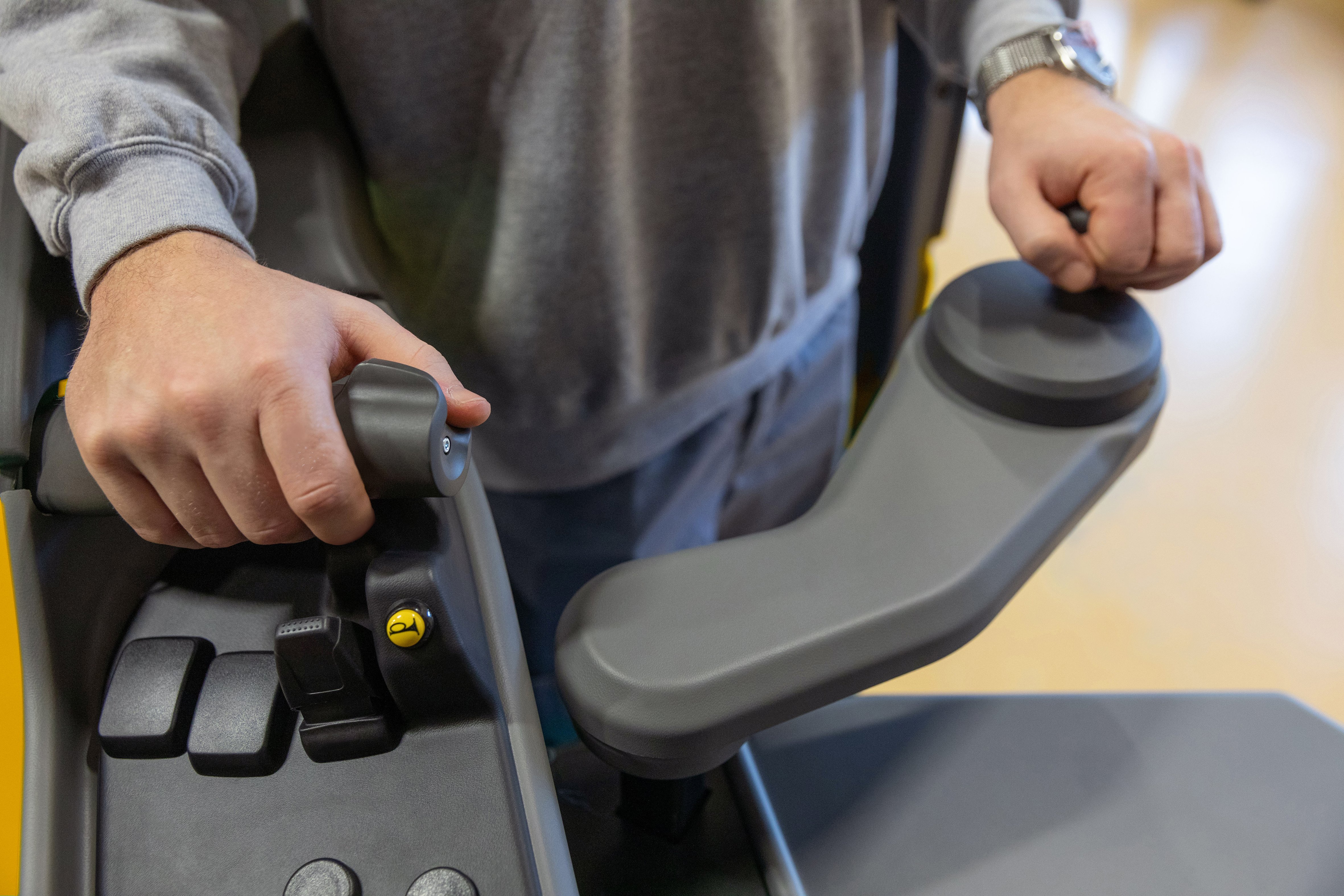 Customisation options
As well as being equipped with many beneficial features, we have a list of optional elements that you can equip the LLR stand-in pallet truck with, too:
- Opportunity charging
- Dashboard protection including a mini equipment bar
- Foldable seat
- Drive alarm
- Service alarm
- Automatic log-off after 5 minutes of inactivity (adjustable between 1-255 minutes)
Dashboard protection including a mini equipment bar
Drive alarm
Service alarm
Automatic log off after 5 minutes of inactivity (adjustable between 1-255 minutes)
If you're interested in applying these bespoke additions, get in touch with your dealer today.
Is your organisation ready for 2030? Read our electrification guide to discover everything you need to know to prepare.
Some key features mentioned throughout this article may be optional. Please don't hesitate to get in touch with your local TCM dealer for further details.
Taking a consultative approach to understanding your operations, processes and workforce, we view every transaction as a long-term strategic partnership. bringing in factors like servicing and maintenance when looking at the TCO, we try our best to bring you the best products and services possible.
To find out more about how the new LLR stand-in pallet truck can improve your operations and reduce your TCO, get in touch with a member of our team right here.