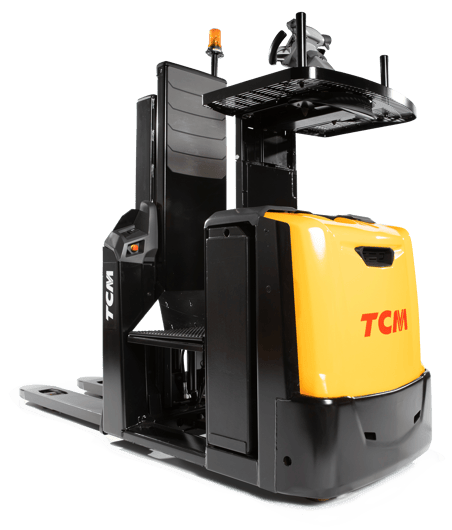 Most warehouses feature some kind of order picking application. But what is an order picker and how can businesses incorporate them in their operations?
If you're new to the warehousing scene or you've heard the term 'order picker' bandied around and you're interested in finding out more about what it is and how it works, this article is for you.
Order pickers are machines that enable operators to pick individual items in a warehouse and transfer them to a pallet, trolley, or roll cage before being distributed to stores, such as supermarkets.
There are several types of order pickers on the market, starting with the low-level order picker. These forklifts typically work on the ground, with the option to have a platform elevation height at 1,000mm to reach the first level above.
The other main option is the high-level order picker — a machine with a platform and enclosed cab that rises up as high as the operator needs it to, with heights up to 11 metres. High-level order pickers are typically used in larger warehouses where companies have a high proportion of SKUs and need to pick across the face of the racking.
Where do order pickers fit into your warehouse operations?
Order pickers can be one of the most labour-intensive and expensive warehouse operations, and they always form part of a larger fleet of other machines. Here's an example of how order pickers perfectly complement other types of material handling equipment:
In a typical warehouse, a HGV will arrive with approximately 40 pallets on board. The operator needs a machine to move those pallets into the warehouse, such as a counterbalance truck or, if preparing for distribution — cross docking or loading across dock levellers, a ride-on pallet truck.
Taking a busy goods-in environment, the operator needs to put the stock away in the warehouse. If it's a low-level picking application, the ground level for most of the warehouse will be picking space. Stock is typically situated above this, so the operator needs a reach truck to put that stock away. As the order picker empties the bottom location, the reach truck is used to lower stock down.
As this example illustrates, most warehouse operations require multiple pieces of material handling equipment to complete a job — and order picking forms a key part of the process.
Does your industry use order pickers?
Order pickers are used across multiple industries for any task that involves breaking items down into individual components — with retail being the most obvious example. Today's stock management systems help to demonstrate this.
For example, if you purchase an individual item from Amazon, this transaction will trigger a report prompting an operator to pick a new unit of that item to replenish the stock.
Other good examples of picking operations include parts applications, such as companies that sell vehicle parts and pick individual components daily, and pharmaceutical companies that provide medicines and other equipment to hospitals.
Most warehouses feature some kind of order picking application, and there are hundreds of different cases — from modest-sized operations to extensive distribution centres.
Maximising operator comfort, safety, and efficiency
Unlike a counterbalance truck, which is typically used sporadically, order pickers can be used constantly, with an operator picking for up to eight hours a day and travelling up and down repeatedly. For this reason, it's important that our order pickers promote operator comfort, safety, and visibility.
The safer and more comfortable the operator, the more productive they'll be. In light of this, order picker features such as step height are extremely important.
Take a low-level order picker in action as a prime example:
An operator drives a low-level order picker forward two metres before stepping off the truck, picking up a box, putting it in the roll cages on the forks, and stepping back on the truck. They repeat this action many times – picking up a new box every 30 seconds and putting it on their truck.
Now here's why step height matters. If the operator repeats this hundreds of times a day and has to step up quite high, their performance will inevitably be affected. TCM order pickers boast one of the lowest step heights (123mm) to reduce fatigue, improve productivity, and maximise efficiency.
'If an operator has to step in and out of the machine 300 times a day over 230 days, that's the equivalent of stepping up to 8,000 metres in a year — or climbing Mount Everest!'



— Paul Rush, Regional Manager, TCM


The ergonomics of the machine and its features are therefore of critical importance. As a result, order pickers are among the most customised machines — an area that TCM specialises in. Need something bespoke? Get in touch today.
There are many customisable options that make it easier for operators to do their jobs. Using the above example, incorporating traction buttons or a button on the side of the machine can allow the operator to move forward without them riding on it, saving time and energy instead of getting in and out.
If you are interested in discovering how TCM's order picker range could complement your business' operation, click the button below to speak to your local dealer.