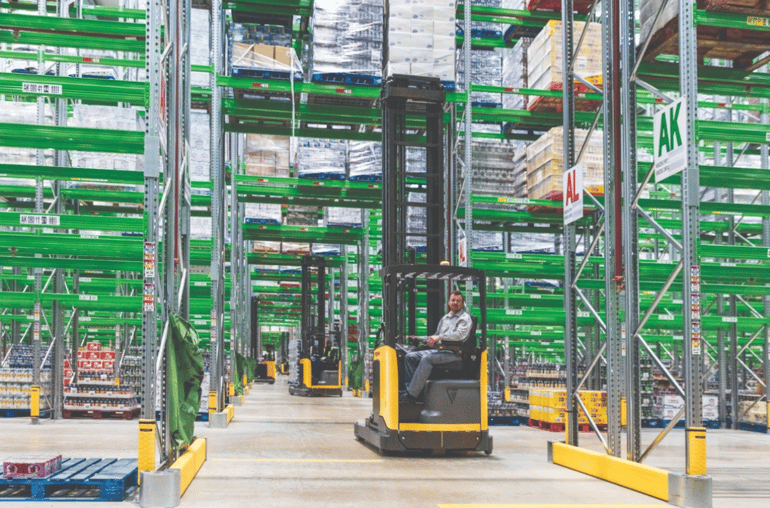 When choosing the right forklift for your material handling operations, there are a number of key considerations that you need to take into account. While your best course of action is to seek expert advice, there are certain areas that you can first look into yourself. Begin by asking these questions:
1. How heavy is my typical load?
2. How high do I need to lift my loads?
3. How wide is my common aisle space?
4. What are the dimensions of my pallets?
5. What length is my largest load?
6. Will my forklift be used indoors or outdoors?
These questions will work to give you initial insight, then you can look into specific important areas. Read on to learn more.
The rating plate
Regulations stipulate that the rating plate, also known as the data plate, should be in a place that's visible to the operator. This plate is full of information and can vary in layout depending on the manufacturer, but they all have to meet certain criteria. The main set of data will be the forklift's rated capacity. This element will help you to understand whether your forklift is the correct size for a job.
For example, it might say 2,500kgs at a load centre of 500mm. The key piece of information to focus on here is the 500mm load centre.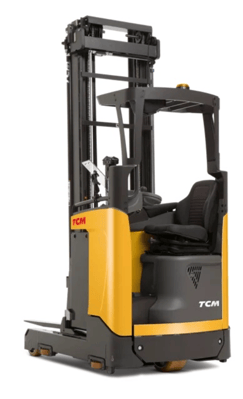 Load centre
The load centre is the distance measured from the front of the forks to the load's centre of gravity. If your load is a 1,000mm cube and the weight is evenly distributed, the load centre will be exactly in the middle, 500mm.
If your load has changed size, say to a 1,200mm cube, it might be exactly the same weight, but its load centre is now 600mm. By moving the load centre outwards away from the truck, you reduce the maximum weight that the forklift can handle. This, of course, compromises both safety and efficiency
Load capacity
The load capacity is the maximum weight that the forklift truck can safely manage. Details of the load capacity for each of your vehicles can be found on the truck's rating plate.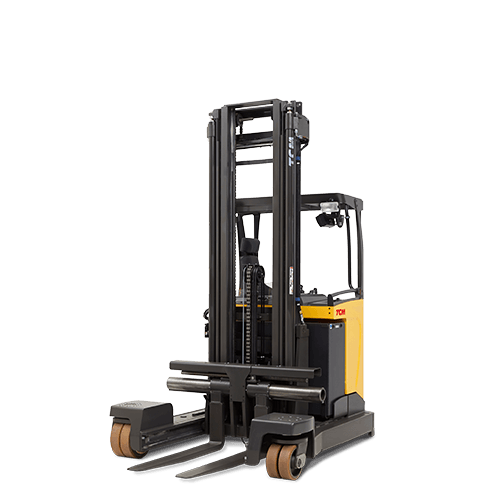 For the safety of the forklift operator, those around the vehicle and the health of the truck itself, it's important to never exceed the maximum capacity stated for each truck. It's also extremely important that the forklift operator has a strong understanding of the load capacity of the vehicle they're operating.
Related read: Preventing Common Forklift Accidents in Your Workplace
At TCM, we have a wide range of reach trucks that suit a variety of warehouse applications. Take a look at our full range here to discover the key features, benefits, and specifications of each model:
• The RTF
• The RTS
Pallet distribution
Pallet distribution affects the load capacity. Is any part of your product off-centre or overhanging the edge of the load carrier? You might have a 1,200mm x 1,000mm pallet, but the product could be overhanging by 100mm all around. In effect, this makes the load 1,400mm x 1,200mm — an increase of 100mm on the load centre.
This will have a negative impact on the forklift's rated capacity. This is a very common occurrence, which, if left unnoticed, can become a safety issue.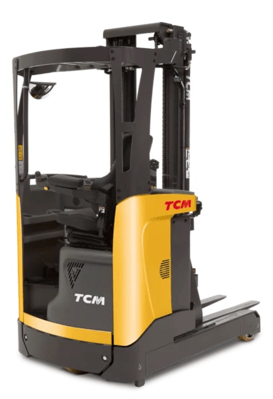 Forklift dimensions
Forklift trucks are large machines that need to be allotted a certain amount of space for manoeuvring in aisles (if indoors) and narrow racking. Forklift truck sizes can vary greatly, so vehicle dimensions — including lifting height — are major factors to consider.
Think about the maximum height you will likely require in your warehouse or the area in which you are operating to determine which forklift best suits your application.
TCM reach truck range
Reach trucks are incredibly versatile machines specifically engineered to handle a wide range of warehouse tasks with ease. Featuring a narrow chassis and impressive vertical reach capabilities, these indispensable companions are perfectly suited for all your material handling operations within the warehouse environment.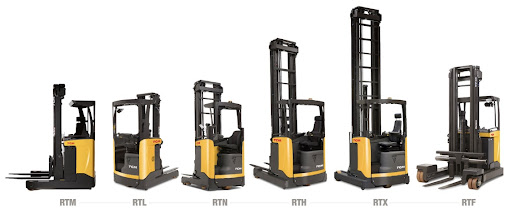 Let's take a look at each of our reach trucks in further detail
Narrow chassis reach trucks: the RTL & RTN
The RTL and RTN are TCM's new generation of narrow-chassis reach trucks that prioritise the operator and productivity. Designed to perform almost any heavy-duty 24/7 material handling task, these universal reach trucks offer a smaller footprint and world-class ergonomics and comfort, all while adapting to your operational needs.
Productivity is at the core of every TCM reach truck. Features that maximise efficiency and safety include TCM's unique mini steering wheel with floating armrest, the multi-adaptable operator's environment, intuitive controls, a tilting seat, and superior visibility.
With a top speed of 13 km/h, the powerful 48V AC motor achieves excellent performance and productivity. Additionally, the hands-free direction control uses the accelerator for change of travel direction. This allows the operator to use the right hand for operating up to three hydraulic functions simultaneously.
New generation reach trucks: the RTM, RTH, and RTX
TCM's RTM reach trucks are ideal for use in intensive operations, effortlessly handling transport and stacking up to 2,000 kg. For more demanding tasks, the robust RTH model offers a lift height of up to 11.5 metres or a maximum load capacity of 2,500 kg. The RTX model is ideal for hi-rack warehousing up to 12.1 metres, providing stability for high-stacking applications. These reach trucks thrive in diverse environments, including cold stores, with an intuitive design.
Our reach trucks maximise productivity with a unique mini steering wheel, versatile operator's environment, intuitive controls, a tilting seat, and exceptional visibility. The high-precision mast design with soft stop technology ensures superior stability, while intuitive lift controls facilitate loading and stacking at different heights.
Equipped with a powerful 48V AC motor, these reach trucks deliver outstanding performance, reaching a top speed of 13 km/h. TCM's Truck Computer ATC3 allows for customisation based on operator driving skills, with a default maximum speed of 12.5 km/h and an optional high-powered mode boosting the top speed to 14.5 km/h, making the RTM one of the world's fastest reach trucks.
Four-way directional reach truck: the RTF
This multi-directional reach truck efficiently handles long loads and standard pallets at heights up to 9.7m. It offers exceptional precision in all directions with narrow aisle widths of 2.3 to 3 metres. This truck maximises efficiency with its impressive acceleration, a top speed of 13 km/h, and a high battery capacity. The ProVision design enhances operator productivity with excellent visibility, an angled frame, a clear-view mast, and a high seating position. Getting in and out is easy with the separate footstep and specially designed instep handle.
The operator-centric cabin ensures comfort, while the high-precision mast design with soft-stop technology provides supreme stability. Mast tilt and intuitive lift controls facilitate loading and stacking at any height.
Man-down VNA: the RTS
The RTS boasts a slim profile and rotating forks, enabling operators to navigate with ease in tight spaces. It is an excellent choice when working in conjunction with our high-level order picker range. With an industry-leading transfer aisle of only 3.7m, it excels in confined environments and can lift loads up to an impressive height of 10.3m.
The RTS reach truck allows for immediate lifting once positioned in the aisle, and the diagonal lift & travel feature provides a performance advantage of approximately 15-20% compared to free-range trucks.
In order to safely and efficiently operate a forklift in a fast-paced environment, having a comprehensive knowledge of the dimensions, capacities and general size of your vehicle/s is essential to ensure the overall safety of your team.
Download your free brochure here to discover the key features, benefits, and specifications of the TCM reach truck range.