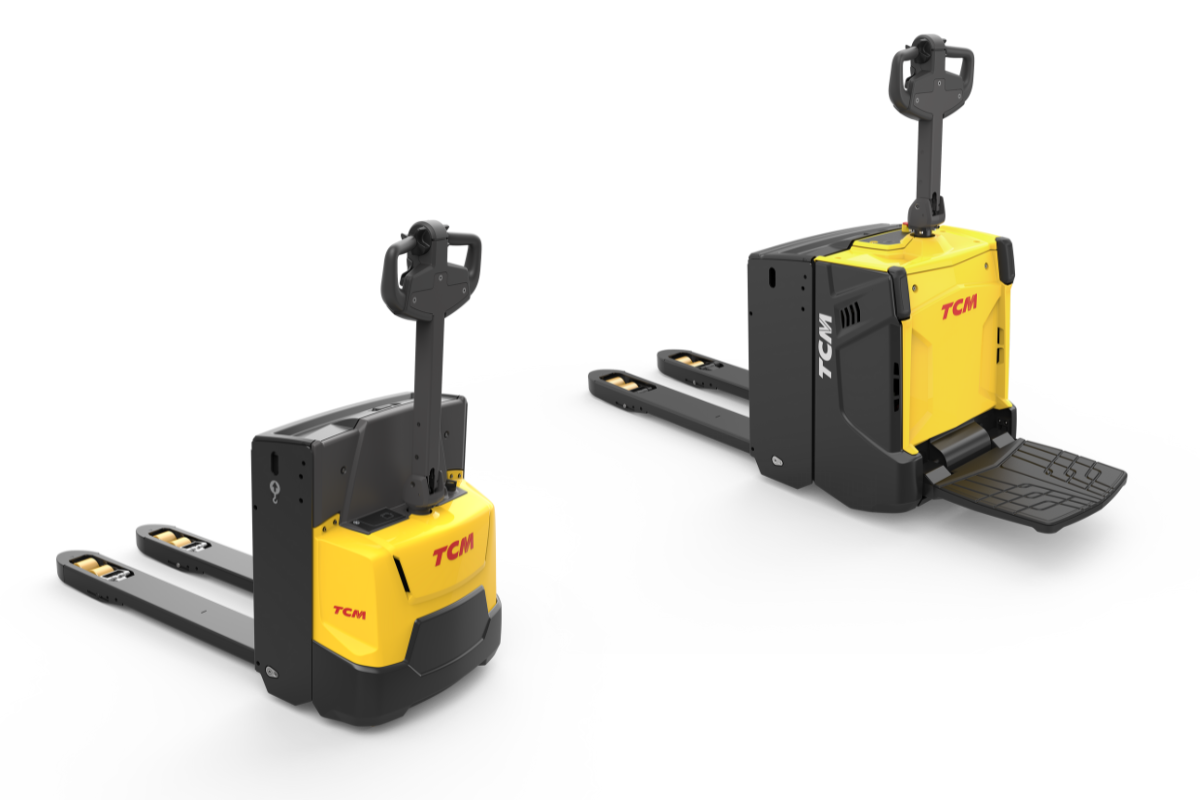 The PAL is one of TCM's newly upgraded pedestrian power pallet trucks. There are three different versions of this truck available: the PAL16-20F, PAL20E and PAL20R. Each has a load centre of 600mm, a width of 700mm and a load capacity ranging from 1,600KG to 2,000KG – the PAL16-20F offers load capacities of 1,600KG, 1,800KG, and 2,000 KG, and the PAL20E and PAL20R both have a nominal capacity of 2,000KG.
The key differentiators between the three models are as such: the PAL-F is a standard pallet truck that offers a variety of load capacities. The PAL-E has lifting forks that enable the pallet to be raised to the correct height for comfortable and efficient order picking, and the PAL-R, whilst it is a pedestrian pallet truck, has a fold-down platform that operators can ride on.
Read on to explore the key benefits and fundamental features of this upgraded pedestrian pallet truck model.
The Upgraded PAL Pedestrian Pallet Truck: Key Features and Benefits
Efficient engineering
Powerful yet compact, the PAL pedestrian pallet truck is engineered for complete manoeuvrability and non-stop performance even in challenging environments. The narrow chassis of the truck makes it perfect for navigating the tight aisles and spaces within a warehouse.

The PAL holds energy-efficient AC drive motors which give the vehicle more torque, whilst the no-carbon brushes enable the pallet truck to move safely at high speeds, even with heavy loads, for maximum productivity. For comfortable, safe, and efficient order picking, the PAL-E has lifting forks that enable pallets to be raised to the correct height, ensuring the operator can work safely and comfortably.

Related read: Are you considering investing in a forklift truck? Download our free guide to discover all the factors you should examine to ensure you make the right choice.
New and improved tiller head design
Potentially the most ergonomic in the marketplace, the new and improved tiller head is an advantageous feature of the PAL pedestrian pallet trucks. The tiller head is robust, has patented lift/lower rocker buttons and is entirely weatherproof. Prevalent across the TCM range, the ergonomic tiller head is designed to enable effortless handling for the operator, offering enhanced usability, and precise and accessible controls at the operator's fingertips.
The ergonomic shape of this feature makes it easy and comfortable to operate, reducing fatigue and the risk of more serious injuries such as RSI (repetitive strain injury).
Related read: How to Create a Culture of Health and Safety in the Workplace.
Lithium-Ion battery technology
These pedestrian pallet trucks are powered by lithium-ion (Li-ion) battery technology which is highly efficient. This battery type offers many advantages, for example:
- Their lifespan is typically 3-4 times longer than other battery alternatives
- They have decentralised, accessible charging positions
- They don't require gassing or maintenance
- They produce zero harmful emissions, which benefits the health of both your operators and the wider environment
Additionally, lithium-ion batteries consume less energy which contributes to a lower total cost of ownership (TCO).
Are you ready to reduce your TCO? Discover the key areas you need to evaluate to increase your fleet profitability with this free guide.
The Li-Ion batteries are fully integrated and include onboard or external chargers. This battery range is price competitive, including a lower-capacity alternative for light-duty operations which is suitable for many applications.
Related read: Lead-Acid or Lithium-Ion: What's Powering Your Warehouse?
EN 1175:2020 compliant
From April 15th, 2023, all products must comply with the new electrical safety standard. The EN 1175:2020 is a standard set in place to ensure the safety of industrial trucks, specific to electrical and battery-powered industrial trucks. This standard also covers particular hazards that could occur during the application of trucks.
Our new generation of vehicles includes a number of new fully-compliant internal electrical components, offering improved safety and reliability.
Are you interested in exploring the pallet trucks we have to offer? Discover our full range of pallet trucks here.
Safety is paramount
Anyone working in the world of material handling knows that when it comes to operating heavy machinery or functioning in a hectic environment, the safety of yourself and others is a key consideration.
The PAL puts drivers at ease with the emergency stop switch which cuts power in an instant, safeguarding personnel, and the two driving modes (soft which encourages energy saving and performance to suit driver experience) which are controlled by a secure key switch. The linked castor wheels by the central drive wheel and 2 additional load wheels offer excellent stability, particularly when load transporting and handling.
This pedestrian pallet range also boasts a quick battery changing system and a multi-purpose LCD display that provides instant feedback on battery discharge, truck hours, and service error codes to keep the operator, and those around them, safe and in the know at all times.


Why choose the PAL as part of your material handling fleet?
Sustainability is critical in designing all of our vehicles; the PAL is designed for lower energy consumption to be ultimately environmentally friendly without compromising efficiency.
With a broad range of fork solutions, the cost-efficient PAL pedestrian pallet truck manages almost any conceivable load in high-intensity applications with ease. Requiring very little maintenance and offering high stability and enhanced efficiency, the PAL has been developed and upgraded in a way that provides non-stop performance and durability in all working conditions.
At TCM, we're passionate about providing cost-effective, highly efficient material handling solutions to suit every need. To enquire about the PAL pedestrian pallet truck, click here. Feel free to get in touch with us or your local dealer to discover how we can help you to optimise your material handling operations.
Their lifespan is typically 3-4 times longer than other battery alternatives
They have decentralised, accessible charging positions
They don't require gassing or maintenance
They produce zero harmful emissions which benefits the health of both your operators and the wider environmen