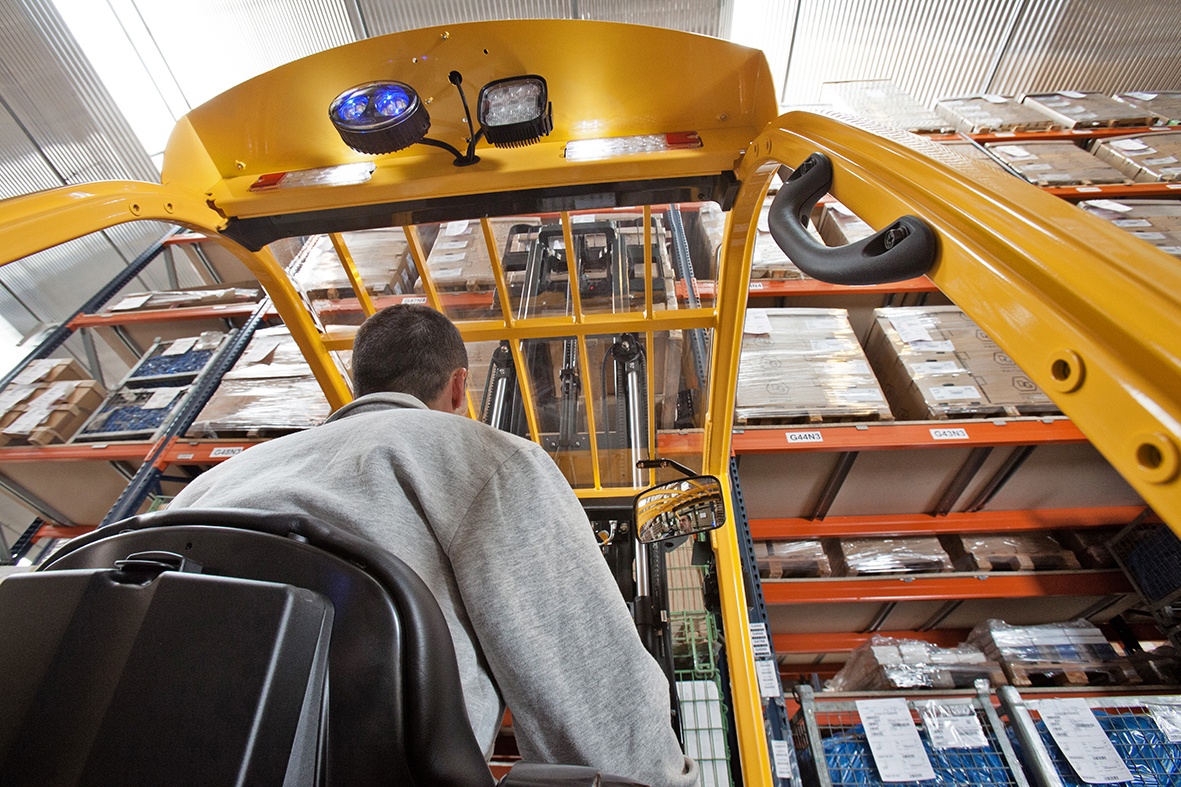 Our Electric Counterbalance range has been designed to balance operator safety, comfort, and efficiency for optimum warehouse performance. Read on to discover the latest safety features we've added and how they keep operators up and running.
At TCM, we know that these key factors are paramount to ensure your material handling operations run productively, ensuring reduced TCO (total cost of ownership) and maximised profitability. That's why our electric counterbalance forklift range has been specifically designed to ensure maximum visibility.
To learn about a forklift that's agile, intelligent, and durable, download your free copy of the FB/FTB electric counterbalance forklift series and discover its advanced range of features and applications.
Read on to discover the four key ways that our electric counterbalance forklifts improve operator safety and efficiency.


Ensure operator safety with our new counterbalance forklift stability support system
Our electric three and four-wheel counterbalance forklift trucks feature an integrated stability support system. Built directly into these counterbalance forklifts, the stability support system offers:
• Curve control, calculating and adjusting operator speeds according to the steering angle
• A simulated differential lock to maximise the truck's grip on slippery surfaces
• Adjustable tilt and lift speeds
These features keep the mast, fork and travel movements smooth in numerous situations and environments, minimising any delays or instability due to swaying, boosting performance, and increasing operator safety.
Versatile electric counterbalance forklifts can support your business operations both now and in the future. Download your free brochure to explore the 2.5-5.5 tonne FHB electric counterbalance forklift.
Our counterbalance forklift trucks have also been fitted with new and improved flat bar overhead guards, which have been reprofiled to ensure the driver can get on and off the truck quickly and easily. The overhead guards protect the vehicle's front and rear LEDs and the automatic reversing light
In addition to this, the non-slip step used by operators to mount the truck is one of the lowest available on the market. This enhances operator comfort and reduces the risk of injury during their shift.
Related read: The TCM FHB25-35(L)-F2: 4-Wheel 80V Electric Counterbalance Forklift


Optimised visibility of loads, racking and obstacles, for accurate truck and fork positioning
Visibility is crucial to preventing forklift accidents and ultimately ensuring a smooth and efficient operation. Our counterbalance forklift trucks are engineered with the operator in mind to ensure visibility is maximised.
We have engineered our overhead guards to be strong enough to withstand heavy loads and protect the operator whilst ensuring the counterbalance forklift's chassis is narrow enough to manoeuvre warehouse aisles.
In this free brochure, we lay out the key features and benefits of the 4.0-5.5 tonne FHB electric counterbalance forklift. Get your free copy today.
Designing the counterbalance forklifts in a way that keeps bulkiness to a minimum ensures that the vehicles can be seen by warehouse pedestrians, enabling them to identify any possible dangers.
As the electric counterbalance forklifts have been designed in a way that optimises operator safety, high visibility is key:
• The roofs of our counterbalance forklift trucks are transparent
• The newly designed mast has been engineered with greater visibility in mind
• The narrow, inclined dashboard enhances an operator's ability to see in front, down and beside them at all times
• An easy-to-read colour display keeps drivers fully informed, and visibility is further enriched so that drivers can easily see their loads, racking, and any obstacles in the area, allowing for accurate positioning of the forks and the truck itself
Related read: The True Cost of Forklift Accidents Revealed


Minimise obstructions with the counterbalance forklift trucks' well-designed panels
A unique feature of our electric counterbalance trucks is the front panel, which has been purposefully engineered to be lower. This ensures the operator can see in front of them entirely, without obstruction.
Related read: How FB Electric 3-4 Wheel Counterbalance Truck Ensures Operator Comfort
The trucks are also fitted with small windows to the side. These transparent panels enable operators to see to the bottom of the mast — where the forks are — without moving their heads. Additionally, the low instruments panel and transparent panel increase fork-root visibility. These safety features work to significantly reduce the risk of accidents.


Enhance counterbalance forklift stability with the responsive weight indicator
The FB Electric 3-4 Wheel Counterbalance truck's stability support system includes a weight indicator, which compensates for the forklift speed and optimises stability in response to driver behaviour.
Related read: How FHB 4-Wheel Electric Counterbalance Truck Can Grow Efficiency
Since the responsive weight indicator can identify how much weight is on the counterbalance forklift, it will limit the speed and acceleration if the load is making the truck unstable.
This feature lets the operator know when they should be taking extra care while driving, maximising the safety of the operator, the truck, its loads, and those in the surrounding environment.
Related read: How to Create a Culture of Health and Safety in the Workplace


Are you looking for a material handling supplier that does more than just sell forklift trucks?
At TCM, we view truck sales as a long-term strategic partnership. As a result, we take a consultative approach to understand your operations, processes, and workforce, and bring in factors including servicing and maintenance to assess your TCO.
Click the button below to enquire about our electric forklift truck range today and start your journey towards a more cost-effective, efficient, and environmentally friendly future.