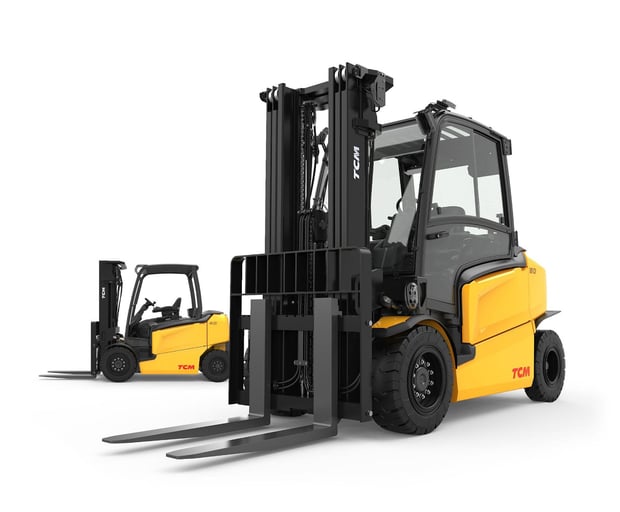 We are excited to announce the development of its newest electric forklift truck, the FHB40-55. Designed to provide material handling operations with the highest standards in comfort, efficiency and safety, this electric 4-wheel counterbalance truck offers all the power and handling of a traditional engine truck but with zero emissions and a low total cost of ownership (TCO).

Read on to discover all about its key design features and how your operations could benefit.


Market-leading operator comfort
This new counterbalance truck is designed to be comfortable for operators and easy to use, even on the longest of shifts. As well as making the trucks more pleasant to operate, this can improve operator health and safety, reducing working days lost due to physical strain.

Ergonomic controls and seating allow operators to take control with minimal effort. The mini steering wheel provides precise control and means that visibility is better than in most forklifts.

The truck's hydraulic levers are positioned for maximum comfort, and electronic finger-tip control means that operators can carry out every operation they need to, without needing to lift their hands — even if they're wearing gloves.

This truck is also incredibly quiet. In fact, it runs almost silently and has the quietest hydraulic pump on the market. The noise pollution produced by many forklifts can make it difficult to think clearly and work efficiently. Not only does this lead to lower productivity levels, but it can also raise sickness levels and staff turnover. In this new truck, the near-silent operation means that your operators can work effectively without being affected by noise-related fatigue or stress.

The FHB is suitable for both indoor and outdoor operations. It has internal climate control to allow operators to easily adjust to their environment, with integrated air conditioning and instant heat. There is excellent ventilation, with windows that open easily when needed. And it's showerproof to allow seamless outdoor working — whatever the weather.
Related read: 3 Ways to Balance Forklift Operator Comfort with Efficiency
Enhanced safety and security
The TCM FHB40-55 electric truck has an obstacle-free design that gives operators a clear, all-round view of their surroundings from the cabin, even when enclosed. There's no need to lean dangerously to see what's ahead — operators have full visibility without straining or stretching. The inside of the operator compartment is also deliberately made out of dark materials, which helps to reduce reflections on the windows that can impede vision.

Advanced driver assistance calculates and adjusts speeds automatically. The hill hold function prevents the truck from rolling backwards when on a ramp, and load sensing monitors the truck's lift, tilt, speed and load weights to make automatic performance adjustments.

The lighting in the FHB is also particularly good, meaning that this forklift can be easily and safely used in any conditions, including low light and bad weather. The truck has a mast, overhead guard and rear-mounted lights that illuminate the load and its surroundings, rather than the truck itself, allowing the operator to easily see what they're working on at all times.

Safety lights activate automatically as needed depending on the direction of travel. They also define safe boundaries around the truck for nearby workers. And the driving lights allow flexible operation, with a low beam, front, stop and tail lights, optional beacon and indicators.

Related read: How our electric counterbalance range ensures operator safety
Built for power and efficiency

The TCM FHB40-55 electric truck is designed for energy efficiency — vital to lowering your total cost of ownership — while offering all the power of a large-engined vehicle. In this respect, the FHB40-55 handles much more like a large-engined diesel forklift operates but with a quietness and efficiency that equivalent engine models cannot match.

The power boost accelerator can be activated for an instant power boost, such as when travelling uphill or for particularly heavy loads. The torque boost automatically adjusts the truck's motor torque, improving performance by allowing it to maintain speed on ramps and inclines.

On top of this, the FHB40-55 comes with a choice of lead acid or lithium-ion batteries, so you can decide which battery type works best for your operation.
Easy for operators to use
The FHB40-55's ease of use will be welcomed by operators and warehouse managers alike. Its clearly visible displays provide all the information operators need without distraction, including lifting and loading messages, alarms, and instructions, while its intuitive design means operators will be able to get the most out of the vehicles in as little time as possible.

The FHB40-55 also makes shift or operator changes easy, with quick-release locks and 180-degree opening doors. For those with lead-acid batteries, your battery changes and water level checks will be faster. Lithium-ion battery users will benefit from being able to charge their trucks without the need to open any of the doors.
Choose the right options for your operations
Whether you're just starting down your electrification journey or you are looking to upgrade your existing electric fleet, the TCM FHB40-55 has much to offer.

Available in 6 different models, including a compact chassis model that's ideal for tight spaces, and a high-performance model for intensive work, we're confident you can find an FHB to meet your operational requirements. There are four capacities available: 4.0, 4.5, 5.0 and 5.5 tonnes.


Please note that some features mentioned may be options. Please consult your dealer representative for full details. Interested in finding out more about the FHB40-55? Contact our team today. For personalised advice based on your circumstances, click the image below and get in touch with your local TCM dealer.