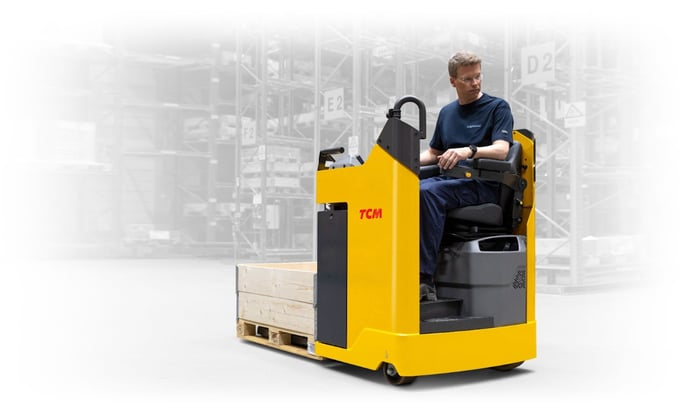 No two warehouses are exactly the same and the individual functions, equipment and conditions of a warehouse will determine its productivity.
The key to operating at maximum efficiency is utilising resources smartly; optimising handling and distribution methods in a way that ensures your operators are safe and comfortable, your TCO (total cost of operation) is reduced and you're winning market shares against competitors.
Here's where electric pallet trucks come in.
6 Advantages of Using Electric Pallet Trucks
Electric pallet trucks improve the efficiency of your operations by streamlining your internal material flow. They do this by providing enhanced operator comfort and productivity via specifically designed ergonomics.
It's no secret that as your operations grow, you have to consider more efficient ways of transporting your goods. In this instance, pallet trucks are the perfect addition to your fleet.
Related read: How to Choose Material Handling Equipment
Read on to explore the 6 advantages of using electric pallet trucks in your warehouse operations.
1. Maximises productivity
With their fast charging ability, versatility, and option for working at high speeds, electric pallet trucks provide the opportunity for maximising material handling productivity effortlessly. Regardless of what your operational demands are, reducing or eliminating manual tasks minimises operator strain which promotes a healthy working environment and boosts employee morale. Two factors which positively impact your TCO.
With a compact chassis, a lightweight machine and simple controls, electric pallet trucks save your business money and improve employee productivity without compromising on efficiency.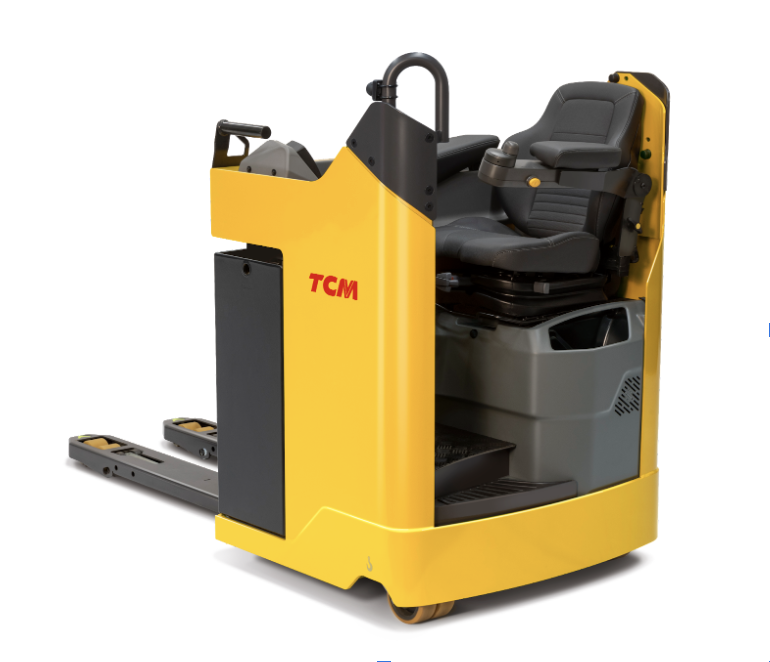 Learn more about the TCM LLS, including the truck's specifications, here.
2. Cost effective
Pallet trucks run on innovative electric battery technology which means they're highly efficient. Their compact chassis and minimal moving parts reduce the need for maintenance and the cost this brings. You also reduce downtime with electric machines as you can simply recharge the batteries while they're not in use.
When you lay out the advantages of enlisting an electric pallet truck it's clear to see that they're worth the investment long-term and are an overall more sustainable option.
Related read: How to Get Great ROI and Cut Material Handling Costs
3. Time-saving
Electric pallet trucks are highly manoeuvrable and speedy, allowing your material handling processes to be covered in a shorter time compared to manual hand pallet trucks. The ability to ride or sit on a pallet truck enables operators to carry out long-cycle tasks and transport heavy goods, tasks which would otherwise use a lot of time and energy.
Their advanced usability makes them easy to operate which reduces downtime and contributes to an improved TCO. Additionally, utilising powerful, efficient lithium-ion (Li-ION) technology, electric pallet trucks can be charged rapidly, ensuring they're in operation when they're needed.
If you're keen to reduce your TCO but aren't sure where to start, download this free guide to discover the key areas you need to evaluate to increase your profitability.
4. Reduced risk of injury
Regularly moving heavy equipment or stock around a busy warehouse can be dangerous for your operators. When done incorrectly, it leaves your operators open to injury and increases the risk of accidents. Investing in electric pallet trucks enables warehouse activities to be carried out with ease and enhanced efficiency. In addition to this, they offer enhanced visibility so operators can see where they're going, what they're lifting, and if there are any potential hazards.
Ergonomics plays a huge role in reducing the risk of injuries in warehouses. With features such as improved tiller heads with easily accessible controls, handling is a breeze. Ergonomically-designed equipment lets the operator use machines without pressure which maximises productivity while remaining fully protected and free from potential injuries such as RSI (repetitive strain injury).
Whether it's maximising productivity, improving operators' comfort and safety, creating a future-proof forklift fleet, or all of the above, there's a lot to consider when running an efficient warehouse. Download The Warehouse Manager's Handbook to identify your material handling needs.
5. Environmentally friendly
Electric-powered pallet trucks are a green, sustainable choice. Releasing no harmful emissions, the Li-ION battery technology that they utilise works to reduce your carbon footprint and hit sustainability targets. Electric vehicles are also much quieter than the likes of ICE (internal combustion engine) forklift trucks, too. This makes it easier for operators to hear in the warehouse and reduces the risk of hearing-related injuries and noise pollution.
A quiet working environment and a lack of fume emissions are highly important when it comes to the health of both your operators and the wider environment.
Related read: What Are You Doing to Reduce Your Warehouse's Environmental Impact: Sustainable Material Handling
6. Compact equipment
The compact chassis of pallet trucks makes them perfect for accessing and navigating tight aisles and small spaces in a warehouse. This makes them highly applicable to tasks in areas that have limited space and require speed, like stock floor replenishment, for example; electric pallet trucks can efficiently carry out activities without causing traffic, damage, or blocking up areas of the warehouse.
To discover the full range of our ergonomically-designed pallet trucks, visit this page.
Advanced technology and ergonomics for today's environment: TCM's new LLS20-30-N2 sit-on pallet truck
Arguably one of the leading sit-on pallet transporters available, TCM's new LLS20-30-N2 electric pallet truck is engineered for medium to long-distance travel and for medium to high-intensity work patterns. The LLS20-30-N2 has an AST of only 2.5 m, a load centre of 600 mm, a truck width of 1,010 mm, and offers a choice of two and three-tonne capacity.
The LLS20-30-N2 pallet truck is ergonomically designed, enabling your operator to work in a way that's efficient, safe, and comfortable whilst maximising productivity.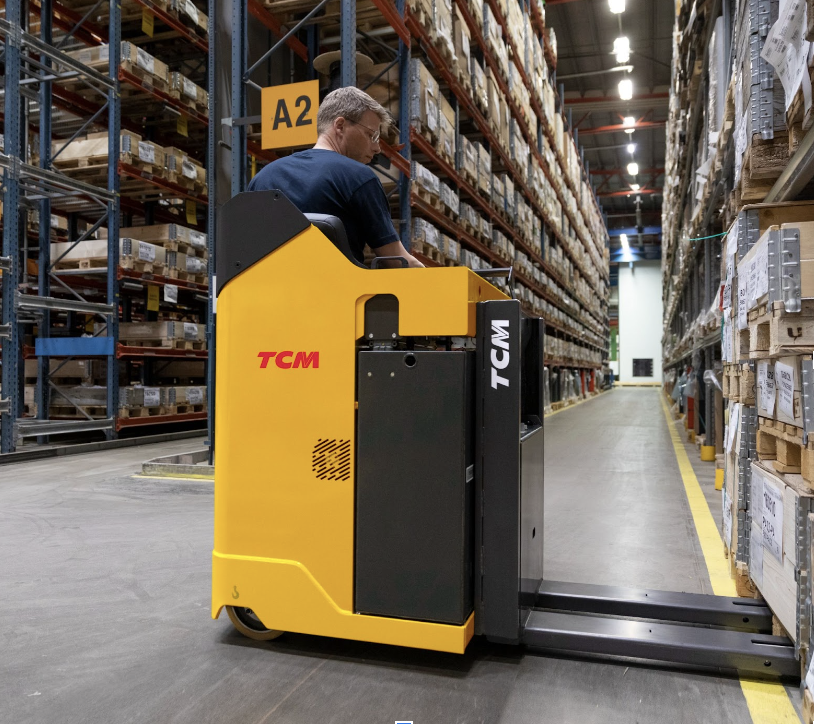 Efficiency
The LLS20-30-N2 is a maintenance-free, fully integrated Li-ION battery-powered pallet truck with 15 minutes opportunity charging which allows for a 25% top-up on intense 24-hour operations. In addition to this, the vehicle has a battery lock so you can change batteries safely and with confidence.
The heavy-duty, robust chassis has an integrated bumper and four-wheel configuration, providing operators with extreme manoeuvrability and excellent ground clearance, as well as smooth, quiet and effortlessly-controlled lifting and lowering for enhanced operational efficiency.
As an electric truck, the new LLS20-30-N2 has few moving parts making it less likely to break down than non-electric machines. The hinged, removable machine house cover enables quick and easy access for servicing, maintenance and daily checks, ensuring the ability for rapid examination and fast replacement with minimal downtime.
Related read: 5 Reasons To Switch From ICE To Electric Forklift Trucks
Safety
In any warehouse, no matter the size of the building or the type of materials, operators and pedestrians alike need to seriously consider safety on a daily basis. To effectively remain vigilant and in control, the LLS20-30-N2 has an onboard computer with a standard display (or multi-function display options), electric power steering for pinpoint accuracy, and double bogie load wheels on angled fork tips for easy pallet entry.
As the LLS20-30-N2 has a small chassis, an energy-efficient, low-maintenance AC motor with more torque and no carbon brushes, making it responsive to the slightest command from the operator. The compact nature of the LLS20-30-N2 means it has a small turning circle, providing the driver with excellent visibility over the forks whilst keeping them safe and secure in the body of the truck.
Read about the key features and benefits of our upgraded PAL pedestrian pallet truck here.
Comfort
Comfortable operators are happy operators. The more comfort you can give your drivers, the more content and productive they will be. With fully adjustable ergonomic steering controls and armrests, ergonomic positioning of operator buttons and controls, and adjustable seating and floor height, the LLS20-30-N2 provides operators with advanced comfort, effortless, intuitive control, and a safe and supported working environment.
As well as leading ergonomic features, the LLS20-30-N2 is built with a low entry step for swift and easy on-off access and has a large seat-side compartment providing excellent storage space for your operator's essentials.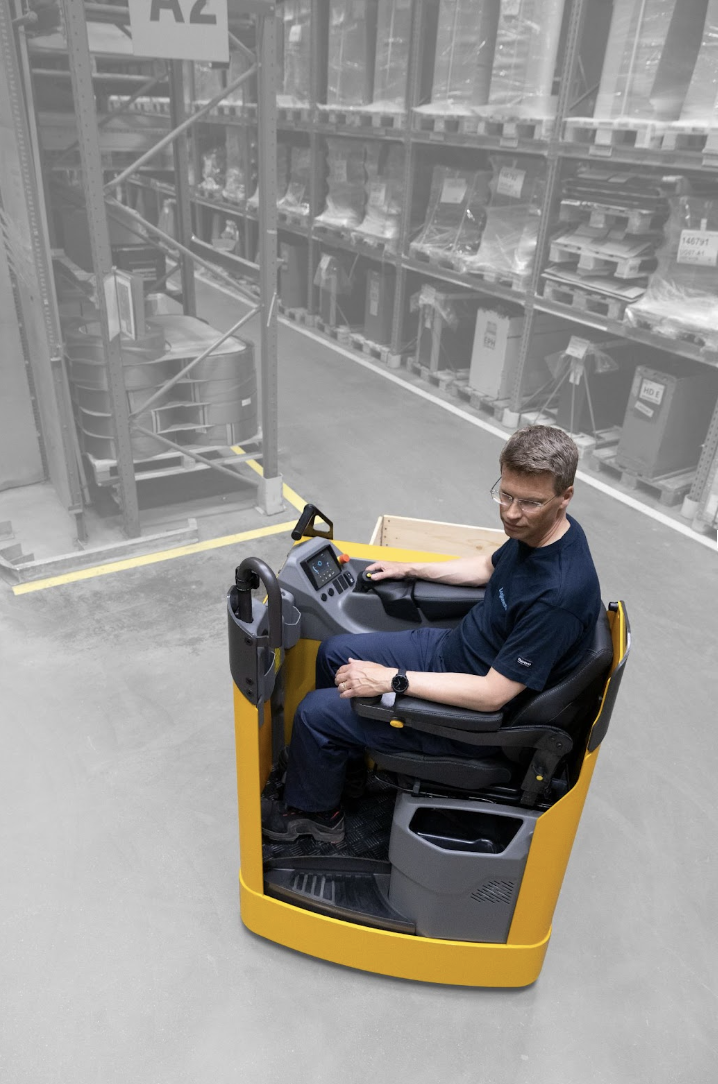 The new TCM LLS20-30-N2 sit-on electric pallet truck also comes with a host of optional additions: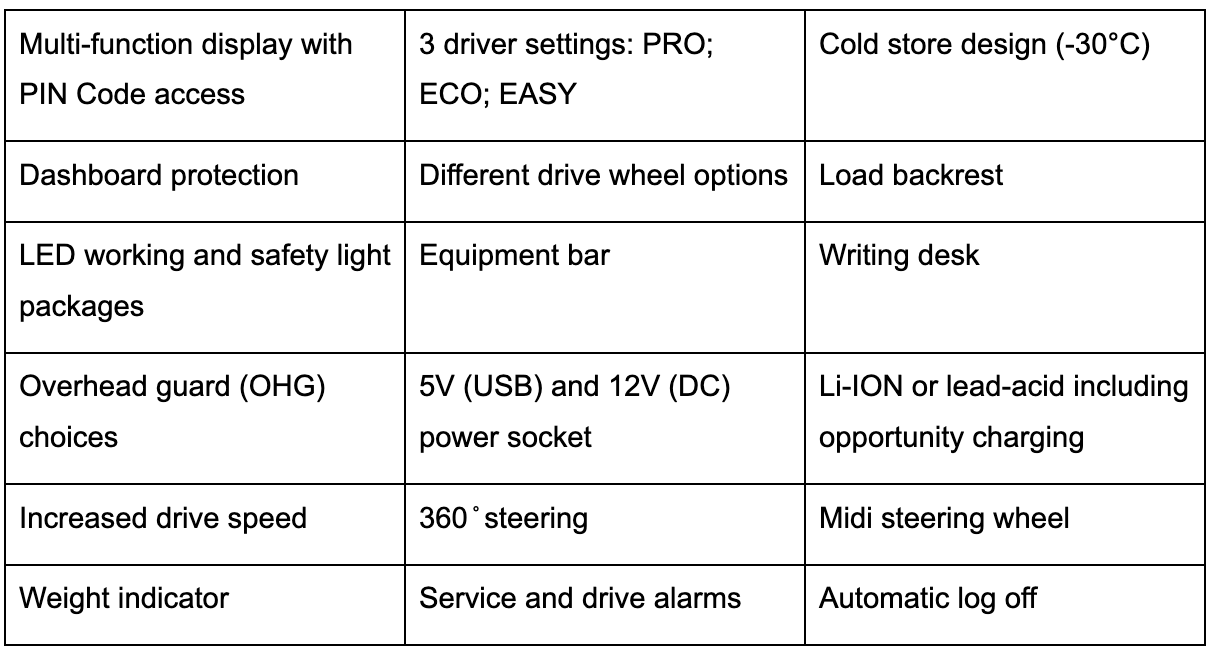 Did you know that by 2030 it will be illegal to sell new gas, diesel, and even hybrid-powered vehicles in the UK? Download our free electrification readiness checklist to help determine how your business will adapt, consider the safety precautions you'll need to take, assess the short vs. long-term costs, and more.